Willing to feel lighter and healthier in the run-up to Summer, but do not want to embark on restrictive, sad diets? Here you will find a delicious, yet super-nourishing Summer salad for your healthy dinners and lunches. My Salmon Kale Salad is made with the best whole-food ingredients, that will support your body and help you feel satisfied and energized. In addition, my incredible Lemon Black Pepper Vinaigrette, a creamy and light dressing that can turn even the saddest salads happy. 😜
---
Salmon Kale Salad: how to create a balanced meal
Fiber and minerals from the veggies, healthy fats, and proteins from the salmon: my Salmon Kale salad is a true powerhouse of nutrition and taste! The slightly acidic lemon and black pepper dressing, made following my healthy dressing formula (more on that here), perfectly complements the bitterness of the kale and the sweetness of the tomatoes. At the same time, the crunchiness of the cucumbers and red cabbage is dampened by the creaminess of the avocado and the tenderness of the baked salmon. A true match made in heaven! 👼
For a complete and balanced meal, I suggest pairing the baked salmon salad with some brown wild rice. Or, alternatively, a couple of slices of whole-wheat sourdough bread. These are both excellent sources of slow-releasing carbohydrates, i.e. healthy carbohydrates that are more gradually absorbed into the body stream. This means that the glucose contained in them doesn't cause a rapid spike in insulin. In turn, fewer insulin spikes mean fewer energy crashes and sugar cravings, making it easier to lose and maintain weight!
Salmon Kale Salad: why it can support your health journey
There are many reasons why this Salmon Kale Salad can assist you in moving forward in your health journey. Let's discover the main ones.
1. Packed with colorful veggies 🌈
Cucumber, kale, red cabbage, and tomatoes: this is what "eating the rainbow" truly means! Eating veggies with different colors allows you to fill up on different precious antioxidants. Each of them has a specific role in combating oxidative stress and promoting the proper functioning of different processes in the body. Ensuring the right intake of these pivotal compounds is super easy with a colorful dish like this baked salmon salad!
2. Rich in dietary fiber 🥗
The colorful veggies I decided to use for this healthy Salmon and Kale salad are all packed with precious dietary fibers. These are pivotal for a healthy and fast digestive system and can help promote feelings of fullness. The result? You won't need to starve anymore to lose that extra couple of pounds!
3. Take care of your heart and brain with the fatty acids contained in salmon 🧠
As you might already know, salmon is a great source of long-chain omega-3 fatty acids (DHA and EPA). These healthy fats have been shown to reduce inflammation in the body, lower blood pressure, and decrease risk factors for heart and coronary diseases. Moreover, they can improve cognitive function and memory. To sum up, regular consumption of fatty fish, such as salmon, is the best way to take care of your heart and brain!
4. The superfoods in the lemon black pepper dressing! 🍋
Did you know that the vitamin C contained in lemon can help you better absorb the iron contained in the salmon? In addition, black pepper is rich in powerful active compounds, such as piperine, and chavicine. These can promote a faster metabolism, and prevent a healthier digestive system. Not to mention extra-virgin olive oil, a true mine of antiaging substances such as polyphenols, and vitamin E. All of this in an extremely tasty and light dressing!
On a last note, for this incredible Salmon Kale Salad I used some veggies that are currently in season in my garden here in Central Florida. However, you can use different ones according to your personal preference and what you have at hand. The only "rule" is that the more colors on your plate, the healthier your salad will be!
I bet you will be now looking forward to recreating my delicious and super nursing Salmon Kale Salad! If you do, don't forget to tag me. All the links to my socials are down below! 💗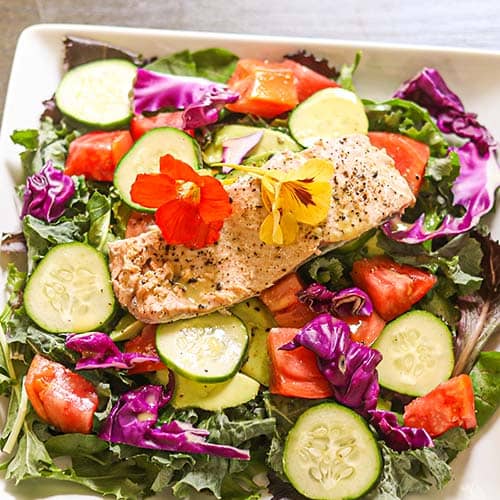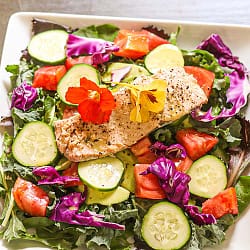 Salmon Kale Salad with Lemon Cracked Black Pepper Vinaigrette
Yum
My Salmon Kale Salad is made with the best whole-food ingredients, that will support your body and help you feel satisfied and energized. Not to mention my incredible Lemon Black Pepper Vinaigrette, a creamy and light dressing that can turn even the saddest salads happy.
Ingredients
For the kale salmon salad
For the Lemon Black Pepper Vinaigrette
Instructions
For the Lemon Black Pepper Vinaigrette
Mix all the ingredients very well with the help of a whisker or an immersion blender.

Let the dressing sit in the fridge for a couple of minutes, to bring out all the flavors.
For the Salmon and Kale Salad
Prep the baked salmon: preheat the oven to 400 degrees and grease a large baking pan. Arrange the salmon fillets on the baking sheet and season them generously with salt and pepper. Drizzle with some extra-virgin olive oil.

Bake the salmon in the oven for about 10-12 minutes, or until the fish easily flakes.

Wash the veggies, dice the tomatoes into small, regular cubes, finely shred the red cabbage, and cut the cucumbers into fine slices. Roughly chop the kale.

Create the base of the salad with all the veggies, add the cubed avocado, and pour over the lemon black pepper vinaigrette. Stir everything very well.

Place the baked salmon over the salad, and top it with some edible flowers (here I used some nasturtiums I had in my garden). Enjoy!
Nutrition
Nutrition Facts
Salmon Kale Salad with Lemon Cracked Black Pepper Vinaigrette
Amount per Serving
% Daily Value*
* Percent Daily Values are based on a 2000 calorie diet.
❤️❤️Read About Me for details about my health journey; and, make sure you remember to sign up for my Newsletter and follow me on social❤️❤️!

Supporting me is appreciated as I create content to support your health journey.