Eating healthy on a budget …do you think it's impossible? Well, you are not alone! With grocery prices rising, trying to stick to a budget can be very challenging. This can be especially true if you are on a hectic schedule and don't have much time to cook at home, or if you struggle to set clear boundaries with your food expenses.
The good news is, with a bit of planning and some easy suggestions, you will be able to eat more healthily and spend less on food. These are my 9 tips to make healthy eating cheaper and save some money when grocery shopping.

Eating Healthy on a Budget: 9 simple, but effective tips
1. Plan your meals ahead
Plan your meals ahead: this might be the best advice I am going to tell you today to eat healthy on a budget!
The reason is pretty simple: setting a weekly meal plan in advance is not only more cost-effective and less wasteful (since you are going to buy only what you truly need), but is also very useful when you are trying to consume more wholesome and balanced meals.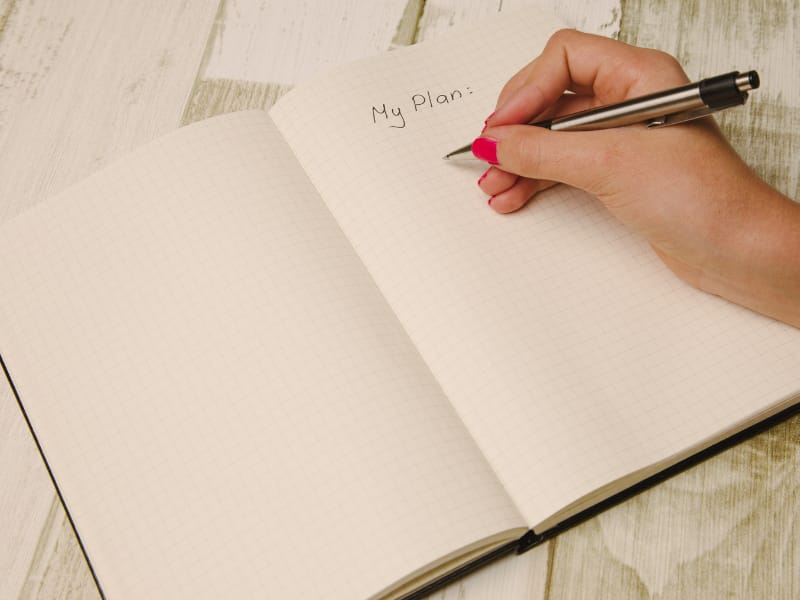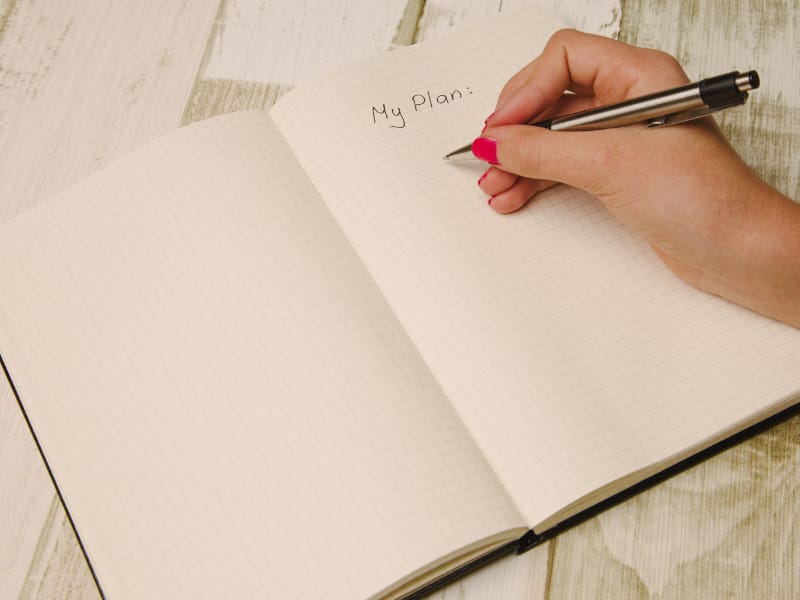 My suggestion here is to plan your weekly meals taking into consideration not only your own dietary needs and preferences (whether you are trying to lose weight, gain muscle, or just eat healthier) but also how many meals you are planning to eat each day.
Check out my article My Healthy Meal Formula -eating healthy has never been so easy!. This will help you with meal ideas and how to calculate portions for different health & fitness goals.
In particular, don't forget to include snacks in your plan. In this way, you will have some healthier options ready to eat in place of the more processed and easy-to-grab store-bought treats. For example, you can include these awesome and refreshing Homemade Electrolyte Popsicles with Tropical Fruits.
Another great suggestion when planning your weekly meals is to keep it simple: you don't need to complicate your life with time-expensive and fancy recipes. Just stick to some basic meals that you and your family enjoy consuming. Here is a good list of easy recipes: Last Minute Healthy Family Dinner Hacks.
Lastly, when creating your meal plan, make sure to choose ingredients that can be used in multiple recipes. For example, you can make this delicious Berry Watermelon Fruit Salad for breakfast, and this Watermelon Shrimp Avocado Salad for dinner. In this way, you will be able to consume all your watermelon before it goes bad!
2. Make a shopping list – and stick to it!
Once you have created your weekly menu plan, it's time to go grocery shopping. However, never go without a shopping list!
Create a shopping list, divided into categories (fruit and veggies, fresh produces, carbs, proteins, frozen foods, and so on) and, if possible, that follows the shelves' order of your grocery store of choice (which is usually organized similarly in most shops). Shop the perimeter of the store first, since this is where the whole foods are generally located. And, most importantly, remember to stick to it!
This will prevent you from falling into the temptation of buying unnecessary products that are marketed as "new", or "low in fats and calories", but will also save you some time when grocery shopping as you will not fool around to find what you need. Because remember that time equals money!
Bonus tip: never shop when you are hungry, as you might be more likely to deviate from your grocery list and buy something impulsively. In addition, when you're hungry, you may often reach for processed foods that have fewer beneficial nutrients than whole foods and are also generally more expensive.
Try these Flax Quinoa Crackers before going grocery shopping!
3. Buy in bulk – and stock up with frozen and canned foods
Another tip to make healthy food cheaper is to buy in bulk. Indeed, many foods such as grains, cereals, and nuts, are available in bulk for a way lower price. In addition, you will always have your pantry stocked with lots of nutritious and healthy ingredients, ready to be used whenever you need them.
Moreover, you can also stock up with canned and frozen foods, as these are generally less expensive than fresh ones. Moreover, you will always have them at home for a quick smoothie or a tasty chickpea curry. Also, check out these Frozen To Fabulous meals!
I'm about to buy a deep freezer and vacuum sealer myself, so I can prep lots of meals with bulk foods! Feeding my family of 6, groceries are climbing as the kids get older!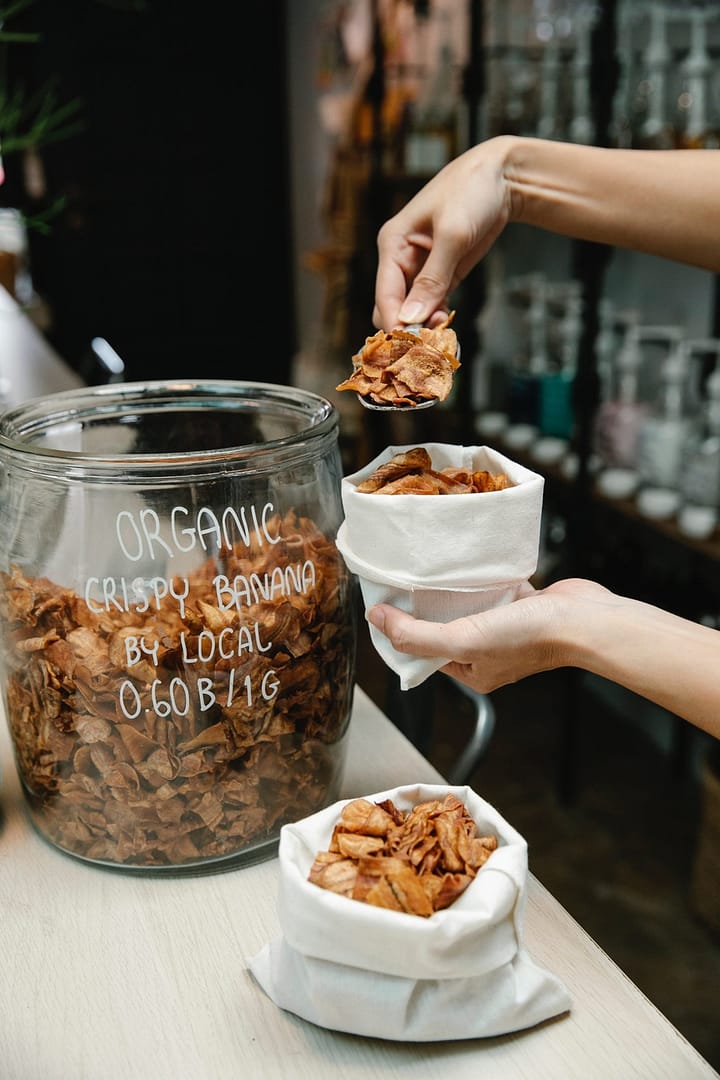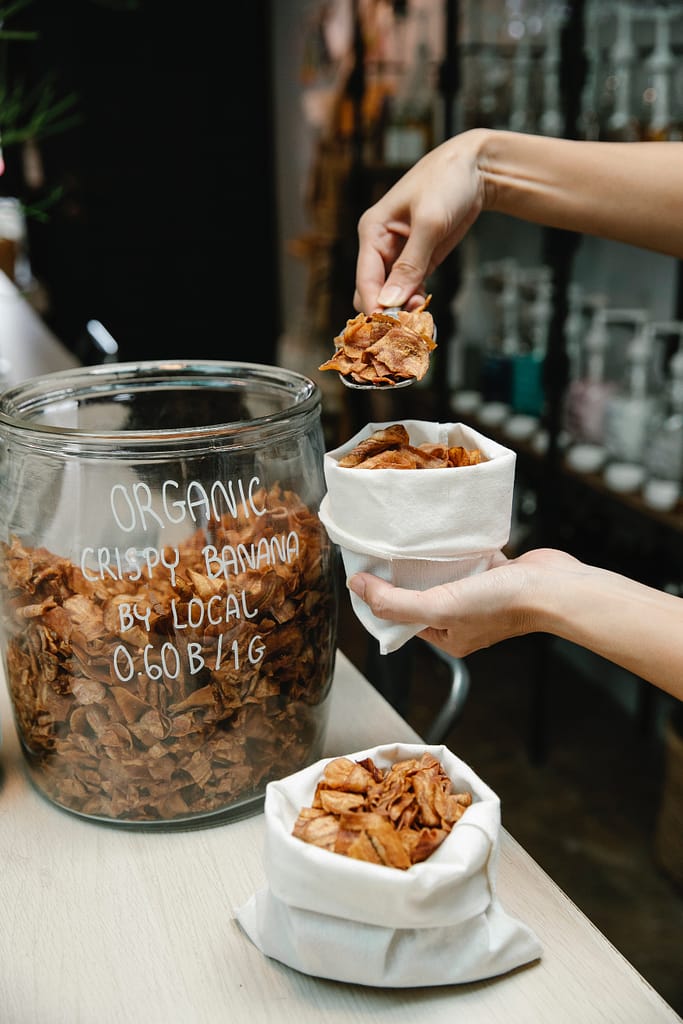 Fun fact: frozen fruits and veggies are generally more nutritious than fresh ones, as they are picked up from the soil when ripe. On the contrary, fresh fruits, especially when not in season or not locally grown, are often collected from the soil way before they reach their ripening point. This means that their nutritional profile might be not as good as the frozen ones.
4. Buy store brands
Another way to save some money when grocery shopping is to buy from store brands.
Generic brands are less expensive than their more famous national counterparts and have generally the same quality. In fact, most of the time they are even produced in the same factories as the branded products. You can easily verify that by checking the provenience on the label on the back of your products.
In addition, check the ingredient labels to make sure that the store brand products have the same quality, nutritional profile, and ingredients as the national ones.
5. Avoid buying highly-processed foods – and swap them with whole foods
Highly processed and packaged foods are not only generally less healthy, more caloric dense, and higher in unhealthy fats, sodium, and preservatives compared to whole foods. In addition, they are also way more expensive!
Therefore, if you want to eat healthy on a budget, opt to consume a majority of whole foods, i.e. unprocessed -or minimally processed- foods that come directly from the ground. These include fruit and veggies, unrefined cereals and legumes, and lean fish and meat.
Try also to buy fruit and veggies that are in season and locally grown, as this can cut transportation costs down. For example, you can buy your fresh produces at the local market (almost every city has one). Not only are they more budget-friendly, but also more wholesome. You will truly have more bang for your buck!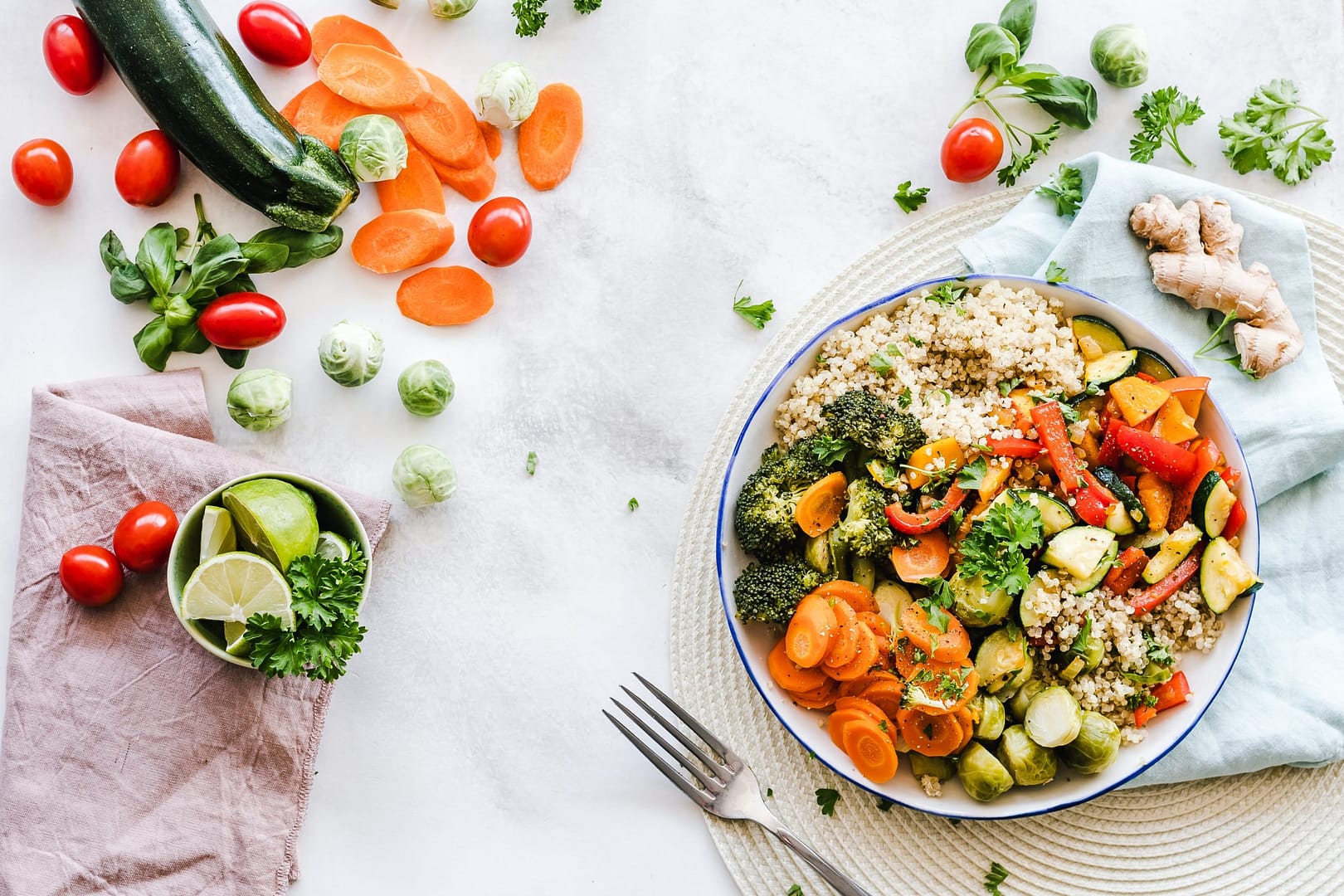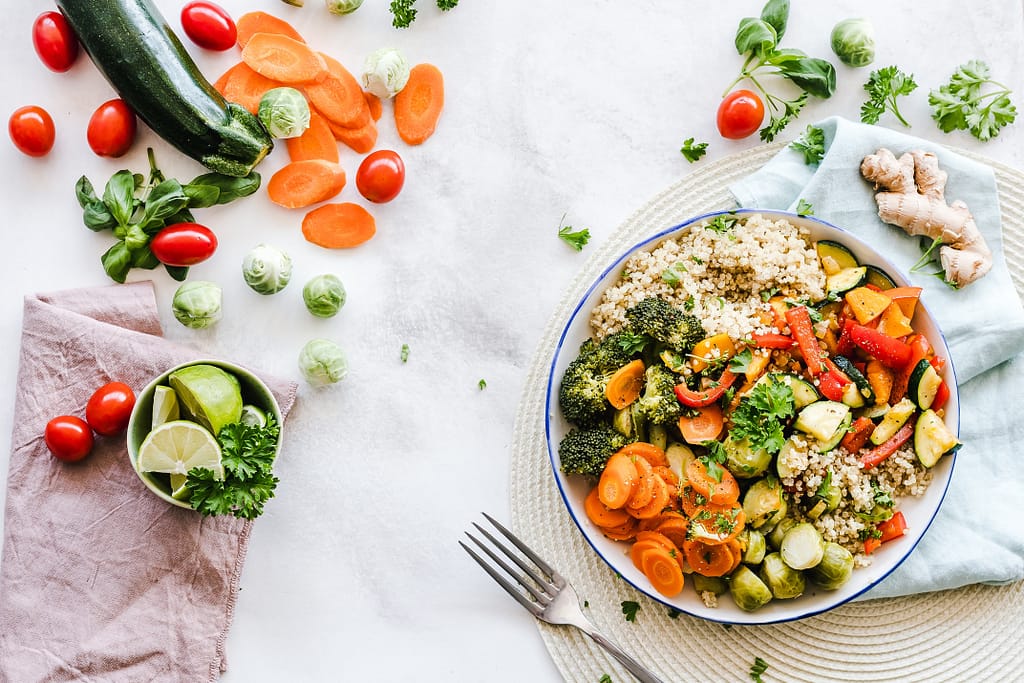 Bonus tip: for extra-saving, swap most of your meat and fish with plant-based protein sources, such as beans, tofu, and other types of legumes. Indeed, a plant-focused diet is generally less expensive than a meat-based one. And if you think that eating plant-based is boring, check out these amazing recipes and my 3-Day Plant-Focused Meal Plan.
6. Grow your own fruit and veggies
A great alternative to buying your fruit and veggies at the store is to grow them yourself! If this might seem too complicated for you, don't worry!

If you have some time and adequate space in your garden, growing your own veggies could be a very fun – and extremely rewarding – activity. Online, you can find lots of resources that will explain step-by-step how to grow different types of fruit and veggies. You can check also check these articles 8 Spring Vegetables to Grow in Zone 9, Get Rid of Aphids Naturally: 7 No-fail Organic Pest Control Solutions and Cheap Garden Raised Beds (DIY)!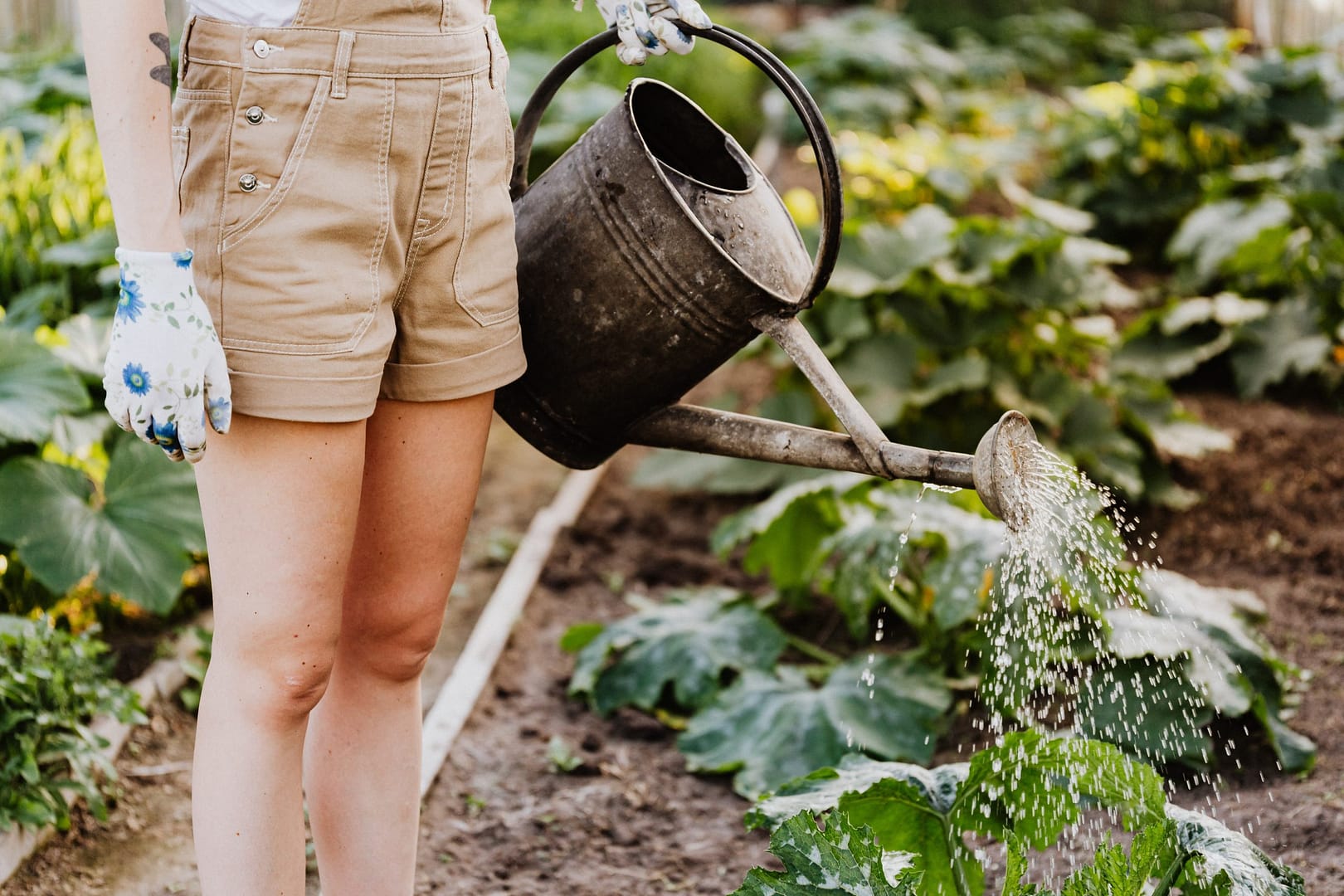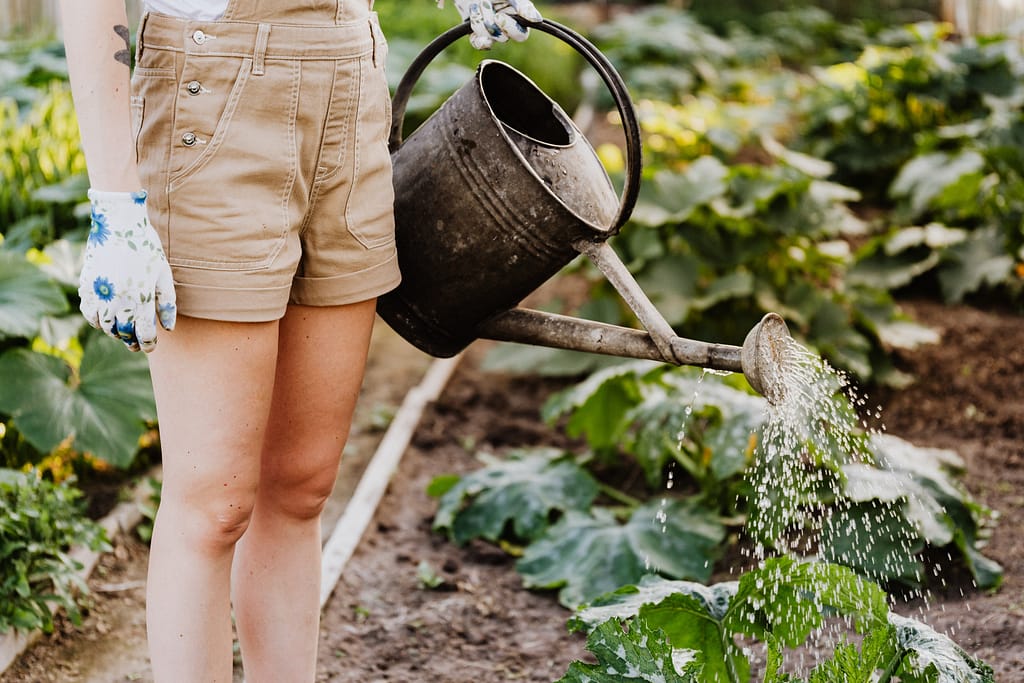 Moreover, you can involve your own children in the process of growing your plants. This is not only a fun activity for them, but they will also learn how nature works. Personally, I find this a very relaxing and mindful hobby, that helps me when I feel disconnected from myself, I need a break from kids or am in a negative headspace!
7. Cook your own meals
Another tip for eating healthy and spending less is to cook your own meals at home. Eating out or ordering delivery foods can indeed be quite expensive, especially if you have a large family (like we do).
In addition, by cooking for yourself, you gain the benefit of knowing exactly what ingredients are in your meals. You can also cook more than your regular portions and enjoy the leftovers the day after. To be completely honest, some dishes are even better the day after, such as this tasty Vegetarian Mexican Fajita Cornbread Casserole.
Just getting started on your clean eating journey? Check out this Ultimate Guide to Building a Healthy Kitchen.
8. Meal prep!
If you think that meal prep is not for you… well, maybe you have got it wrong! Indeed, there are many different ways in which you can incorporate meal prep into your daily routine.
You don't have to prep all of your weekly meals at once – which could be quite boring – especially if you don't enjoy eating the same foods for days. You can for example prepare different staple ingredients, that can then be mixed and matched in the preparation of several different dishes – here comes in handy the meal plan we spoke about in the first point!.
I have a couple different meal prep collections you can check out – Fall MEAL PREP for Healthy Weight Loss + PDF guide | 3 days of meal ideas! and Winter MEAL PREP for Healthy Weight Loss + PDF guide | 3 days of meal ideas! (both healthy plans do not have to be for weight loss).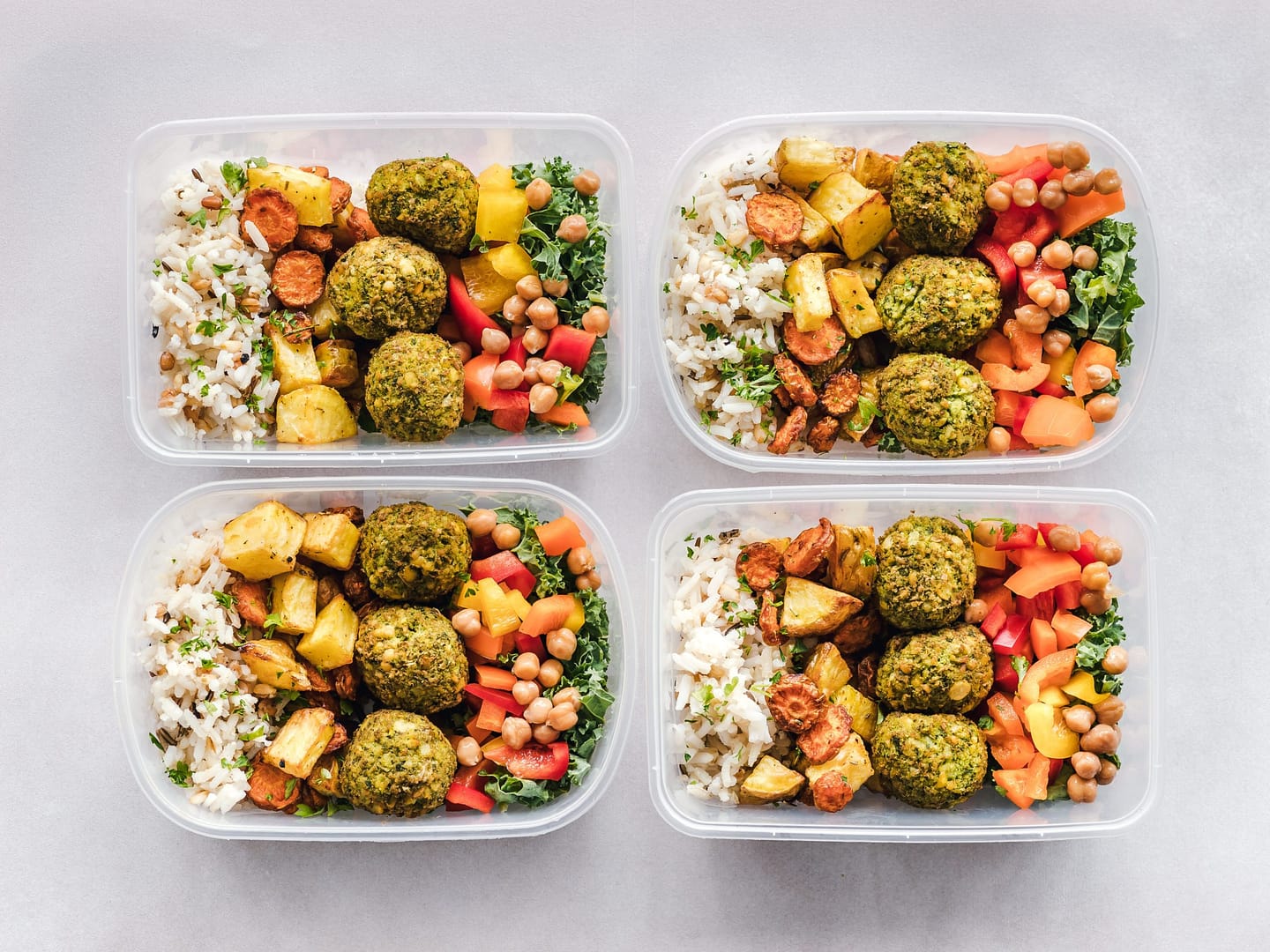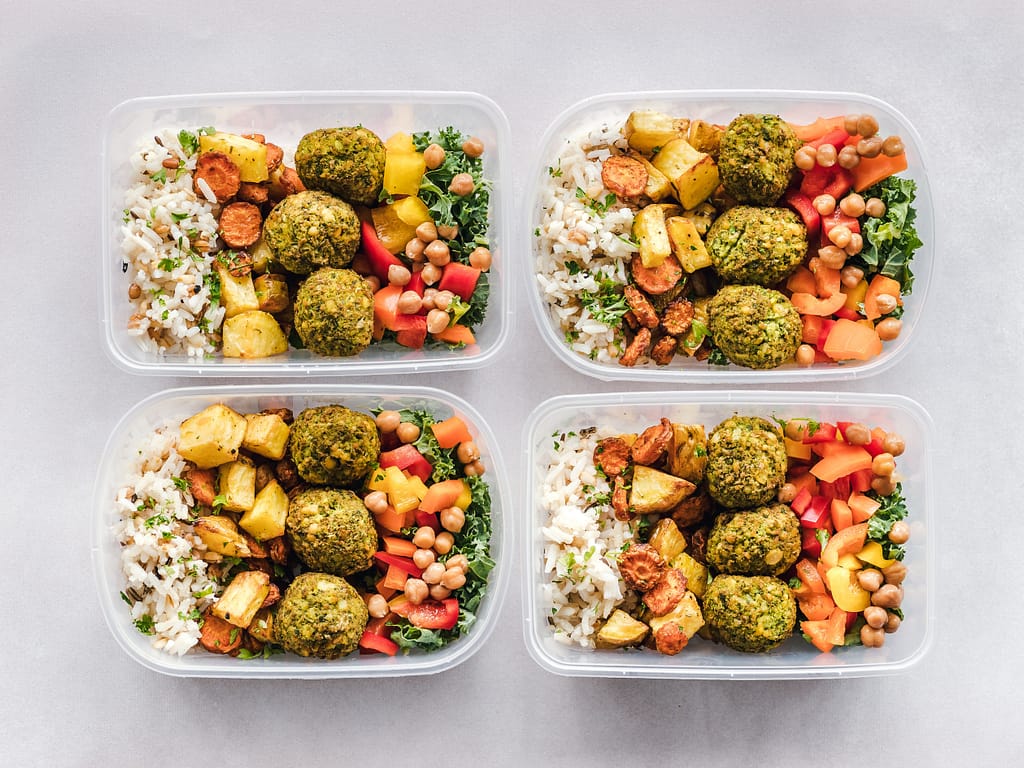 All you have to do is wash and cut your veggies and store them in the fridge (which also makes them easier to reach when you are hungry), roast your potatoes and pumpkin, boil some rice, prepare hot cereals, and peel and cut your fruits. It's all a matter of simplifying the act of cooking for when you are busy during the week. You can read more about this here: Meal Prep for Health & Fitness Goals.
9. Set a realistic budget
Last but not least, in order to eat healthy on a budget, you have to set some realistic budget expectations. If this might seem weird to you… well, it's not!
As a matter of fact, being realistic is essential when setting your goals. You cannot aim to drastically cut down your food expenses all at once. On the contrary, you have to take this as a gradual process: implement two or three of these steps for some weeks, and then, when they have become a habit for you, proceed with the other ones.
And don't forget to be gentle and forgiving with yourself if sometimes you exceed the budget limits you have set for yourself! Remember, spending money on a dinner out with your friends is always worth it, because you are making memories that will last forever!
In conclusion…
Eating healthy on a budget is possible if you know how to do it!
The key take-aways of this article are to be more prepared, take some time to cook for yourself instead of always eating out, and to opt for less processed and seasonal foods.
And you? What strategies do you implement in order to spend less on your groceries?
Share them with us in the comments below!
Social Buzz