I have figured out many life hacks when it comes to preparing dinner over the years.
I used to be a single mom of one for a long time. In the last few years, I went from one to a blended family with four children. While having the support of a partner is priceless, life now is not any easier. In fact, life has became harder in many ways. If you are a parent, or you just have a busy life, you probably need some last-minute healthy family dinner hacks from time to time.
Not all of us like to cook. Believe it or not, I used to HATE cooking. In fact, I would play up the fact that I burned everything I cooked just to avoid being put on the spot at get-togethers such as Thanksgiving. I enjoy it and am decent at it now, but that is because I knew I had to and I learned to enjoy the creativity aspect of it. It's hard to avoid cooking if you want to live a healthy lifestyle, but that doesn't mean you have to be slaving away in the kitchen on a gourmet meal.
First, I want to touch on what my thought process is when I'm trying to come up with a last-minute meal. Through my Instagram and posts, it may seem like I plan my meals out. However, I assure you, I am far from perfectly organized.
Thought Process
Things to Consider
So, things I am thinking about when I am trying to come up with the last-minute meal are:
How much time do I have?
What do I have available for me to use (giving priority to foods that will soon perish)?
If I don't have the healthiest options available, how can I make an option a little better?
Sometimes it's just going to be a chicken nugget night. It's not going to kill you or your kids. What is important is our habits over the long term. Make sure you add some fresh or frozen veggies to those chicken nuggets. The goal should be to try to choose the best options that we can and to improve a little bit more every day.
Always, always, always keep in mind:
Aim for better, not perfect!
So even if you had chicken nuggets and fries one night, next time try to incorporate some veggies.
General Grocery Shopping Tips:
Fresh vegetables are better, but frozen is also fine. They hold nutrients better than canned. I try to avoid canned, except for some things like diced tomatoes.
I also try to make sure that most of the ingredients are pronounceable, which's a great way to eat fewer preservatives.
And finally, we want to watch added sugars and added oils.
Let's See What a Healthy Meal Looks Like
I will show you the good baseline that you can use for your family, but this can vary with what your goals are. For example, if you are trying to lose weight, we may try to emphasize protein and vegetable incorporation and reduce carbs and some fats.
Here are some good tips as a baseline:
Try to go lean with your meat as much as possible.
Eat smart complex xcarbohydrates such as fruits, oats, brown rice, whole-wheat bread, and pasta.
Incorporate as many vegetables as much as you can, as it's hard to have too many vegetables. The more you have, the more vitamins, minerals, and nutrients you get to stay healthy and strong.
Use estimates like on the image below. Cupped hand for carbohydrates, fist for veggies, and thumb for lean proteins.
P.S. I can help you figure out what is best for you and your goals, if you are interested in nutrition coaching!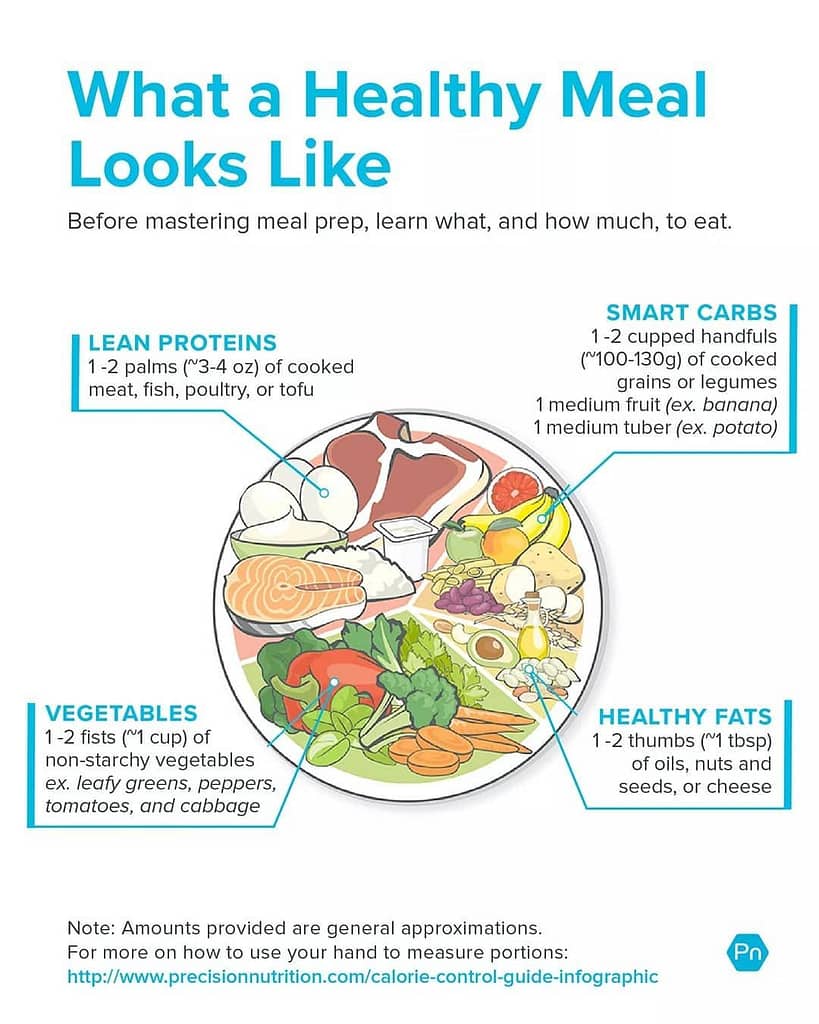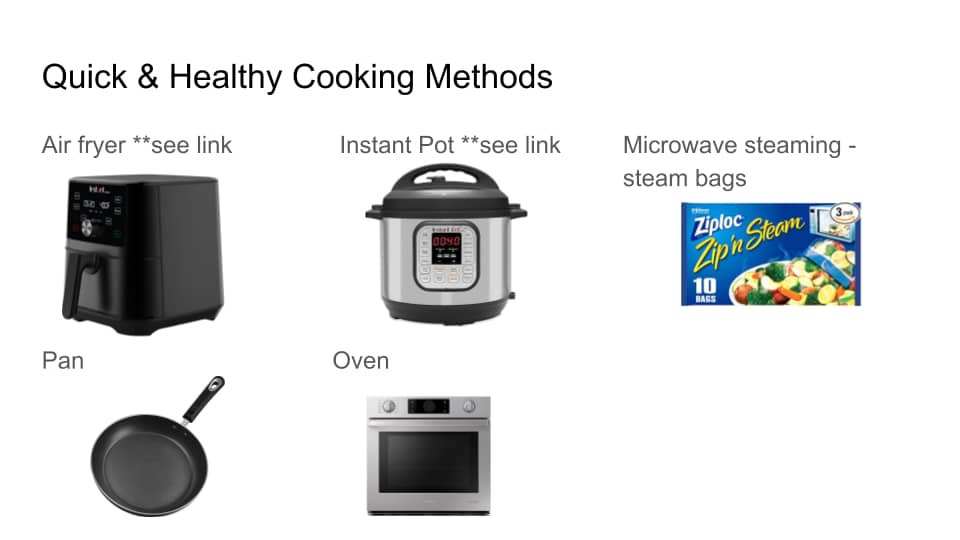 Notes:
We are totally in love with our Air-Fryer and Instant pot!
When I was dieting back in 2016, when I was in a hurry, I used these Zip 'n Steam bags to make a quick and healthy steamed meal. You can throw in, for example, salmon and veggies.
Less quick methods are using pan and oven, but it depends on what you are cooking. I like using a pan for one-pot meals.
Stock Up!
There are some things that you should stock up on when you go to the store, to plan for your last-minute meals. I know that's kind of against the last-minute meal title of this article, but as a busy parent, you know or should accept that you are going to have nights when you don't have time to cook something fancy. So go ahead and stock up with the following:
Frozen veggies – Asian blend, green beans, peas, etc.
Salad mixes (some are usually on sale)
Canned Tuna/chicken/beans/vegetable broth-low sodium
Whole grain pasta, brown rice
Last-Minute Recipes
I have a "Quickest Healthy Recipes for Families" playlist on my YouTube channel for these concoctions. Some are posted and others are in progress. Subscribe so you don't miss any new videos!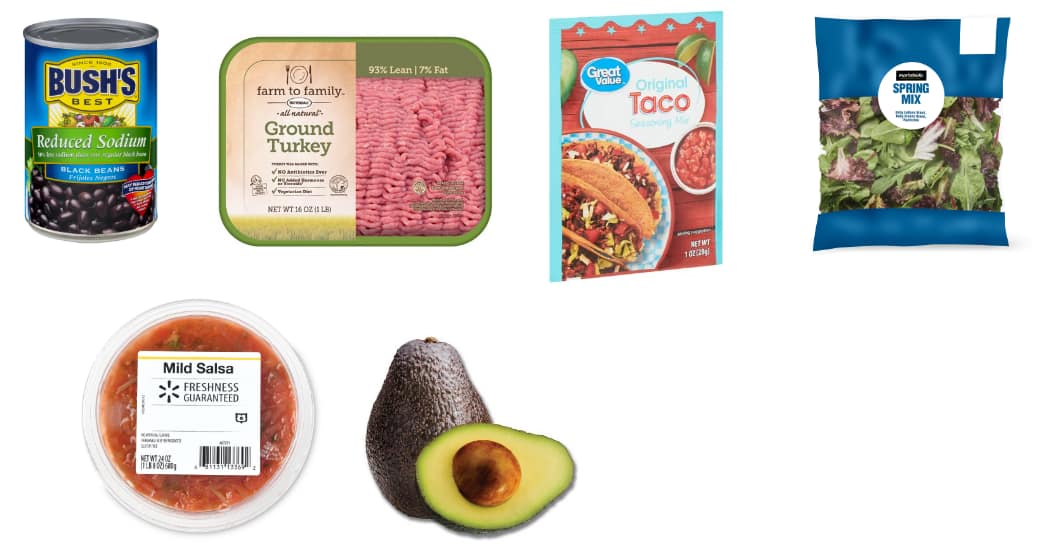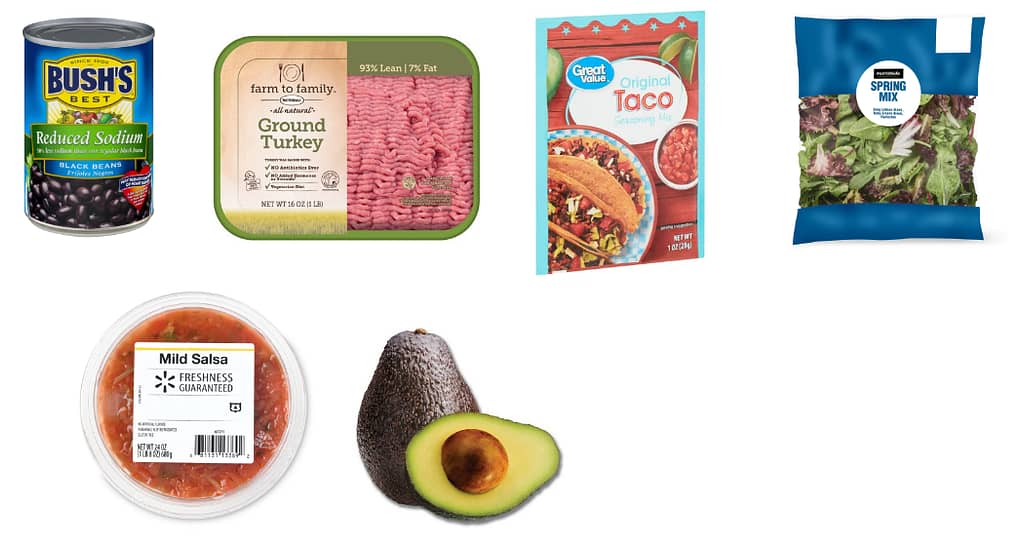 Taco Salad
Ingredients:
Black Bean-reduced sodium
Ground Turkey (or more beans for fully plant-based protein)
Taco Seasoning
Spring Green Mix
Salsa
Avocado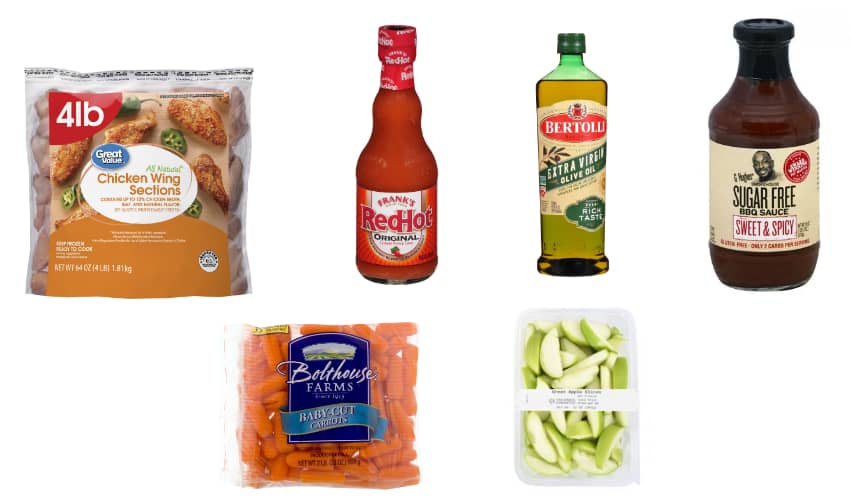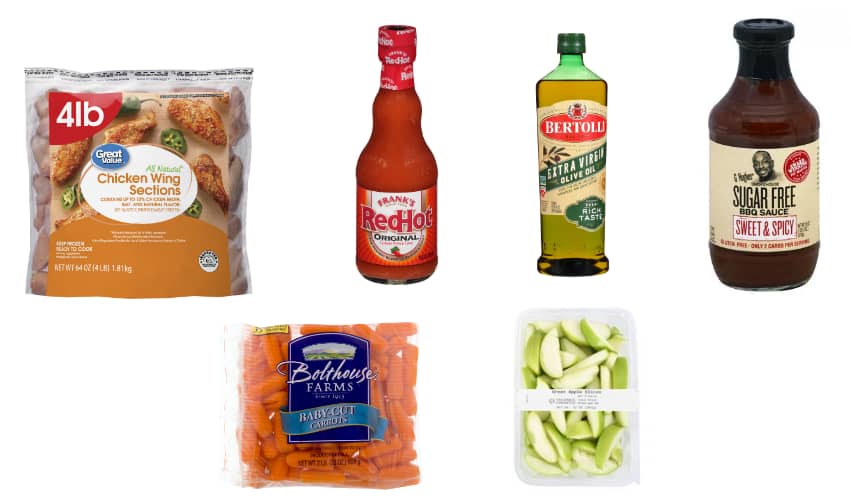 Chicken Wings
Ingredients:
Chicken Wing Sections
Hot Sauce (no sugar or added oils) or Sugar-free BBQ Sauce
Olive Oil
Baby Carrots and/or Apples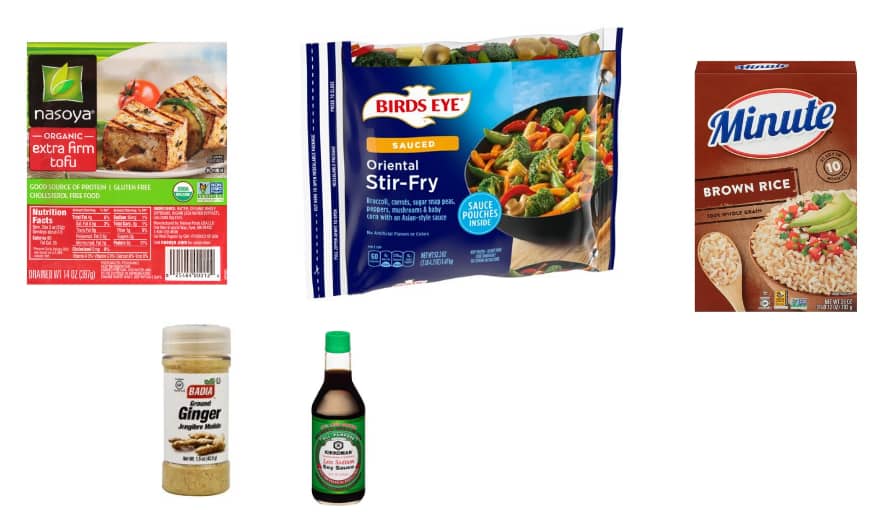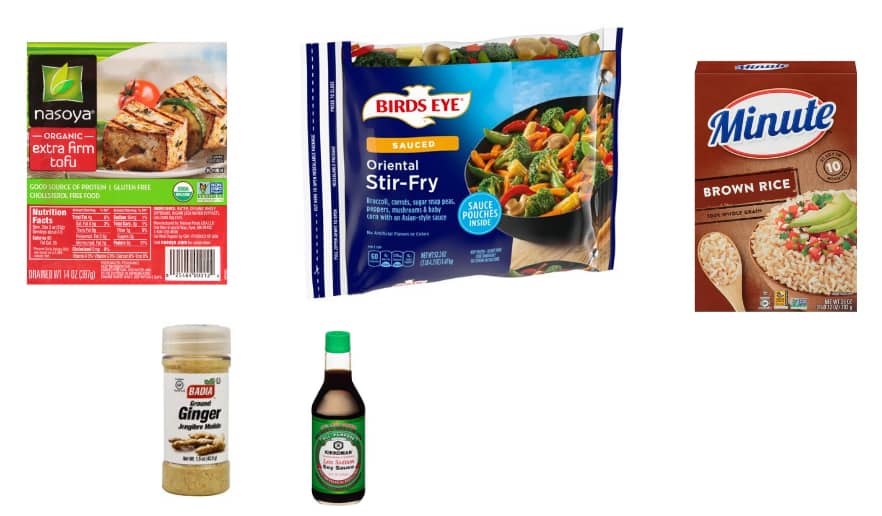 Stir Fry
Ingredients:
Tofu
Frozen Asian vegetable blend
Soy Sauce
Ground Ginger
Brown Rice (quick cook)
You can check my recipe for Amazing Asian Tofu Stir Fry here!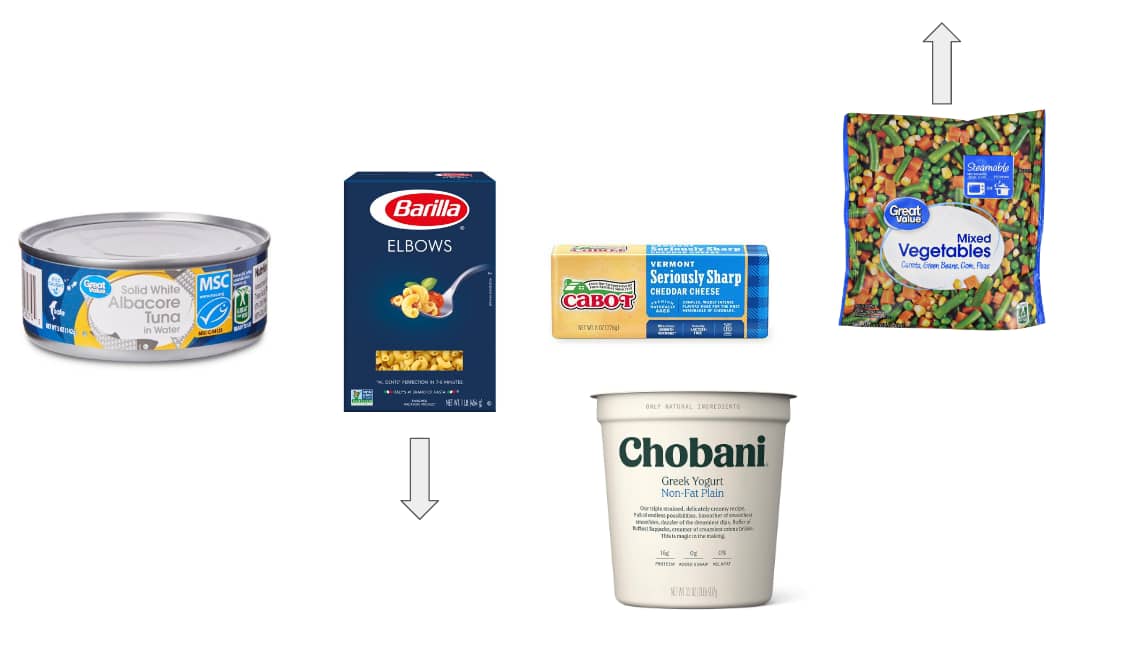 Tuna Casserole
Ingredients:
Canned Tuna
Elbow Pasta (Whole wheat)
Cheddar Cheese (Low fat and aged, preferably)
Frozen Mixed Vegetables (use more of this than pasta)
Greek Yogurt (plain and nonfat)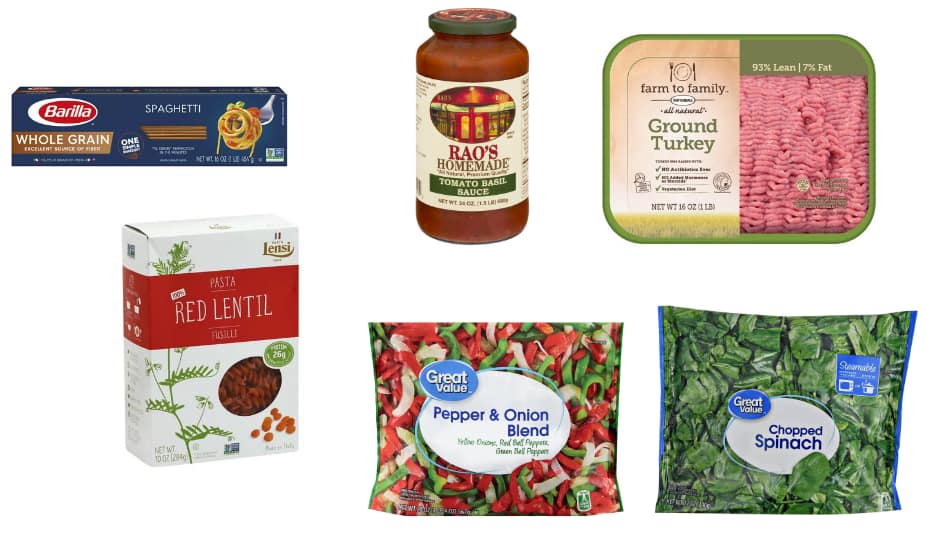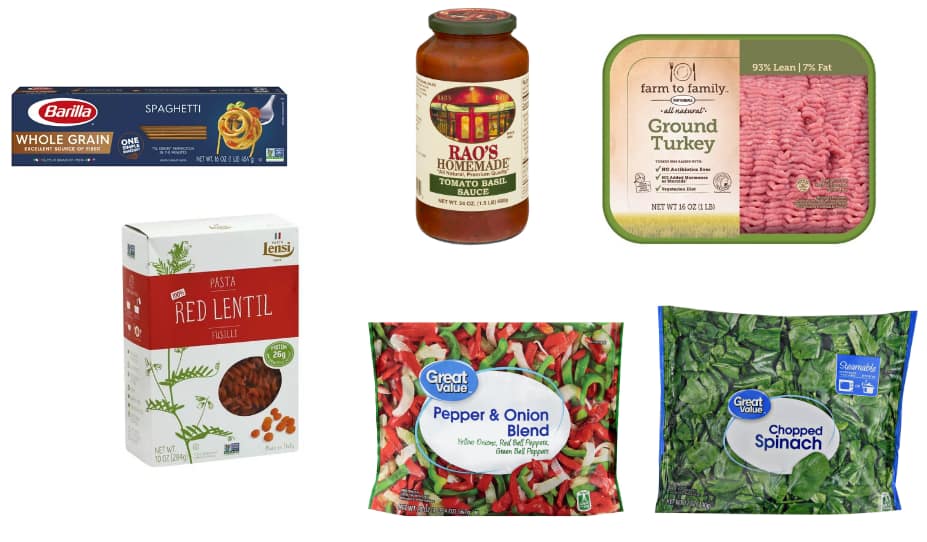 Spaghetti
Ingredients:
Whole Grain Spaghetti or Lentil Pasta
Tomato Basil Sauce (aim for lowest sugar available)
Ground Turkey (or omit if you use lentil pasta for protein and are fully plant-based)
Frozen Chopped Spinach
Pepper and Onion frozen veggie blend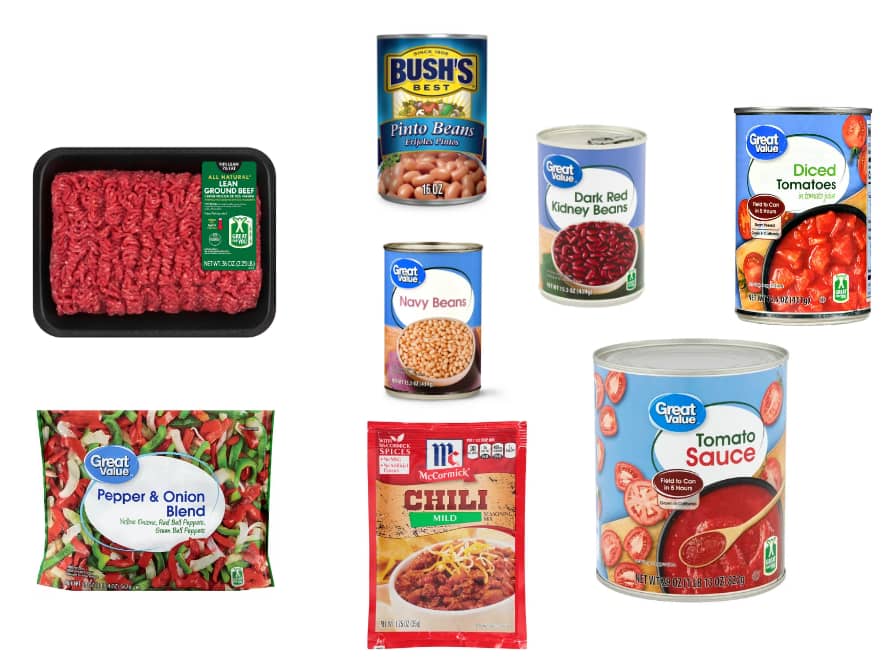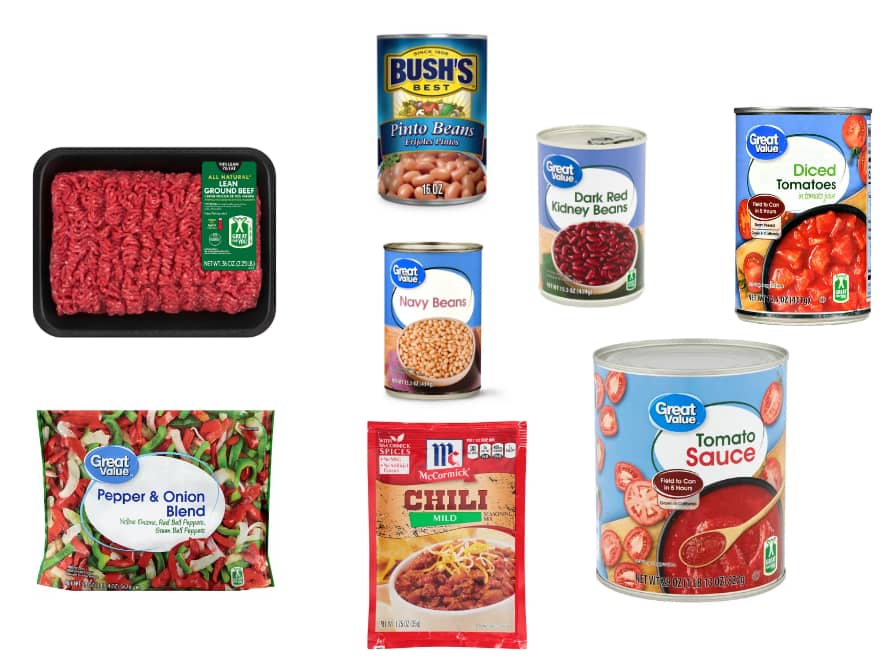 Chili
Ingredients:
Ground Beef (lean, or more beans for fully plant-based)
Pinto Beans (low sodium)
Navy Beans (low sodium)
Red Beans (low sodium)
Diced Tomatoes
Tomato sauce
Pepper and Onion frozen blend
Mild Chili Seasoning Mix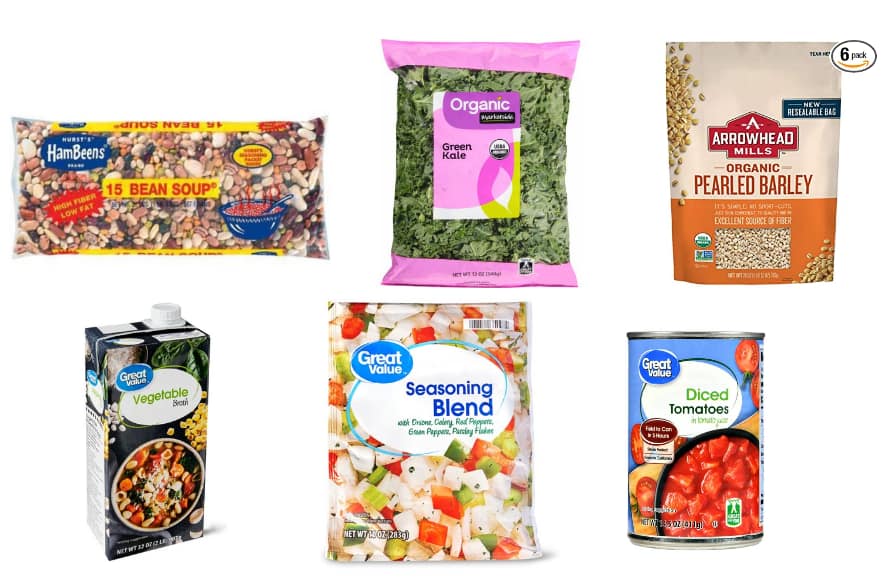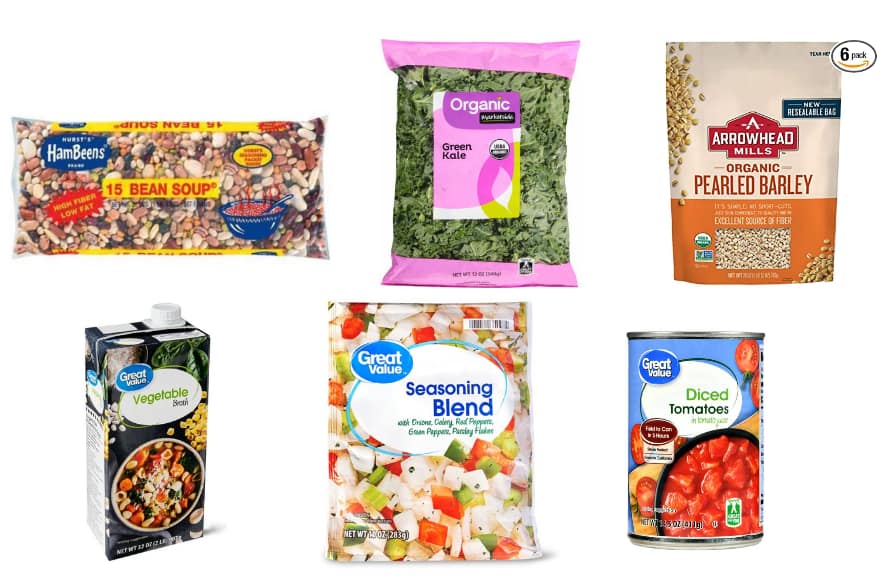 Plant-Based Bean Soup
Bag of Mixed Beans
Kale
Barley or other Whole Grain
Diced Tomatoes
Vegetable Broth
Frozen Seasoning Blend
Need more quick and easy, healthy meal ideas? Check out my FREE Frozen to Fabulous guide here!
I hope these quick recipes help you out when you are in a bind! Please share with others in the comments what your last minute healthy family meal recipes are!
❤️❤️Read About Me for details about my health journey; and, make sure you remember to sign up for my Newsletter and follow me on social❤️❤️!

Supporting me is appreciated as I create content to support your health journey.