I've wanted to try making some homemade vegan chocolate cinnamon rolls for a while now, but I never had the time or dedication to spend hours in the kitchen. Surprisingly, when I finally found the courage, it was way easier than I'd ever imagined! ✨
---
These vegan cinnamon rolls, enriched with indulgent chocolate chunks, required only 15 minutes of preparation and less than one hour of resting time. Plus, I've decided to enrich them with my creamy high-protein dairy-free cream cheese icing, which not only adds a touch of extra moistness to the rolls but also helps balance out the carbs and fats in the recipe.
Moreover, this healthy vegan cinnamon recipe is extremely versatile as well. The cinnamon and chocolate filling can be easily swapped with some raspberry chia jam (or whatever jam of your liking), some homemade hazelnut spread, or just some cinnamon and sugar for a more traditional pastry roll recipe. 🍫
I love pairing my vegan chocolate cinnamon rolls with my healthy fall beverages to cheer myself up during cold and dark Winter days, but they are also great as a Christmas breakfast or Thanksgiving dessert! 🎄
Vegan Chocolate Cinnamon Rolls: what I love about this recipe! 😍
Since I discover this healthy vegan cinnamon roll recipe I cannot stop making it! It not only is super easy and quick but there are also lots of added benefits to it, especially when compared with traditional recipes that use a lot of butter and sugar.
Whole Wheat or Oat Flour: The use of whole wheat or oat flour provides more fiber and nutrients compared to refined flours, contributing to better digestion and overall satisfaction.
Vegan Butter or Coconut Oil: Using vegan butter or coconut oil instead of traditional butter can reduce the saturated fat content, making the rolls potentially healthier.
Coconut Sugar: Coconut sugar is often chosen as a sweetener due to its lower glycemic index compared to refined sugar. This means that it might have a milder impact on blood sugar levels, thus helping keep our energy levels more stable throughout the day.
Dark Chocolate: Dark chocolate contains lots of precious antioxidants (i.e. flavonoids), which help protect our cardiovascular system and fight oxidative stress. Plus, it makes these vegan cinnamon rolls even more indulgent!
Dairy-Free, High-Protein Frosting: The high protein content of my dairy-free frosting not only helps balance out the nutritional profile of the recipe but also contributes to preventing blood sugar spikes. This is why pairing our teats with a good source of protein can contribute to preventing annoying cravings after meals or dips in our energy levels.
No Artificial Additives: The recipe appears to avoid artificial additives and preservatives commonly found in commercial cinnamon rolls, contributing to a more wholesome option.
Pro Tips For Incredible Vegan Chocolate Cinnamon Rolls 💯
Activate the Yeast Properly:

Make sure the oat milk is warm but not too hot; it should be around 110°F (43°C) to activate the yeast properly.
Allow the yeast mixture to become frothy before proceeding with the rest of the dough ingredients.

Treat the Dough Well:

Knead the dough until it is soft and smooth. Proper kneading develops gluten, giving the rolls a good texture.
Allow the dough to rise in a warm place for at least 1 hour or until it has doubled in size. This is crucial for a light and fluffy texture.

Be Careful with the Filling:

Spread the vegan butter evenly over the rolled-out dough to ensure a consistent flavor.
Distribute the cinnamon sugar and chocolate chunks evenly for a balanced filling in each roll.

Perfect your Cutting Skills:

Use a sharp knife or dental floss to cut the rolled dough into individual rolls. This helps maintain their shape.

Baking Temperature and Time:

Preheat your oven to 356°F (180°C) before placing the rolls inside.
Keep an eye on the rolls while baking. They should be golden brown on top, and the internal temperature should be around 190°F (88°C).

Enjoy Fresh (or Store Properly):

These rolls are best enjoyed fresh out of the oven. However, they can be stored in an airtight container for up to 4-5 days. In this case, I recommend adding the frosting a couple of minutes before consumption. Alternatively, these vegan cinnamon rolls can be frozen for up to 6 months and then reheated in an air fryer or in the oven.

Customization:

Feel free to customize the recipe to suit your preferences. You can add nuts, dried fruit, or other spices to the filling. Other filling ideas are above! 💗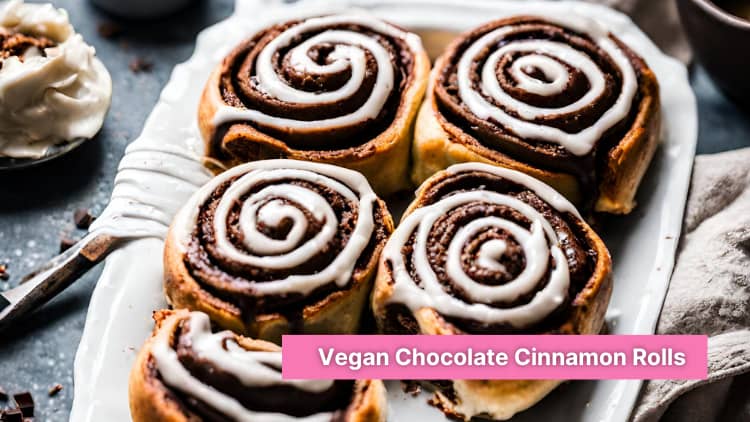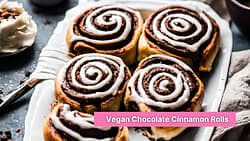 Vegan Chocolate Cinnamon Rolls
Yum
This is the easiest, most delicious vegan cinnamon roll recipe you will ever try! To spice things up, I added some chocolate chunks to the filling for an extra-indulgent, yet extremely healthy breakfast or dessert!
Instructions
For the dough:
Combine the warm milk, yeast, and a teaspoon of sugar. Wait until it's frothy, then add the rest of the sugar, the melted vegan butter, and the salt.

Gradually add the whole wheat flour (or oat flour), and knead the dough for a couple of minutes, until it is soft and smooth.

Let the dough rise in a warm place for at least 1 hour.

Roll out the dough until it forms a rectangle at least 1/2 inch thick.
For the filling:
Mix the coconut sugar with the cinnamon.

Spread a layer of vegan butter over the dough, then top with cinnamon sugar and dark chocolate pieces.

Roll the dough , and then cut it into 8-10 rolls about 2 inches in diameter

Place the chocolate cinnamon rolls on the lined baking sheet and cook them for at least 20-25 minutes at 356°F.
Nutrition
Nutrition Facts
Vegan Chocolate Cinnamon Rolls
Amount per Serving
% Daily Value*
* Percent Daily Values are based on a 2000 calorie diet.