These homemade Ground Turkey & Spinach Meatballs are light and delicious and perfect to add to your weekly meal plan. They can be a meal on their own or combined with some veggies and pasta, added to a sandwich, with a tomato-based sauce and rice, or a buddha bowl. There are so many healthy options, I used it as a breakfast meal in my Meatball Veggie Egg Muffins which are delicious and a must-try!
Social Buzz

Ingredient Selection Tips
Ground Turkey
When buying ground turkey, be aware of the different fat content. The frozen option is usually dark meat and often with some skin, and this one contains the most fat. Ground turkey breast is the lowest in fat, but it can be dry. Regular ground turkey that you can find in most stores is usually a combination of light and dark meat. The best quality meat is grass-fed, organic, or meat from a butcher store.
Eggs
Always try to find eggs that are free-range or organic, as they'll be higher in nutritional value. You can place them in the refrigerator to keep them fresh for longer. Also, check the date when eggs came to the store, the fresher the better!
Noteworthy Health Benefits
Ground Turkey
Ground Turkey is a very nutritious food. It is loaded with proteins, vitamins B3, B6, B12, selenium, sodium, phosphorus, and zinc.
Nutrients in turkey depend on the cut. Lighter-colored meat is lower in calories and fat and slightly higher in protein. Dark meat is higher in fat but also higher in nutrients. The skin contains the highest amount of calories and fat.
Here are some health benefits of eating Ground Turkey:
May lower risk of cancer
May help in diabetes management
May lower bad cholesterol
Protects from cognitive decline
Spinach
Spinach is called a superfood. Greens are very important to have in your diet. Spinach is rich in complex carbs, and insoluble fiber, and it is also packed with different vitamins and minerals like vitamins A, C, K1, folic acid, iron, calcium, potassium, magnesium, and vitamins E, B6, B9 which are all essential for good health.
The health benefits of eating spinach regularly are:
May lower risk of cancer
Benefit eyes health
Reduces oxidative stress
May reduce blood pressure level
May help with diabetes management
May help with asthma prevention
It is good for bone health
Promotes healthy skin and hair
Promotes healthy digestive tract
Part of the information taken from healthline.com and medicalnewstoday.com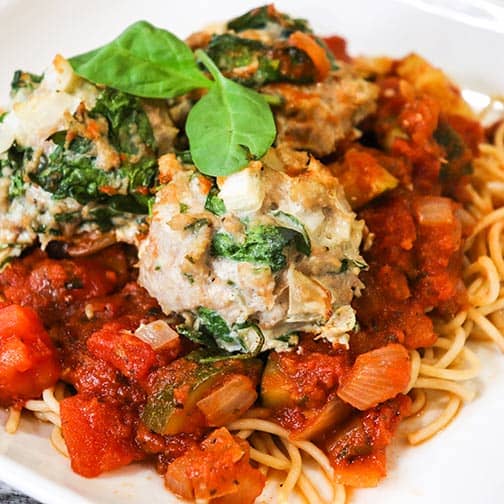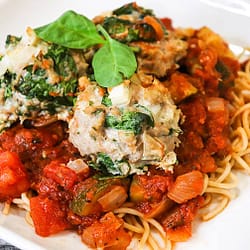 Better than Rachael Ray's Ground Turkey & Spinach Meatballs
Yum
Instructions
Preheat oven at 350 degrees (if roasting)

Scramble eggs in a large bowl.

Mix ingredients with your hands.

Place in oven and cook about 20 minutes or until center of meatball is at least 160 degrees
Notes


Nutrition
Sodium:
40
mg
Potassium:
68
mg
Cholesterol:
21
mg
Calories:
33
kcal
Monounsaturated Fat:
1
g
Fat:
2
g
Protein:
4
g