It's mid-February and in my garden, several strawberries are growing! They remind me that we are amidst Strawberry harvesting season, and this inspired me to come up with something tasty. This Strawberry Chia Pudding Parfait recipe is healthy, and you can prepare it ahead of time for an on-the-go snack or breakfast. It is also excellent to curve those late night sweet cravings before you reach for something else!
Strawberry Recipes – Often Laden with Fat and Sugar
Often, recipes incorporating strawberries are not very healthy as it's hard to combine the flavor of strawberry with a savory dish. With the exception of a Watermelon Berry Fruit Salad with a Lemon Thyme Vinaigrette, that is!
Most strawberry recipes you find are desserts – such as strawberry cheesecake and strawberry shortcake. Yum! These desserts are laden with fat and sugar though. I was determined to have a delectable "dessert", high in protein and low in sugar and fat. One so healthy, I could also eat it for breakfast.
I'd say I was quite successful in achieving that goal with this one. It's got so much protein, it's suitable for muscle repair and weight loss. There's a small amount of honey, but low enough combined with the protein to keep your blood sugar stable!
You can check out all of my strawberry recipes here. 🍓😋
Vanilla MyProtein Powder + Greek Yogurt = Fluffy Heaven
This Vanilla MyProtein powder is bomb. I often love to mix it in yogurt and throw some bananas or berries in it as well – it tastes like banana or strawberry cream pie! I also love to blend berries with peanut butter and their Chocolate protein powder. Something about their whey protein is so fluffy when blended, it's like a healthy PB&J ice cream or an Arby's frosty! I can't speak for the Vegan flavors, though they may whip up pretty well too. Let us know in the comments if you try it and it does!
These two ingredients mixed together are a double dose of protein. No need to sweeten the yogurt with this protein powder! Keep in mind though, that it includes an artificial sweetener. I usually like to avoid artificial sweeteners, but they are okay occasionally.
Beet Powder for Festive Color and Sneaky Nutrition
With Valentine's Day around the corner, I wanted to get creative with using beet powder to color food into something festive for the holiday. Three tablespoons of this beet powder is equal to the nutrition (minus the fiber) of three beets! Nitrates found in beets convert to nitric oxide in the body which has many benefits. Nitrates in beets can help support heart health, promote enhanced energy and stamina, and support healthy circulation. As a runner and cyclist, I love my beet juice and Berry Beet Smoothies!
Beets are also an excellent natural food coloring. I'm currently also working on some pink coconut flakes. Not sure what to use them for yet, but stay tuned!
Please let me know how this recipe goes when you make it! Post a picture and tag one of the below social media accounts: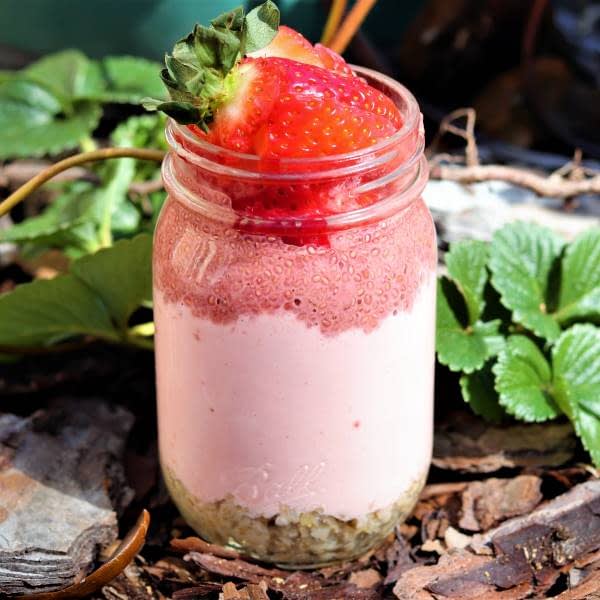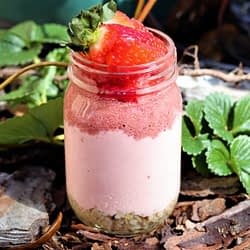 Strawberry Chia Pudding Parfait
Yum
This parfait is a unique and delicious way to make a healthy breakfast or dessert with all those strawberries in season! It's also a very cute beet colored red and pink treat for around Valentine's Day!
Instructions
Add the strawberries, almond milk, chia seeds, honey and 1/8 tsp beet powder into a food processor. Process until smooth (with the exception of the chia seeds).

Set the strawberry chia concoction in the fridge for at least an hour. It will set into a chia pudding. Overnight is even better.

Meanwhile, mix the Greek yogurt, vanilla protein powder, and remaining beet powder in a bowl until well blended.

When chia pudding has set, layer the oats, Greek yogurt, and chia pudding in a mason jar, parfait glass, or other suitable replacement. Top with more strawberries as garnish! Enjoy!