Do you think quesadillas are bad for you? Today I am going to prove that this is not necessarily the case.
Let's get started making some easy and delicious healthy quesadillas.
How to Make Healthy Quesadillas
Buy healthy flour tortillas

First of all, try to buy the healthiest flour tortillas you can find. Indeed, the most important thing is to avoid tortillas with hydrogenated oils. Second, try to avoid as many preservatives as possible.

You can find some tortillas with really clean ingredients at your favorite health food store. However, these cleaner tortillas can sometimes be difficult to fold. To avoid this issue, you can get some that contain a few oils and preservatives, as these are generally more pliable.

Finally, a third alternative is to make the tortillas yourself, which is for sure the best and healthiest option.

Use some avocado oil

Use a little bit of avocado oil to lightly brush one side of the tortilla. This will make them crunchier and tastier. Avocado oil is a "healthy fat" as compared to typical quesadillas, which are made with butter.

Use low-fat cheese

The choice and amount of cheese you are going to use in your tortillas are crucial. The reason is that cheese can often be full of "unhealthy" saturated fats and high in calories. Therefore, try to opt for a good quality Mexican cheese, preferably low-fat.

Add more veggies

Load up your tortillas with lots of plant food ingredients. Adding them will not only make your quesadillas healthier and more nutritious but also more filling due to the veggies' high-fiber content.

Add a little protein

Protein is important to have with your meals. It doesn't have to be lean meat though! I like to add black beans to my quesadillas – which have an acceptable amount of plant proteins.

Mind the sauce

How many times have you paid attention to the sauces you are putting in your food? Sauces and dairy added can indeed be quite tricky, especially if you are on a healthy eating journey! The issue is that they can be quite high in calories and fats.

A good compromise is to use plain nonfat Greek yogurt as a low-fat and low-calorie substitute for sour cream.
Social Buzz

Ingredient Selection Tips
Tomatoes
The tomato should be bright red, and firm to touch, with no yellow or green parts. They should have a nice smell, too. There are hundreds of species of tomato, but usually smaller ones are tastier and go better with this recipe.
Mexican Cheese
Make sure to find low-fat, high-quality Mexican cheese. You can find it already shredded.
Noteworthy Health Benefits
Tomatoes
Tomatoes are mostly made up of water, which can be up to 95%. They are low in carbs and are a good source of fiber. Tomatoes are loaded with precious nutrients like vitamin C, vitamin K, potassium, and folate. Eating tomatoes can reduce the risk of heart disease and of several cancers, and can even improve our skin health.
Cilantro
Cilantro -also known as coriander- can be considered a true superfood. It may lower blood sugar, may benefit heart and brain health, promote digestion and gut health, and protect our skin. It can also fight infections and inflammation, as it is rich in antioxidants.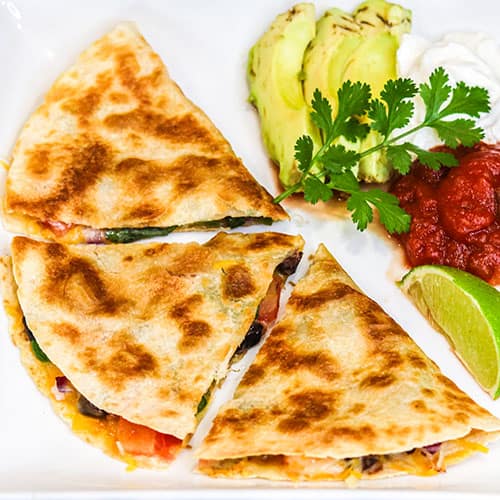 Making Quesadillas Healthy
Yum
Do you think quesadillas are bad for you? Today I am going to prove that this is not necessarily the case. So let's get started making some easy and delicious healthy quesadillas.
Instructions
Lightly brush some avocado oil on one side of the tortilla

Add half of one serving of a quality Mexican cheese -preferably low-fat- to half of the tortilla

Load it with red onion, tomato, jalapeno, cilantro, and black beans.

Top it with the remaining cheese.

Cook until the cheese is melted and the tortilla is golden brown.

Fold the quesadilla and cook a little longer to make sure that the cheese adhere to both sides.

Cut the quesadilla with a pizza cutter and then serve it with avocado, salsa, and more cilantro.

I love to use plain no-fat Greek yogurt as a low-fat substitute for the sour cream.
Notes


Nutrition
Nutrition Facts
Making Quesadillas Healthy
Amount per Serving
% Daily Value*
* Percent Daily Values are based on a 2000 calorie diet.
❤️❤️Read About Me for details about my health journey; and, make sure you remember to sign up for my Newsletter and follow me on social❤️❤️!

Supporting me is appreciated as I create content to support your health journey.


Enable Notifications
OK
No thanks