Gluten-free, healthy, and even a bit fancy: this Creamy Chickpea Pasta Recipe is perfect if you are looking for loads of plant proteins!
This is probably one of the best vegan pasta recipes I have ever come up with! The veggies and the basil and thyme "pesto" give this creamy chickpea pasta recipe a unique taste, which reminds me of an authentic and rich Italian pasta recipe.
Optional, but strongly suggested, is the addition of some grated cheese (or nutritional yeast) on top of this creamy chickpea pasta dish. If you are not vegan, I recommend adding some grated Mozzarella or Parmesan cheese for some extra creaminess! Alternatively, some nutritional yeast and a pinch of salt and black pepper will do their job and give this healthy chickpea pasta a stronger and more characteristic taste!
Another great thing about this vegan chickpea pasta recipe is that it is an easy way to incorporate more veggies into your diet. Mushrooms, asparagus, and tomatoes are indeed super-rich in antioxidants, vitamins, and minerals that help your body thrive. Even the pickiest children will love it!
Last but not least, the choice of using chickpea pasta in place of regular pasta is not casual at all! Indeed, chickpea pasta, besides being a great source of plant protein, has several other amazing benefits.
Let's have a look at all of them!
Why is Chickpea Pasta a great alternative to regular pasta?
Chickpea pasta can be a great alternative to regular pasta for several reasons. Although I don't recommend completely giving off regular pasta, chickpea pasta is for sure an excellent way to have a more varied diet and incorporate more plant-based protein into your diet.
Indeed, chickpea pasta contains around 13 grams of protein for a 2-ounce serving, which is almost four times more compared to regular whole wheat pasta. In addition, chickpea pasta can be considered a minimally processed food, as it generally contains only chickpea flour and water, and it doesn't contain any saturated fat, cholesterol, or added sugar. On the contrary, it is rich in fiber, zinc, and magnesium. All the reasons why it can be considered a great choice for a healthier Italian pasta recipe.
Moreover, chickpea pasta is naturally gluten-free, and therefore suitable for celiac people, and also keto-friendly, as it is lower in net carbs compared to regular pasta. Indeed, a serving of chickpea pasta contains around 32 to 37 grams of carbohydrates, which can easily fit into the typical 50-gram per day limit of a ketogenic diet.
Consuming more chickpea pasta is also an easy way of incorporating more legumes into our diet. This is especially important for people who may suffer from gas and bloating after eating "whole" beans. However, as with any high-fiber food, I recommend gradually increasing your intake so your body can get used to the uptick in fiber.
Finally, the chickpea pasta recipes out there are almost endless, which makes eating legumes less boring. For example, you can try my Roasted Veggies Chickpea Pasta, a true comfort food!
Want to know more about the amazing benefits of chickpeas? Here is an article for you! Dried Chickpeas vs Canned Chickpeas: main differences and nutritional benefits.
Social Buzz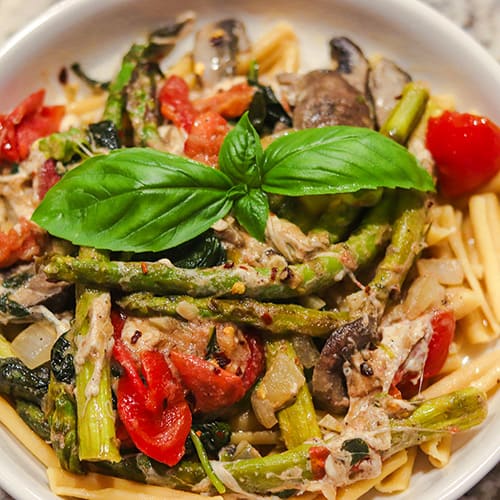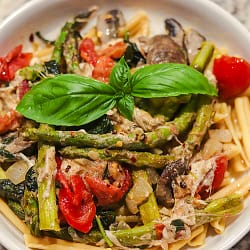 Italian Chickpea Pasta with Sautéed Veggies
Yum
Gluten-free, healthy, and even a bit fancy: this Creamy Chickpea Pasta is the perfect dish if you are looking for loads of plant proteins!
Instructions
Add some olive oil (or butter) to pan and heat over medium high.

Add the asparagus and cover. Rotate occasionally, and cook for about 6 minutes or until the veggies start to soften (not totally cooked!)

Remove the cover and add a little bit of the olive oil to the pan.

Add the garlic, onion, and mushrooms. Cook until the mushrooms start to soften.

Stir in the rest of the olive oil, tahini, fresh basil, fresh oregano, thyme, salt, pepper, roasted red peppers, and tomatoes.

Cook for a few more minutes to let the flavors combine together.

Serve over the pasta. Enjoy!
Notes


Nutrition
Nutrition Facts
Italian Chickpea Pasta with Sautéed Veggies
Amount per Serving
% Daily Value*
* Percent Daily Values are based on a 2000 calorie diet.