Craving southern comfort food but trying to crush your health goals!? This Cajun Shrimp 🍤 & Grits has all the taste and comfort without the ridiculous amount of fat!

It is so easy to make! Pair with my recipe for Low-Fat Creamy Grits here.
Social Buzz

Ingredient Selection Tips
Shrimp
The most important thing when buying shrimp (if not frozen) is to choose the freshest possible. Like other seafood, shrimps should not have a "fishy" smell. They should have the smell of clean sea and saltwater. Their eyes should be glossy and intact, and if you press their body with your finger, it should bounce back immediately.
Avoid imported shrimp, the most secure is to buy shrimp caught in America, like from Oregon or British Columbia.
Spices
For optimum flavor, buy spices as fresh as possible and try to purchase whole ones, and grind them. Also, ground spices are not required to be free of contaminants. Avoid buying them in your regular store, as there is a big chance that they are on the shell for a long time already. Better places for looking for fresh spices are some ethnic stores, online, or local spice merchants. It's ideal to buy small amounts often. I encourage you to grow your own spices like Basil, Oregano, Chilli, Parsley, etc., as this way you can have the best spices for sure!
After you find your spices, make sure that you store them right. It is important to save them in a dry and dark place, preferably in glass jars.
Noteworthy Health Benefits
Shrimp
Shrimp are low in calories and contain no carbs at all. Around 90% of calories come from protein and 10% from fat. It has a rich nutrition profile with more than 20 different vitamins and minerals like selenium, vitamin B12, iron, niacin, zinc, magnesium, and phosphorus. Shrimp is also a good source of iodine which is important for proper thyroid function and brain health and is rich in omega-6 and omega-3 fatty acids. 
All of this makes shrimp an ally of your health:
It may promote weight loss
It may have anti-aging properties
May prevent hair loss
May improve bone health and brain health
Shrimp are high in cholesterol, so try to be moderate your consumption. Though according to Healthline, it raises both "good" and "bad" cholesterol, so there are other factors to consider here if you are worried about your cholesterol levels.
Green Peppers
Green Peppers are basically unripe Bell Peppers. They are a type of fruit, not vegetables as most people think. Green Peppers are low in calories, very nutritious, and rich in Vitamin C and B6.
Here are some health benefits of consuming this healthy fruit:
they are good for your gut health, as they are a good source of fiber
may promote eye and heart health
can help to maintain your healthy weight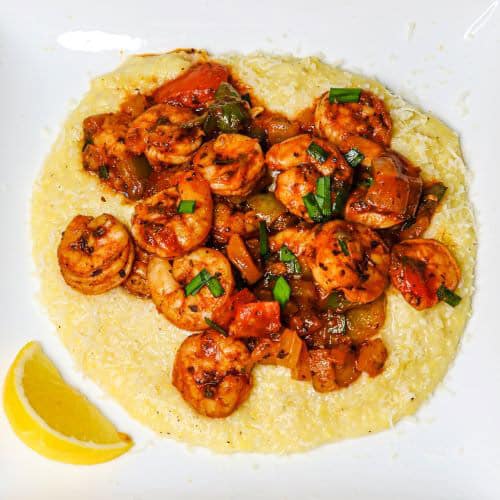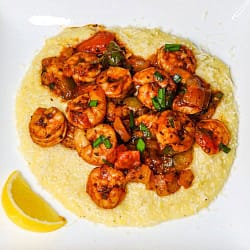 Shrimp and Grits
Yum
Craving southern comfort food but trying to crush your health goals!? This Cajun Shrimp & Grits has all the taste and comfort without the ridiculous amount of fat!
Instructions
Shrimp
Combine seasonings (or purchase cajun blend) in a large ziplock bag or sealable container.

Add shrimp to bag and toss to coat.

Heat pan on medium-high with olive oil.

Add diced onion, green bell pepper, and garlic. Cook until slightly softened.

Add shrimp and diced tomato.

Cook shrimp on both sides about 2-3 minutes on each side, while frequently tossing other ingredients in the pan.

Ingredients in pan are ready when shrimp is no longer pink.

Top over grits and squeeze lemon on top.
Grits
Bring water to a boil and then add grits and seasonings. Lower to a simmer and cover.

After about 10 minutes stir in butter. Then recover and continue to simmer for another 10-15 minutes, stirring occasionally.

Once ready, remove from heat and enjoy!
Notes


Nutrition
Nutrition Facts
Shrimp and Grits
Amount per Serving
% Daily Value*
* Percent Daily Values are based on a 2000 calorie diet.
❤️❤️Read About Me for details about my health journey; and, make sure you remember to sign up for my Newsletter and follow me on social❤️❤️!

Supporting me is appreciated as I create content to support your health journey.