Who doesn't love pasta? We all do!
But what we don't like is what it can do to our figure, especially if we are trying to lose weight.
Well, I have great news – Shrimp Edamame Spaghetti!
This Shrimp Edamame Linguini you can enjoy without the any guilt! It is very easy to make and very nutritious!
Edamame
Edamame spaghetti is made from edamame bean flour.
Edamame is a young soybean. They are naturally gluten-free and low in calories, free of cholesterol, and they are an excellent source of complete protein, iron, and calcium.
| | | |
| --- | --- | --- |
| Nutrients | Amount in a 155-gram cup of shelled edamame beans | Recommended daily intake (adult) |
| Energy (calories) | 188 | 2,000–3,000 |
| Protein (g) | 18.5 | 46–56 |
| Carbohydrate (g) | 13.8 of which 3.3 is sugar | 130 |
| Fiber (g) | 8.1 | 28–33.6 |
| Iron (mg) | 3.5 | 8–18 |
| Calcium (mg) | 97.6 | 1,000 |
| Magnesium (mg) | 99.2 | 310–400 |
| Phosphorus (mg) | 262 | 700 |
| Potassium (mg) | 676 | 4,700 |
| Zinc (mg) | 2.1 | 8–11 |
| Selenium (mcg) | 1.2 | 55 |
| Selenium (mcg) | 9.5 | 75–90 |
| Folate (mcg) | 482 | 400 |
*Source: MedicalNewsToday
Some of the health benefits are:
Edamame contains calcium, phosphorus, iron, vitamin E, and other nutrients that are required for maintaining healthy bones.
With its nutrients, vitamins, and antioxidants it helps in strengthening the immune system
It contains genistein and thus may help in enhancing lung function in those suffering from chronic respiratory issues.
Consumption of edamame may also be beneficial in managing weight. These beans have a high protein content and fewer calories, which makes them an ideal snack for weight-conscious people.
The health benefits of edamame include a healthy digestive system. It is a good source of fiber that facilitates digestion.
Soy foods like edamame may be beneficial in reducing the risk of cardiovascular diseases as they may improve the control of insulin and blood glucose levels.
Notes:
-In the US, most edamame is sold frozen. You can easily heat the beans by boiling, pan-frying, or microwaving them for a few minutes.
-Try to find organically grown edamame, since soybean production is mostly GMO
Shrimp
Shrimps is very nutritious.
They are fairly low in calories, and they don't contain any carbohydrates. One serving size provides more than 20 different minerals and vitamins.
Shrimp is one of the best food sources of iodine (a mineral that is required for proper thyroid function and brain health), and it contains an antioxidant called astaxanthin which is good for brain and heart health.
In one (85-gram) serving of shrimp:
Calories: 76
Fat: 1g
Sodium: 292mg
Carbohydrates: 1g
Fiber: 0g
Sugars: 0g
Protein: 15g
Notes
-Shrimp are high in cholesterol, which can increase the cholesterol in the blood for some people (research shows that only a quarter of the population is sensitive to dietary cholesterol), so try not to eat it too often. A balanced diet is always the best option.
-Try to find wild or US-farmed shrimps, as some imported shrimp may contain antibiotics. When buying shrimp, consider its odor and color. It should be firm and have a mild ocean-like smell. Try to purchase it from a trusted supplier.
https://www.medicalnewstoday.com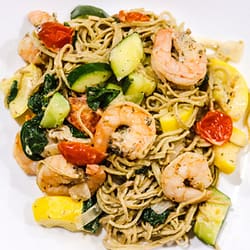 Shrimp Edamame Linguini
Yum
This meal will give you that airy, light feeling after you finish eating. It is very nutritious, easy to make and you can enjoy it without any guilt.
Instructions
Make pasta, rinse with cold water while draining and set aside

Mix dry seasonings except the ground red pepper into a quart sized bag. Add defrosted shrimp into the bag and shake to coat.

Oil a pan and heat over medium. When oil is shimmering, add shrimp. Cook the shrimp for 2-3 minutes on each side, flipping only once midway.

Remove shrimp and put on a plate. Set aside.

Add diced onion, garlic, squash, and zuchinni into the pan. Cook until all veggies have started to soften and onions are somewhat translucent.

Add fresh spinach and cherry tomatoes to pan. Cook until spinach has softened. Turn the pan down low.

Meanwhile mix together creamy red pepper sauce. Add Greek yogurt, tahini, lemon juice, milk, and ground red pepper. Mix to combine. Add salt to taste.

Add the creamy red pepper sauce, pasta, and cooked shrimp into the pan. Stir to combine. Once everything is heated throughout, serve!
Nutrition
Nutrition Facts
Shrimp Edamame Linguini
Amount per Serving
% Daily Value*
* Percent Daily Values are based on a 2000 calorie diet.
❤️❤️Read About Me for details about my health journey; and, make sure you remember to sign up for my Newsletter and follow me on social❤️❤️!

Supporting me is appreciated as I create content to support your health journey.


Enable Notifications
OK
No thanks