Say goodbye to dry, stodgy turkey with my Juicy Roast Turkey recipe, and get ready to elevate your holiday feast to a whole new level! 🌟🦃
---
Juicy Roast Turkey: less fats, lots of flavor 🦃
This oven-baked turkey is not only perfect for Thanksgiving, Christmas, or any friendly gathering, but is also healthier than any other recipes you can find online. I swapped the traditional butter coating with some way healthier extra-virgin olive oil, and I enriched the flavor of the meat with an incredible seasoning made with some of my favorite aromatic herbs – i.e. rosemary, thyme, and sage. The secret here is to rub the seasoning on the meat for a couple of minutes so that it can absorb all the essential oils contained in the seasonings.
You can also use the juices and trimmings from the cooked turkey to make gravy. Alternatively, you can easily make a healthy homemade gravy with just a couple of ingredients, as I did in this scrumptious Magical Mushroom Gravy, or in this tangy and flavorful Honey Ginger Dressing (easy & low-carb).
I love to serve my oven-roasted turkey with some balsamic Brussels sprouts and my famous healthy mashed potatoes to make a delightful meal that all the family will enjoy! However, this recipe goes incredibly well with some roasted seasonal vegetables or an earthy Vegan Red Potato Broccoli Salad
The Secret to a Juicy Turkey: Choosing the Best Meat 💯
Of course, choosing high-quality meat, better if organic and pasture-raised, is of paramount importance for a tender, juicy roast chicken. This is where Butcher Box comes in handy. Butcher Box is a meat delivery subscription service that delivers 100% grass-fed beef, free-range organic chicken, heritage breed pork, and wild-caught seafood directly to your door. All of their meat is humanely raised and never given added hormones or antibiotics.
Using Butcher Box is extremely easy. All you have to do is create your perfect box by choosing from more than 25 high-quality cuts. The cost of the monthly subscription is just $169, which is extremely convenient if you consider the amount and the quality of the meat you will receive. Plus, you can cancel or edit your subscription anytime.
If you click on this link, you can not only buy your Thanksgiving Turkey, but also receive 1 pack of bacon for free in every order for the life of your membership, PLUS an additional $20 off your first box! If this is not a bargain, I don't know what it is. 🙌🏽

Ingredient Selection Tips
Turkey
Here are some tips on how to choose a good turkey for your feast:
It doesn't matter too much whether you buy a fresh or frozen turkey, both are fine. If you are buying fresh, buy it at most a day or two before preparing it, and keep it in the fridge. And if you still decide on the frozen version, don't forget to leave enough time for defrosting before preparation (one day for every four pounds).
Choose a well-rounded bird, as it will probably turn out juicier.
In general, one pound of turkey is enough for an adult and half a pound for a child. Consider taking a few pounds more if you want some leftovers.
Preparing a small turkey is easier. It will bake and also thaw faster. If you have a lot of guests, you can prepare two smaller birds.
I always advise you to buy organic turkey with no additives or preservatives, or free-range if it is more affordable to you.
Avoid pre-stuffed and self-basted turkeys
Any leftovers will last a couple of days, but you can freeze them for up to a month.
Spices
There are some better places to buy fresh spices than large supermarkets, as you never know how long these spices are on the shelves before you buy. Try to visit ethnic markets, or to find a local spice merchant. Also, check quality spices online. Some spices are easy and fun to grow in your home, such as basil, oregano, sage, thyme, or parsley. When you're buying spices, buy small amounts. That way, they will stay fresh.
Noteworthy Health Benefits
Turkey
Turkey is a fantastic source of many minerals (selenium, zinc, and phosphorus) and vitamins (B3, B6, B12), and it is rich in protein.
It is a mix of white and dark meat. White meat is higher in protein, lower in calories, and lower in fat than dark meat, while red/dark meat is higher in vitamins and minerals.
Here are some health benefits:
The tryptophan content in turkey can support healthy levels of serotonin, which promotes alertness and a good mood.
It helps maintain lean muscle mass.
Protein keeps insulin levels stable after meals.
Social Media Channels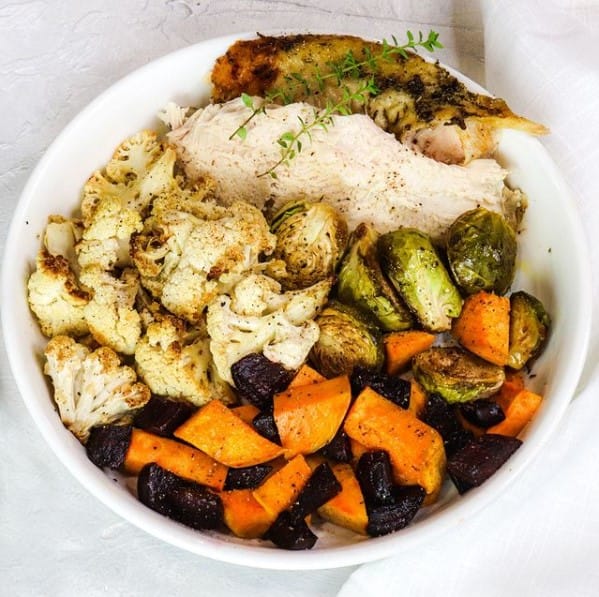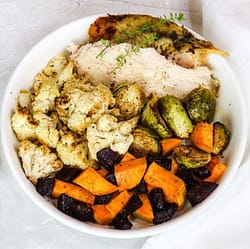 Savory Oven-Baked Turkey
Yum
It's the time of year! The holidays are knocking on our door! This Savory Oven Baked Turkey is a perfect dish for family gatherings on Thanksgiving Day or Christmas or any other family dinner. It is comforting, delicious, and healthy! Holiday food doesn't have to be heavy and fatty and caloric. I will show you!
Instructions
Preheat the oven to 350 degrees.

Remove giblets from turkey and place breast side down in a roasting pan or broiling pan (I like using the grates to keep the turkey crispy).

Brush oil on the breast side and underside of the turkey.

Mix seasonings and rub generously on both sides of the turkey.

Place in the center rack of the oven and cook until the thickest part of the thigh is at least 165 degrees (about 15-20 minutes per pound).

When the turkey seems close to being done (~10-15 minutes), rotate it so the breast side is facing upward and cook until finished.
Notes

Nutrition
Nutrition Facts
Savory Oven-Baked Turkey
Amount per Serving
% Daily Value*
* Percent Daily Values are based on a 2000 calorie diet.