Are you ready to quench your thirst with a delicious spicy pineapple mocktail? 🍹 A non-alcoholic beverage low in calories, kid-friendly, and way healthier than your store-bought alternatives, such as Ranch water. Let's learn how to whip it up in less than five minutes and discover the incredible ingredients it contains.
---
If you have been following me for the past few months, you will know that I've decided to significantly reduce my alcohol intake (here is a post on my Dry January challenge). The reasons for these are in part related to the fertility journey I am currently on and, more in general, to improve my overall health and mental sharpness. However, as we all know, there is nothing better than a nice, refreshing cocktail on a summer evening!
This is why I had to come up with healthy, alcohol-free alternatives to my favorite cocktails – or what many of us call "mocktails". Some weeks ago, I shared the recipe for my refined sugar-free Hibiscus Margarita Mocktail. Today, it is the turn of another delicious, yet super wholesome recipe: a spicy Jalapeño pineapple mocktail that reminds me of exotic beaches and lush palm trees! 🌴
Spicy Pineapple Mocktail: the beneficial ingredients in it 🍍
This recipe is extremely easy to follow and requires only 5 basic ingredients: canned pineapple (better if stored in natural juice), coconut sugar, club soda (I usually make it at home using this super aesthetic Soda Streaming Carbonator), the juice of two limes, and one jalapeno (or habanero) pepper for a spicy touch! You can substitute the pepper with some ground cinnamon for a kid-friendly drink! Optional, but highly recommended, is some tajin (a Mexican seasoning blend containing chili peppers, salt, and dehydrated lime). I love to use it to garnish the rim of my glasses and add some extra spiciness to the pineapple juice mocktail!
As you can see, these are all pretty healthy and easily available ingredients, some of which have also remarkable detoxifying properties. Let's have a closer look at some of them.
Pineapple 🍍. Super juicy and naturally sweet, pineapple contains plenty of beneficial micronutrients, including vitamin C, manganese, and bromelin. This latter is a powerful enzyme that can help speed up the digestion process and promote the drainage of fluids in the body. In addition, pineapple is rich in dietary fiber. Fiber is key in promoting feelings of fullness after meals. Plus, it helps slow down the absorption of sugars into the bloodstream. My suggestion is to keep some pieces of fruit in the drink, in order to retain its fiber!
Lemon and lime juice 🍋. Besides being incredible natural detoxifiers – lemon, and lime juice can be used as a natural remedy to speed up our digestion and boost our immune system. The merit of this goes to the citric acid vitamin C contained in the juice. This has been shown to boost gastric acid secretion, a digestive fluid produced in the stomach that enables your body to break down and digest food. Moreover, the vitamin C contained in citrus fruits plays a crucial role in the formation of collagen. This protein supports the skin and prevents it from any damage. If you want to learn more about the amazing benefits of lemon juice, click here.
Jalapeños 🌶. Did you know that these spicy peppers are incredibly rich in several micronutrients and antioxidants that can support our overall well-being and fight the damage caused by oxidative stress? In particular, Jalapeños are a mine of vitamin A (which, are explained in this article about the best tanning foods). In addition, they contain remarkable amounts of vitamins B, K, and C, as well as of folate and potassium. Last but not least, jalapeños are high in capsaicin. This is a powerful compound with noteworthy analgesic and anti-inflammatory properties. For these benefits, it is often used in the treatment of arthritis, diabetic neuropathy, and gastric lesions.
Now you know all the secrets about the beneficial ingredients I used in this pineapple mocktail recipe. Let's then have a look at some tips for making a sensational non-alcoholic cocktail!
Spicy Pineapple Mocktail: some tips for sensational non-alcoholic cocktails! 🍹🍍
Are you ready to make some unforgettable virgin cocktails? Here are some secret tips for you! 🤫
Place the glasses in the refrigerator before pouring the drink. Not only do refrigerated glasses help maintain the beverages cold and refreshing for a longer time, but they can also make the cocktail look more appetizing and visually appealing, therefore enhancing the overall presentation!
Use some natural canned pineapple. Using some canned pineapple free from any artificial sugars or syrups is a great tip to enhance the natural properties of the pineapple mocktail. Plus, another suggestion is to keep some pieces of pineapple in the drink, so that you can reap all the benefits deriving from the dietary fibers!
Make your own spicy coconut sugar reduction. Making your own spicy coconut sugar reduction, instead of opting for store-bought syrups, allows you to have better control over the ingredients in it. In particular, you can substitute harmful sugar and artificial sweeteners for more natural alternatives. For example, I love to use either coconut sugar, agave blend, or date syrup.
Use the right ratio between pineapple juice and coconut sugar syrup. Finding the right balance between the spiciness of the sugar syrup and the sweetness of the pineapple juice is the key to a great mocktail. I suggest using a 3:1 ratio of pineapple juice to sugar reduction. Then, use the club soda to add some sourness and fizz to the drink. Remember that these are only rough guidelines and you can vary them according to personal taste.
Don't forget the tajin on the rim. I love covering the rim of my glass with some tajin. (A Mexican seasoning blend containing chili peppers, salt, and dehydrated lime). This adds an extra touch of sourness/spiciness to the pineapple mocktail, which I personally love!
The summer is here: what are you waiting for quenching your thirst with a refreshing spicy pineapple mocktail? 🍸If you loved this recipe, please comment and share it. Links to my socials are down below 💗
Social Buzz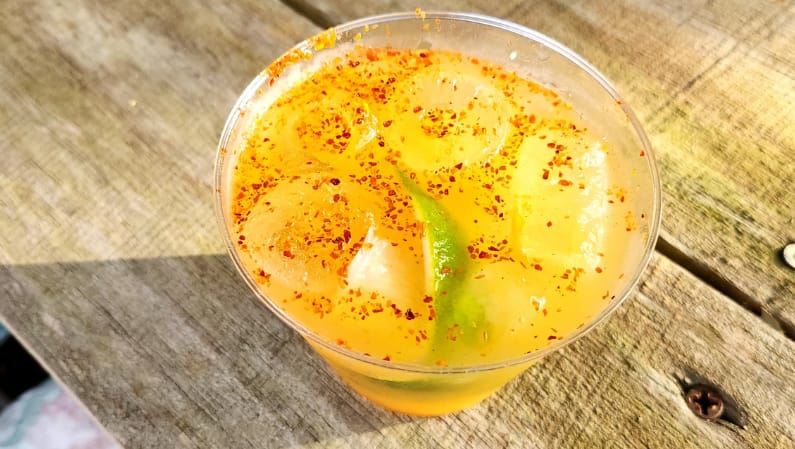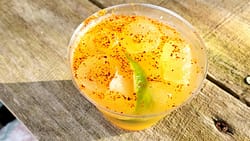 Jalapeño Pineapple Mocktail
Yum
Are you ready to quench your thirst with a delicious homemade spicy pineapple mocktail? 🍹 A non-alcoholic beverage low in calories, kid-friendly, and way healthier than your store-bought drinks!
Instructions
Mix the coconut sugar, water, and quartered and de-seeded peppers in a small pan, and then heat to a simmer.

Simmer until reduced about halfway. It should take around 15 minutes Remove from heat and cool down for a few minutes. Remove the quartered pepper.

Filter the desired amount of pineapple from the juice (some like all of the fruit in their drink, others prefer none. Remember that fruit is good for us because of the fiber contained in it!)

Add the filtered pineapple juice to a pitcher.

Stir in the spicy coconut sugar reduction.

Cool in the refrigerator for at least half an hour. When ready to serve, pour in the soda water and stir very well (use a shaker to make it extra froathy).

To serve, garnish each glass with the tajin. Add a couple ice cubes, and finally add the beverage. To make it extra fancy, add a slice of pineapple to the glass!
Nutrition
Nutrition Facts
Jalapeño Pineapple Mocktail
Amount per Serving
% Daily Value*
* Percent Daily Values are based on a 2000 calorie diet.
❤️❤️Read About Me for details about my health journey; and, make sure you remember to sign up for my Newsletter and follow me on social❤️❤️!

Supporting me is appreciated as I create content to support your health journey.