This Root Veggies Breakfast Hash Bowl is a delicious and highly nutritious dish for your whole family! Lately, I am loving this type of breakfast, since they are quick and easy to make but will keep you satisfied and energized for hours.
Besides, if you prep your veggies in advance, you will have this amazing breakfast ready in less than 5 minutes! If you like, you can add also some chickpeas to bulk it up and increase the protein content of the dish. But let's see some useful tips to optimize the health benefits and quality of this breakfast hash bowl.
Health Benefits of the Recipe
This recipe is incredibly full of healthy and vibrant ingredients, good for your well-being and long-term health. The root veggies are indeed an exceptional source of carotenoids and are rich in fiber and precious antioxidants.
Social Buzz

Ingredient Selection Tips
Root Veggies
As far as the main star of this recipe, the root veggies, opt for those that are hard and firm to the touch. For veggies with green leaves, make sure their color is bright and intense.
Eggs
Opt then for organic, free-range eggs, better for you and the environment. Make also sure that the eggshells do not have any visible cracks.
Noteworthy Health Benefits
Brussel Sprouts
The Brussel sprouts are rich in antioxidants as well and are also high in fiber, a source of vitamin C, vitamin K, calcium iron, and potassium. These micronutrients help to promote better gut and heart health and to preserve bone density.
Eggs
Last but not least, eggs are one of the most nutritious foods out there. Eating eggs can also lead to an increase in HDL levels (good cholesterol), while their protein content is pivotal in maintaining and repairing body tissue.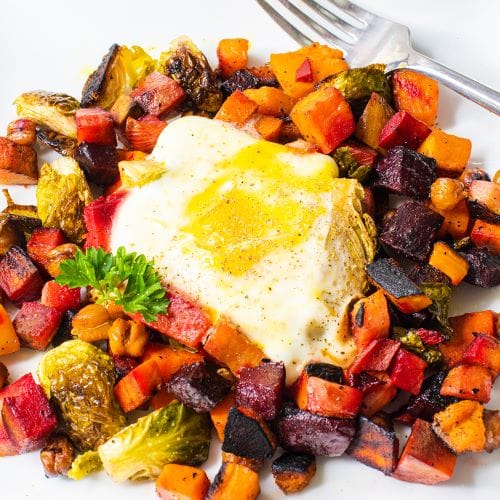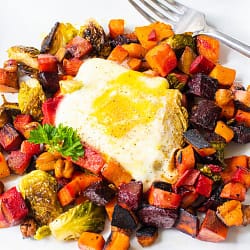 Root Veggie Hash
Yum
This root veggie hash (with optional chickpeas and brussel sprouts) is a delicious and highly nutritious breakfast. If you prep your veggies in advance, you will have this amazing breakfast ready in less than 5 minutes!
Instructions
Add a tablespoon of olive oil to a pan and heat over medium.

If you like, add roasted or raw brussel sprouts, and chickpeas (optionals).

Add a pinch of thyme and some diced garlic.

If the veggies are raw, you will need to cover the pan and stir frequently until the veggies are tender.

Crack a couple of eggs on top of the hash, turn the hear down until low, and cover the pan.

Cook until the yolks have obtained the desired consistency.

Add salt & pepper on top.

Carefully place the hash on a plate with a spatula. Enjoy!
Notes


*These values ​​are only estimates.
Nutrition
Nutrition Facts
Root Veggie Hash
Amount per Serving
% Daily Value*
* Percent Daily Values are based on a 2000 calorie diet.
❤️❤️Read About Me for details about my health journey; and, make sure you remember to sign up for my Newsletter and follow me on social❤️❤️!

Supporting me is appreciated as I create content to support your health journey.


Enable Notifications
OK
No thanks