This Roasted Winter Veggies recipe is part of my Winter Meal Prep series (check the video below for a walkthrough of how to make this). It is very simple to make, very tasty, and versatile in the kitchen. I hope you will like my ideas on how to use this simple dish to prepare healthy meals for you and your family, during these cold winter days. You can pair these with potatoes, salad, chicken, or some of the recipes listed below. 
Suggested recipes to use roasted veggies with:
Social Buzz

Ingredient Selection Tips
Root Veggies
When buying root veggies, look for hard, springy, and smooth vegetables, with no bruises. If they come with the leaves, they should be fresh and bright green.
Butternut Squash
Fresh Butternut squash should have a smooth surface with nice beige color, with no bruises or dark spots. Also, the stem should be firm to the touch.
Noteworthy Health Benefits
Root Vegetables
Root veggies are rich in carbs and antioxidants, and low in calories and fat.
They are a good source of fiber, potassium, fiber, manganese, and vitamins A, B, and C.
The health benefits of having root veggies in your regular diet are:
May regulate blood sugar
May benefit your digestive system
May help with weight management
They are immune boosters and can fight some diseases
Butternut Squash
Butternut Squash is loaded with antioxidants, vitamins, minerals, and fiber. It is rich in vitamin A, C, E, B3, B6, B9, magnesium, potassium, manganese, folate, plus it is low in calories. Here are the benefits of including butternut squash into your diet:
May lower risk of heart disease
May lower risk of cancer
May protect against mental decline
May help with weight loss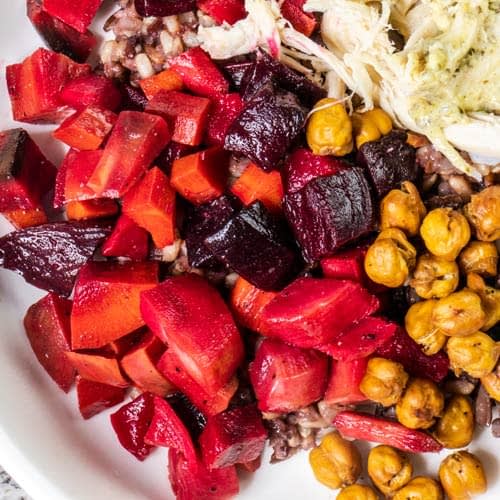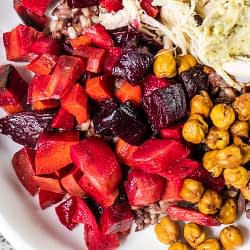 Winter Roasted Veggies
Yum
Ingredients
2-3

Each Root veggies

Diced. Examples: Parsnips, Carrots, Beets, Turnips, Sweet potato

1

lb

Brussel sprouts

quartered or halved

1

Butternut squash

diced

1

Spaghetti squash

halved (optional, for pasta replacement)
Instructions
Preheat oven to 350 degrees.

Spray pans with olive oil and set up assembly line to roast in the oven.

Roast until able to pierce with a fork (tender).

Enjoy throughout the week with the recipes noted above.
Notes

Nutrition
Calories:
192
kcal
Carbohydrates:
44
g
Protein:
6
g
Fat:
1
g
Polyunsaturated Fat:
1
g
Sodium:
111
mg
Potassium:
857
mg
Fiber:
10
g
Sugar:
12
g