This Turkey Meatballs in Creamy Pesto Sauce Over Spaghetti Squash is one of my favorites!
It is incredibly healthy, delicious, and even a bit fancy. Perfect for dinner after a long day, or even for a date night. Moreover, this dish is gluten-free too!
This is not all! My Turkey Meatballs are also ideal for meal prep. Indeed, if you follow my quantities you will obtain around 18 meatballs. These are more than enough leftovers for your week's lunches.
Plus, this recipe is part of my Winter Meal Prep series. If you've been following it, you will already have the Turkey Meatballs, Roasted Spaghetti Squash, Creamy Sauce, and Pesto Sauce in your fridge. This means that you don't need to make another trip to the grocery store in order to cook it!
Let's now see the other steps and tips for making this tasty meal!
Social Buzz

Ingredient Selection Tips
Olive Oil
I always choose extra virgin, cold-pressed olive oil. For maximum quality, make sure you choose olive oil in a dark glass bottle. Greek and Spanish are my favorites, but keep in mind that everyone has different taste preferences.
Parmesan Cheese
Try to find original Italian Parmesan cheese. Freshly grated is always the best option. If you're limiting your dairy consumption you can always opt for nutritional yeast flakes in replacement.
Noteworthy Health Benefits
Turkey
Ground turkey is a highly nutritious food. It is loaded with protein, vitamins B3, B6, B12, selenium, sodium, phosphorus, and zinc.
Here are some of its health benefits:
Eating turkey can lower the risk of cancer
It may help in diabetes management
May lower bad cholesterol
It protects from cognitive decline
Spaghetti Squash
Spaghetti Squash is a great source of vitamin C, vitamin B6, manganese, and fiber. It is also rich in antioxidants.
Here are some of its health benefits for us:
It can fight free radicals and protect us from some diseases
Promotes digestive health because of the high fiber content
Supports weight loss
It is good for dental health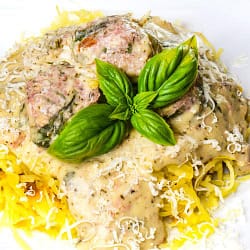 Turkey Meatballs in Creamy Pesto Sauce Over Spaghetti Squash
Yum
These Turkey Meatballs in Creamy Pesto Sauce Over Spaghetti Squash is one of my favorites! It is healthy, soooo delicious, and a bit fancy. This recipe is gluten free too! Perfect for enjoying dinner after a long day, or a great dish to serve up on date night.
Ingredients
Instructions
Heat a little olive oil in a large pan.

Add meatballs to pan and brown a little on a couple of sides.

Turn the pan down to low and add sauce.

Simmer 5 minutes stirring consistently (continue with low heat to avoid coagulating yogurt).

Serve over spaghetti squash with 3-4 meatballs.

Garnish with freshly grated parmesan (no more than a half-ounce) or nutritional yeast flakes.
Notes

Nutrition
Calories:
411
kcal
Carbohydrates:
44
g
Protein:
16
g
Fat:
21
g
Saturated Fat:
6
g
Polyunsaturated Fat:
1
g
Monounsaturated Fat:
5
g
Cholesterol:
153
mg
Sodium:
230
mg
Potassium:
358
mg
Fiber:
8
g
Sugar:
29
g
❤️❤️Read About Me for details about my health journey; and, make sure you remember to sign up for my Newsletter and follow me on social❤️❤️!

Supporting me is appreciated as I create content to support your health journey.