Traditional Mac n' Cheese is Not Nutritious
Traditional mac n' cheese is heavy! It traditionally has lots of saturated fat, poor quality pasta, and very little nutritional value. Some mac and cheese is even totally processed. Aside from the convenience, boxed mac and cheese is even worse. However, sometimes you crave that home style, comforting cheesy 🧀 goodness. Mmmm… I'm salivating just thinking about it. 😋
Now, I'll get off my high horse 🐴. Honestly, from time to time I make the kids boxed macaroni and cheese. I feel guilty every time. If you even have 30 minutes to cook, you can cook this healthy alternative mac and cheese. I can guarantee the healthy to tasty ratio of this recipe is the best on the net.
Trying to get your kids (or husband) to eat some vegetables? It's hard to avoid the cauliflower and broccoli in this dish, but so tempting even for the vegetable adverse. It may even turn your family into broccoli fans! 🥦
What Makes This Mac n' Cheese Healthier?
There are a few modifications I have made in this recipe to make it much healthier than a traditional mac and cheese. For one, I put real aged cheese in this dish. Aged cheese is better because it is lower in lactose and has a richer flavor. The reason a richer flavor is preferable is that you don't have to use quite as much as traditional mac and cheese. A little aged mac and cheese goes a long way to give a this pasta dish it's gooey, cheesy goodness.
This healthy mac and cheese has non-fat, plain Greek yogurt. This both enhances the creaminess as well as adds a little more protein. Protein helps slow digestion of the carbohydrates in the pasta which helps you stay satiated longer and prevent large fluctuations in blood sugar. Preventing large fluctuations in blood sugar helps with weight loss and maintenance, by the way! I love using non-fat, plain Greek yogurt as a substitute for sour cream or heavy cream in recipes. It makes for a great dessert with berries, as a sour cream replacement on a baked potato or taco, as the base for a veggie dip with ranch seasoning, and many other uses.
The bulk of this healthy mac and cheese are veggies! And you can't even tell that you are swapping out a lot of the pasta for broccoli and cauliflower. If you don't believe me, you should try it! In addition to swapping some of the pasta for vegetables, I chose a whole wheat elbow macaroni. Whole wheat macaroni has more fiber than a refined flour macaroni.
I hope this healthy mac and cheese recipe revolutionizes your approach to mac and cheese going forward! It's not too hard to make a mac and cheese that is lighter and packed with more nutrition, with no detriment to its taste. You will enjoy this mac and cheese as a complete meal, quick and easy for any weekday evening. Please let me know how it goes, both in the kitchen and with family!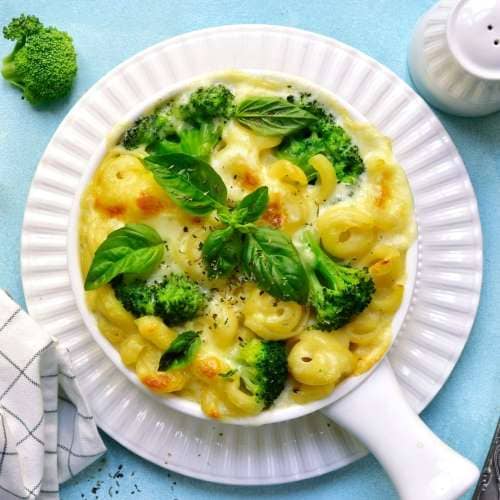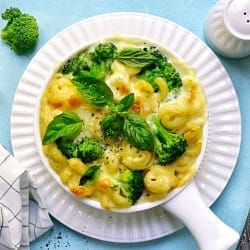 Healthiest Mac and Cheese
Yum
Looking for a lighter, healthy mac and cheese? Look no further! This mac and cheese rivals it's traditional counterpart AND it's nutritious!
Instructions
Bring large pan of water to boil.

Add elbow macaroni and allow to cook for 3 minutes.

Add all of the veggies and allow to cook for an additional 7 minutes, or until pasta and vegetables are cooked.

Drain pasta and set aside.

Heat saucepan over medium with olive oil.

Add garlic to saucepan and cook until fragrant, about 30 seconds to a minute.

Turn saucepan down to low. Add milk and allow to heat.

When milk is hot enough to melt cheese, add both the sharp cheddar and gruyere shredded cheeses. Add seasonings and tablespoon of flour.

Stir consistently until all cheese has melted and mixed with the milk and the sauce has thickened.

Pour elbow macaroni and veggies back into pot or in a serving dish. Mix in cheese sauce.

Mix Greek yogurt into pasta and cheese sauce (Greek yogurt goes last because it coagulates in heat).

Serve in a bowl with any optional toppings listed. Enjoy with less guilt!
Notes
Nutrition Facts

Servings




6.0

Amount Per Serving
calories


279

% Daily Value *
Total Fat


13




g

20




%

Saturated Fat




7




g

33




%

Monounsaturated Fat




3




g

Polyunsaturated Fat




0




g

Trans Fat




0




g

Cholesterol


34




mg

11




%

Sodium


606




mg

25




%

Potassium


281




mg

8




%

Total Carbohydrate


27




g

9




%

Dietary Fiber


4




g

15




%

Sugars


5




g

Protein


17




g

33




%

Vitamin A

31




%

Vitamin C

74




%

Calcium

71




%

Iron

1




%

* The Percent Daily Values are based on a 2,000 calorie diet, so your values may change depending on your calorie needs.
The values here may not be 100% accurate because the recipes have not been professionally evaluated nor have they been evaluated by the U.S. FDA.
Nutrition
Nutrition Facts
Healthiest Mac and Cheese
Amount per Serving
% Daily Value*
* Percent Daily Values are based on a 2000 calorie diet.
❤️❤️Read About Me for details about my health journey; and, make sure you remember to sign up for my Newsletter and follow me on social❤️❤️!

Supporting me is appreciated as I create content to support your health journey.