Watermelon is for sure the queen of summer! 🍉 Refreshing, juicy, and super sweet! But have you ever wondered what the correlation is between watermelon and blood sugar levels? Does it raise them, and is it safe for diabetic people to eat?
Let's discover this, many other diet tips, and curiosities in this article!
Watermelon and blood sugar levels: what's the correlation?
We need to introduce some medical concepts to determine the correlation between watermelon and blood sugar levels.
The Glycemic Index (GI) and Glycemic Load (GL) of Watermelon
The glycemic index (GI) plays an important role in determining how quickly foods influence blood glucose levels. Indeed, it measures how quickly sugar from food enters the bloodstream — the faster this process, the more likely a person will experience a blood sugar spike.
The GI system allocates each food a score between 0 and 100. The higher the number, the greater the speed at which sugar enters the bloodstream. Watermelon has a GI of around 72, which can be considered a high GI.
On the other hand, the glycemic load (GL), is the combination of the GI and the actual carbohydrate content in a typical serving of food. This is why the GL gives a more real-world value to how much and how quickly a specific food can affect blood sugar levels. A GL under 10 is low, 10 to 19 is medium, and 19 and above is high.
The high moisture content of the watermelon, which is around 92%, dilutes the sugars contained in the fruit. Moreover, a typical serving of watermelon does not contain many carbohydrates. This is why the GL of a serving of watermelon is way lower than its GI.
According to the Defeat Diabetes Foundation, due to the high percentage of water in the fruit, a small portion size of a watermelon (120 g – 4.2 oz) has a relatively low glycemic load (around 5).
This is why people with diabetes could pair watermelon with foods that are rich in healthy fats, fiber, and protein, such as nuts or seeds. This combination of nutrients can help a person feel full for longer and slow the absorption of sugar into the bloodstream. Moreover, they should avoid drinking watermelon juice, which has indeed a way higher GL.
Watermelon: some nutrition facts
Watermelon is a water-rich fruit: indeed, it consists of 90% water which can help to hydrate your body during hot summer days. It contains several nutrients, including vitamins A, B6, C, potassium, and magnesium.
The combination of antioxidants and vitamin C present in this refreshing fruit reduces inflammation and cell oxidation in the body. Watermelon is also high in vitamin A, which promotes skin health and benefits our vision.
The nutrients in 2/3 cup (100 grams) of raw watermelon are:
Calories: 30
Water: 91%
Protein: 0.6 grams
Carbs: 7.6 grams
Sugar: 6.2 grams
Fiber: 0.4 grams
Fat: 0.2 grams
Some curiosities about the watermelon
Paintings suggest that watermelon has been consumed in the Nile Valley as a dessert by 4360 BP.
The word "watermelon" first appeared in the English dictionary in 1615.
The United States currently ranks sixth in worldwide production of watermelon, with Florida, Texas, California, Georgia, and Indiana consistently in the lead.
In addition, more than 300 varieties of watermelon are cultivated in the United States and South America. The most common watermelon options are seeded, seedless, mini, and yellow & orange.
According to Guinness World Records, the world's heaviest watermelon was grown by Chris Kent of Sevierville, Tennessee in 2013, weighing in at 350.5 lbs.
Ingredients selection tips: how to choose the perfect watermelon
First of all, you can tap the fruit and recognize if it is ripe by the sound: if the sound is "full", the fruit should be tastier and sweeter.
If you are not sure about the sound of the watermelon, ask the seller to cut a piece from the middle of the watermelon for you to try. The ripe fruit is red in color and has a sweet taste.
The rind of a ripe watermelon presents alternating darker and lighter stripes, both green in color. If you notice a lighter color on the rind on one part of the watermelon, this is the part of the watermelon that was resting on the ground. This is a good indicator of the freshness of the fruit.
How to cultivate watermelon in your garden
There are several ways to plant watermelons, and the two most common are seeds and seedlings. Watermelon develops a strong root system and can be up to 3 meters long. Watermelon flowers are yellow in color and open in the early morning, and require a lot of water in the first stages of growth and root development, flowering, and fruit set.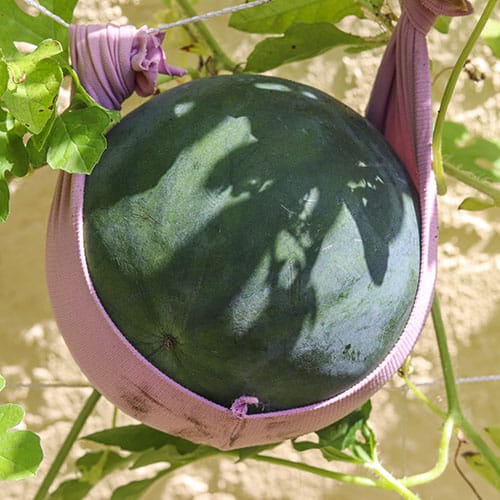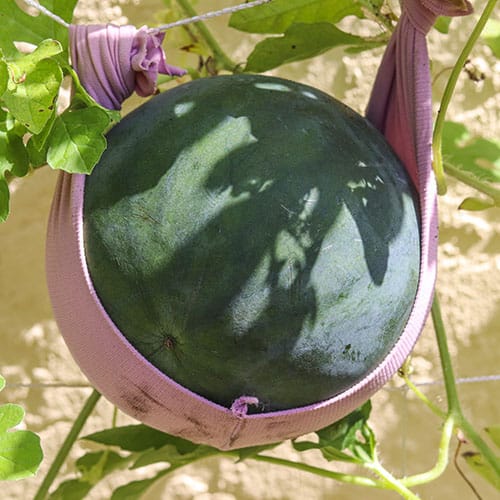 Moreover, watermelons prefer loose soil where water does not retain, pH value of around 5, as well as clay soil. Other plants that can help with the plant's growth are peppers, tomatoes, legumes, and potatoes.
Some recipes with watermelon
Watermelon is an incredibly versatile ingredient, that can be used in both salty and savory dishes.

Check out my Watermelon Shrimp Avocado Salad for a savory dinner recipe, my Berry Watermelon Fruit Salad for a healthy breakfast, packed with precious nutrients, and my Watermelon Sangria for a refreshing summer drink!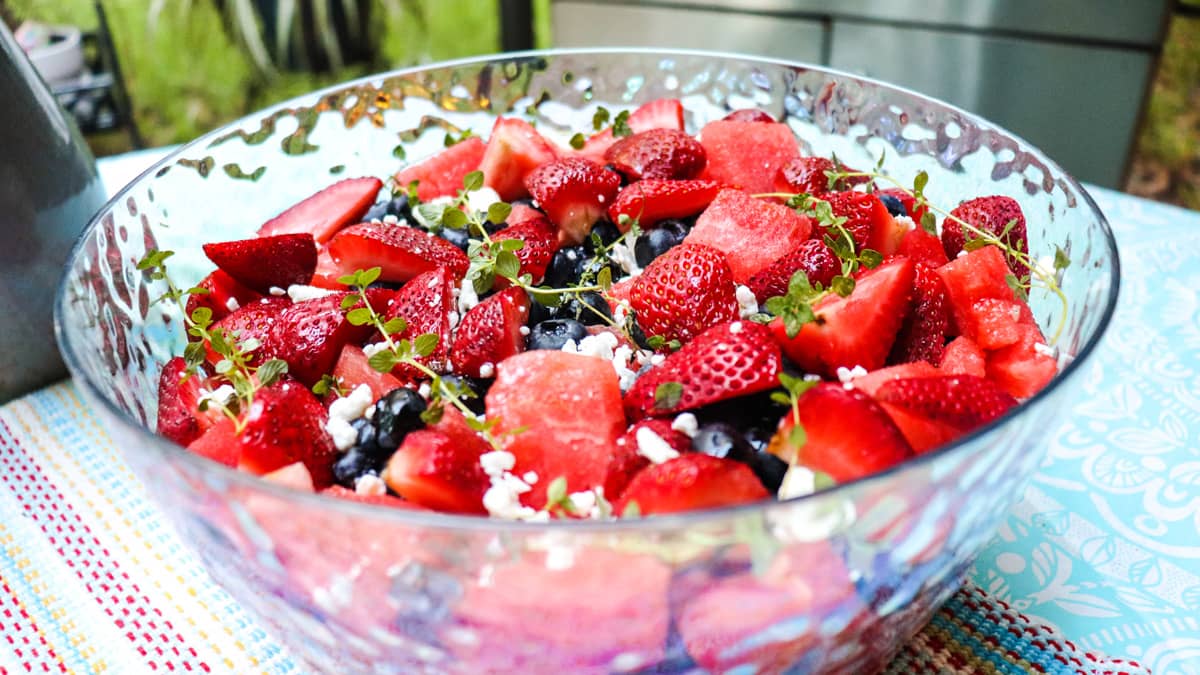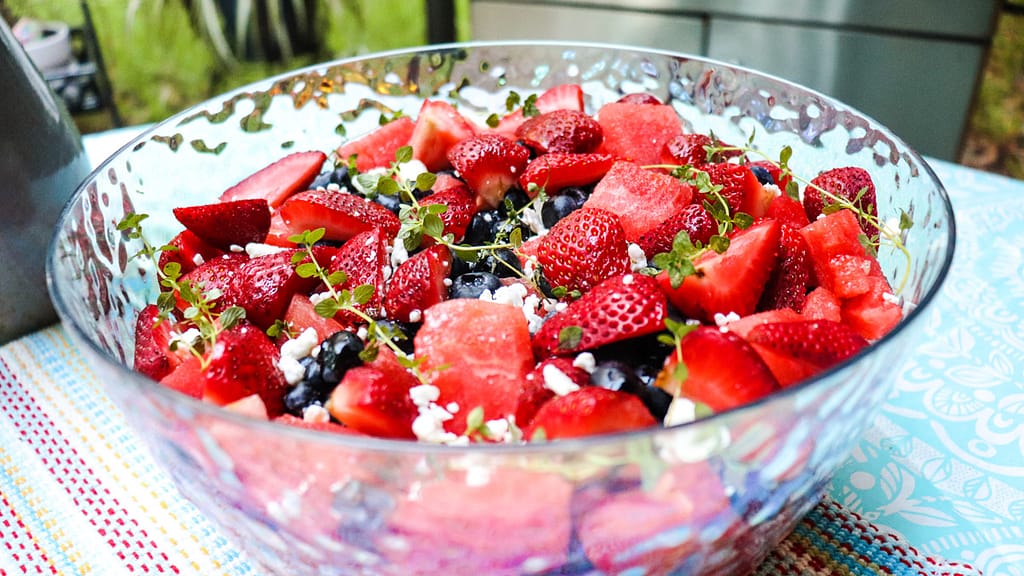 Social Buzz
Resources:
https://www.healthline.com/nutrition/watermelon-health-benefits#TOC_TITLE_HDR_9
https://www.pnas.org/doi/10.1073/pnas.2101486118
https://www.medicalnewstoday.com/articles/319849#summary
Watermelon Shrimp Avocado Salad
Check out this fresh and unique Watermelon Shrimp Avocado Salad – like ceviche but with steamed shrimp! A simple and healthy Summer salad recipe, perfect for those hot days!
Check out this recipe

Watermelon Berry Salad with Lemon Maple Vinaigrette
This watermelon berry fruit salad is a refreshing treat that can help you endure the heat this summer. It's easy to make, and very refreshing!
Check out this recipe

Watermelon Sangria
White wine, watermelon, a good hard lime seltzer, and a handful of chopped fruit. Mix everything and you have the perfect refreshing summer drink!
Check out this recipe

❤️❤️Read About Me for details about my health journey; and, make sure you remember to sign up for my Newsletter and follow me on social❤️❤️!

Supporting me is appreciated as I create content to support your health journey.