If you are a meat lover, this soup is the perfect winter meal for you!
It is warming, hearty, nourishing, and can even help you with your weight management. If you check my Formula for Weight Loss Soups, you will find more examples of how to make delicious and healthy soups for your whole family!
You can pop this Savory Beef and Barley Soup in your slow cooker in the morning to absorb all the flavors, so that when you come home from work, you will have a comforting meal ready to eat! Alternatively, if you're in a rush you can pop it in an instant pot to cook in just a few minutes.
Some sides that will work well with this dish could be homemade crescent rolls or soft dinner rolls.
For a handy printable version of the formula and ingredients:
Social Buzz

Ingredient Selection Tips
Beef
Try to select the leanest cut of beef and opt for grass-fed and organic meat. The type of beef that goes well in stews and soups is the shoulder region of the beef carcass, called the Chuck.
The reason that this cut of meat is better in stews is that it has more collagen, which holds more flavor and tenderness than other parts of the cow. Collagen is important in a healthy diet because it is high in protein and is great for skin health, especially as we age.
Bone Broth
Bone broth has many health benefits and has a lot more flavor than basic broth, and this one contains a lot of collagen from being simmered with the bones of the meat. You should definitely check out this brand, Kettle and Fire.
Noteworthy Health Benefits
Beef
Fresh lean beef is rich in different vitamins and minerals, like zinc, iron, vitamin B12, selenium, niacin, vitamin B6, and phosphorus. It contains around 26gr of protein per 100gr of meat and varying amounts of fats like CLA, which have benefits for our health.
Like all other animal meats, beef also contains various bioactive substances, such as creatine, taurine, and cholesterol. Among the main health benefits of consuming beef is the preservation of muscle mass, and the improvement of exercise performance. Red meat like beef can also prevent anemia.
However, as in everything else, be moderate when consuming steak, and red meat. Make sure it is mildly cooked and always fresh. Grass-fed is always better than grain-fed, as it is higher in many higher nutrients.
Bone Broth
Bone Broth is very nutritious, as it is rich in vitamins, minerals, amino acids, and fatty acids. Here are some of the beneficial things that bone broth can do for our health: it promotes a healthy digestive system, can help fight inflammation, and may even improve joint health.
In addition, bone broth can help in weight management, may improve brain function, and help fight osteoarthritis.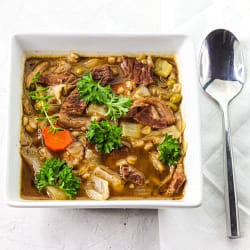 Savory Beef and Barley Soup
Yum
This Beef and Barley soup is the perfect Winter meal for you! It is warming, nourishing, and can even help you with weight management.
Instructions
Put the olive oil into the pot, and heat it.

Dice the meat, and add it to the hot oil, just to brown it.

Remove the meat from the pot, and add another spoon of olive oil.

Add the carrots, celery, onion, and garlic into the pot, and leave them to saute until the onion becomes translucent.

Add the bone broth and vegetable broth into the vegetables.

Return the meat to the pot.

Add the cabbage, and savory blend at the end.

Stir, and let it simmer for about 55min or as long as you want to tenderize the meat without overcooking the vegetables.
Notes


Nutrition
Nutrition Facts
Savory Beef and Barley Soup
Amount per Serving
% Daily Value*
* Percent Daily Values are based on a 2000 calorie diet.
❤️❤️Read About Me for details about my health journey; and, make sure you remember to sign up for my Newsletter and follow me on social❤️❤️!

Supporting me is appreciated as I create content to support your health journey.


Enable Notifications
OK
No thanks