Grilled Tofu Gyros with a light homemade Vegan Tzatziki Sauce: one of my favorite Greek dishes, easy to make, and way healthier than the original recipe!
---
Lately, I have been loving to step out of my comfort zone and experiment with recipes from all over the world! 🌐. Last week I stumbled upon an awesome Greek gyros recipe and decided to give it my personal spin. The aim was to not only make it healthier but also suitable for all my vegan and vegetarian friends out there! Finally, I came up with this amazing grilled tofu gyros recipe, simple and quick to make, but full of flavors and nutrition. A true delight for the body and soul! 🥙
The crispy grilled tofu is covered in a light and refreshing vegan tzatziki sauce, made with just plant-based Greek yogurt, shredded cucumber, extra-virgin olive oil, and a bunch of herbs and spices. Everything is then wrapped in soft pita bread. Here is a great recipe for traditional homemade pita bread with just five ingredients (flour, water, instant yeast, sugar, and salt), but you can easily find them in every well-assorted store. Everything is then complemented with some crunchy shredded salad, sweet cherry tomatoes, and -only for the bravest- some finely sliced raw onion. Optional, but surely well welcomed, are some air-fried French fries, a must in the original Greek recipe!
---
As you can see, my grilled tofu gyros recipe makes for a well-balanced meal, complete with all the essential micro and macronutrients that allows us to feel energized and fuller for longer! From the complex carbohydrates of the pita bread to the plant-based protein of the tofu, the healthy fats from the Greek yogurt, and the fiber and vitamins of the veggies.
Plus, this recipe is extremely kid-friendly (name a kid who doesn't love French fries and soft bread 😜), budget-friendly, and meal prep-friendly. For example, you can prep the vegan tzatziki sauce in advance, and store it in the fridge. It should last for at least 2-3 days. Similarly, you can marinate and grill the tofu in batches. Reheat them when needed, and then assemble the vegan gyros right before consumption!
The Secret to my Grilled Tofu Gyros with vegan Tzatziki sauce 🤫
Here are a couple of simple, yet very useful tricks for extra scrumptious vegan gyros with tzatziki sauce!
1. Let the tofu sit in the marinade for at least 5-10 minutes 💤
This is essential to allow the tofu to soak up all the different aromas and flavors in the marinade. In addition, the marinade will create a fine coating over the tofu surface, making it super crunchy when grilled. A simple trick for an outstanding result!
2. Shred the cucumbers extra finely and make sure to remove excess water 💧
Covering the finely shredded cucumbers with some salt and letting them drain in a colander for at least 10-15 minutes will help not only to remove the excess water from these veggies (as we have explained in this article, cucumbers are extremely high in water) but will also make them less bitter. The result will be a more aromatic and delicate vegan tzatziki sauce.
3. Find a good plant-based, unsweetened Greek yogurt (or make it by yourself) 👩‍🍳
Choosing a good, unsweetened Greek yogurt is essential for a well-balanced vegan tzatziki sauce. For this recipe, I personally love the unsweetened Forager Organic Dairy-Free Greek Style Yogurt (coconut and cashews-based), or the Kate Hill Greek yogurt (made from almond milk). If you still haven't found a good vegan Greek yogurt, you can easily make it by yourself! All you have to do is strain regular plain vegan yogurt with a cheesecloth (here are the exact instructions).
4. Assemble everything just before consumption! 🥙
The last tip is to assemble everything just before consumption. On the contrary, the pita bread could become excessively soggy, and the veggies lose their original crunchiness and bright colors. Make also sure to store the vegan tzatziki sauce in the fridge. Take it out only when you are ready to consume your vegan gyros.

Now you are ready for your next Greek night! If you liked this recipe, make sure to share it with your family and friends. And don't forget to tag me on your socials! All the links are down below 💗.
Social Buzz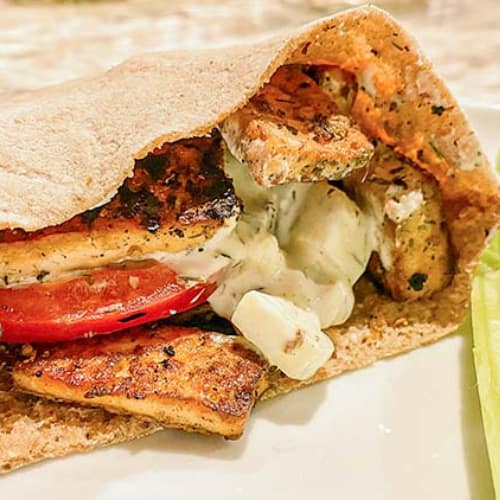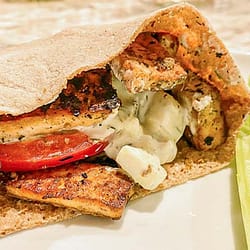 Grilled Tofu Gyros with Vegan Greek Tzatziki Sauce
Yum
Grilled Tofu Gyros with a light homemade Vegan Tzatziki Sauce: one of my favorite Greek dishes, easy to make, and way healthier than the original recipe!
Ingredients
For the vegan tzatziki sauce
Instructions
For the grilled tofu
Mix together all of the ingredients for the tofu marinade.

Gently press the tofu and remove all the excess water, then cut it into 8-10 slices.

Pour the marinade over the tofu slices, making sure to coat both sides.

Cook for about 5 minutes per side on the grills (or on a non-sticking pan), flipping halfway through. The tofu should become crispy and golden on the outside.
For the vegan tzatziki sauce
Finely shred the cucumber, add the salt, and let it drain in a colander for at least 10 minutes.

Mix together the Greek yogurt, oil, garlic powder, black pepper, lemon juice, salt, and white vinegar in a bowl.

Take the cucumber and squeeze out any more excess liquid using your hands or cheesecloth.

Add to the yogurt mixture, and stir very well. Add the fresh dill, and place the tzatziki in the fridge for a couple of minutes before serving.
For the vegan gyros
Heat the pita for a couple of minutes on a pan.

Now it's time to assemble the vegan gyros: place the tomatoes, shredded lettuce, onion, and fries on the bottom, place the grilled tofu, and cover everything with the vegan tzatziki.

Wrap the gyros and enjoy while still warm!
Notes
*Nutrition facts are shown without French fries
Nutrition
Nutrition Facts
Grilled Tofu Gyros with Vegan Greek Tzatziki Sauce
Amount per Serving
% Daily Value*
* Percent Daily Values are based on a 2000 calorie diet.