Spring is here: what's better than an earthy and nourishing Cold Broccoli Salad for your Easter picnic? Easy and quick to make, this healthy salad is enriched with a flavorful and creamy Pear Vinaigrette, made with pureed pear, vinegar, extra-virgin olive oil, and honey. 🍯
---
Perfect for both a fancy dinner with family or friends, but also to bring at work the day after, this cold broccoli salad is the perfect compromise between health and taste!
The colorful raw veggies contained in this healthy broccoli salad are not only richer in vitamins and minerals than cooked ones – they also give a special crunch to the mix. In contrast, the creamy and light pear vinaigrette perfectly complements the texture of the salad, in a harmony of flavors and consistencies.
But what is even better is that this cold broccoli salad isn't only pretty and delicious! It is also complete with all the macro and micronutrients our bodies need to thrive! From the healthy fats of extra-virgin olive oil to the protein contained in the sunflower seeds (3/4 -or 100 grams- of sunflower seeds contain as much as 21 grams of protein) and gorgonzola cheese, to the minerals and vitamins found in the veggies. For a complete and balanced meal, my suggestion is to pair the salad with a couple of slices of sourdough bread or some brown rice! 🍚
For a plant-based salad, you can easily swap the honey in the vinaigrette with some maple syrup, and the gorgonzola cheese with vegan blue cheese. Here is a recipe for an incredible homemade, naturally cultured vegan blue cheese.
Cold Broccoli Salad: 5 tips for a scrumptious salad! 😋
Let's now get down to the "practical" stuff: the preparation of this cold broccoli salad with my unique pear vinaigrette. Although the procedure is quite straightforward, the following 5 tips will allow you to create a truly memorable salad! 😍
Cut the veggies on the spot 🥦.

The first tip is to avoid cutting the veggies and assembling them with the vinaigrette too soon before eating the salad. This is because they might lose some of their original crunchiness and oxidate. If you are poor in time, you can prep in advance the individual components of the salad. (i. e. cut and wash the veggies, and prep the vinaigrette). Then, wait until you will actually consume the salad before mixing all of them together. Alternatively, you can squeeze some lemon juice on the veggies right after having cut them. In this way, they will stay crunchy and visually appealing for hours!
Follow my perfect dressing formula! 👩‍🍳

A couple of weeks ago I came up with a foolproof salad dressing formula, a true saver if you want to create signature dressings! All you have to do is choose the right ingredients that best match the "theme" and vibe of your salad. (Or whatever recipe you are wanting to make). The formula is very simple 2 PARTS EVOO: 1 PART VINEGAR + OPTIONAL FLAVORS AND SEASONINGS. In this case, I used a mixture of white and apple cider vinegar and some mild-flavor extra-virgin olive oil. (More on that in the next tip). Plus, some pureed pear and honey for a touch of sweetness!
Choose a cold-pressed, organic EVOO 🥗.

A good cold press extra-virgin olive oil (EVOO) is key for an outstanding salad dressing! In addition, an organic, high-quality olive oil (this from Pompeian is one of my go-to's) is rich in precious polyphenols. These are powerful antioxidants that can counteract the damaging effects of free radicals on our cells. For this light and creamy pear vinaigrette, I would recommend a mild-flavor EVOO in order to not overpower the delicate taste of the pureed pear.
Let the dressing rest for a couple of hours 💤.

Allowing the dressing to sit in the fridge for at least a couple of hours (or, even better, overnight) to bring out all the flavors. In addition, this helps the dressing "thicken up" and become creamier and more enveloping on the palate!
Don't skip the toppings! 🍒

Toppings are essential for creating the perfect mixture of consistencies and flavor that makes this cold broccoli salad simply delicious! Here, I used some crunchy sunflower seeds, some sweet and sour dried tart cherries, and some tangy gorgonzola cheese.

If you liked this recipe, make sure to share it with your family and friends! Also, let's connect on my socials. All the links are down below. 💗
For other colorful salads, try these Winter Harvest Salad, Pear and Gorgonzola Salad with Spinach and Pomegranate Vinaigrette. and Cherry Gorgonzola Salad.
Social Buzz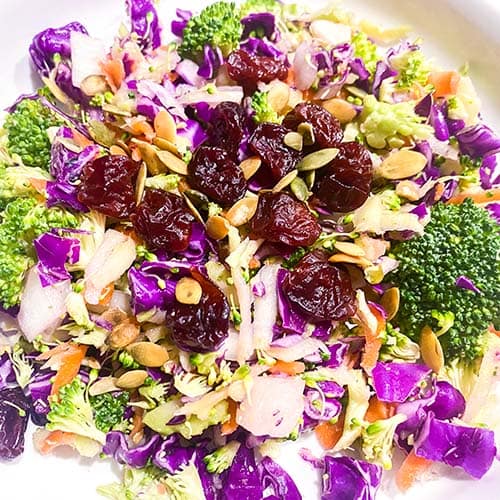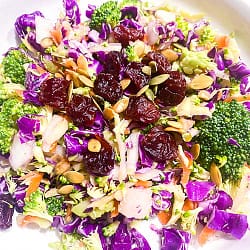 Cold Broccoli Salad with Pear Vinaigrette
Yum
Spring is here: what's better than an earthy and nourishing Cold Broccoli Salad for your Easter picnic? Easy and quick to make, this healthy salad is enriched with a flavorful and creamy Pear Vinaigrette, made with pureed pear, vinegar, extra-virgin olive oil, and honey. 🍯
Ingredients
For the pear vinaigrette:
For the cold broccoli salad:
Instructions
For the pear vinaigrette:
Add all the ingredients to a mason jar. Shake to combine.

Place in the fridge. Allow sitting at least a couple of hours, preferably overnight to bring out the pear flavors.
For the salad:
Wash and chop all the ingredients (you can peel and use the broccoli stalk too).

Mix all of the vegetables in a bowl. Pour the dressing into the bowl and toss with the vegetables.

Top with dried cherries, sunflower seeds, and gorgonzola cheese (if desired).
Nutrition
Nutrition Facts
Cold Broccoli Salad with Pear Vinaigrette
Amount per Serving
% Daily Value*
* Percent Daily Values are based on a 2000 calorie diet.