When Valentine's Day is Near, I Cut Everything Into Hearts ❤️️
On Valentine's Day I often want to cut food for the kids into heart shapes. I also am absolutely obsessed with dark chocolate and cashews! So my love of heart-shaped things and my love of chocolate and cashews inspired these fun and easy cherry dark chocolate coconut cashew whole grain puffed cereal date energy bars. That sounds like a mouthful, but you only need 6 ingredients! These energy bars are great for a breakfast on the go, a dessert at night, or as some energy fuel before endurance exercise (running, cycling, etc). Good luck keeping your kids from eating all of them!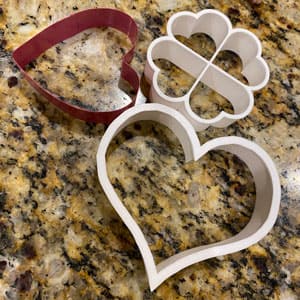 These date energy bars can be cut into hearts and may be malleable enough for other low complexity shapes. I wanted a couple extra sizes to play with so my fiancé printed out more cookie cutters with his 3D printer!
Valentine's Cereal Bar Process
I tried a few variations of these date energy bars and making a paste out of the dates was the method that worked best for cutting. I used Detoxinista's Date Paste recipe, which is basically just pureeing the dates with a little water. So that's the first step. Wash your dates off, remove the pit with a knife, and blend on high in a processor until you have a smooth or chunky paste (either is fine). I think I had to run the processor for about a minute on high.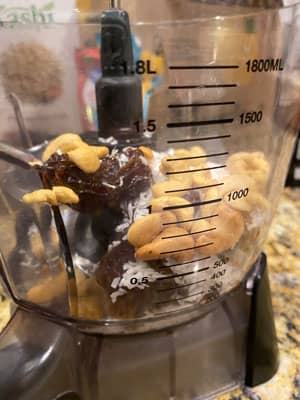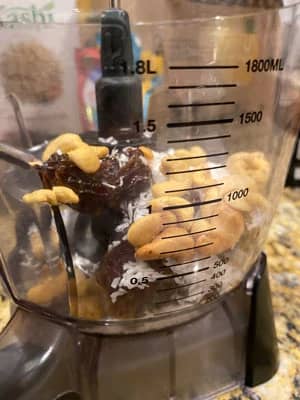 You will then want to add the cashews and shaved coconut and process on medium for about 20 seconds. I chose to put the cashews in there at this stage so I could make a little bit of a cashew butter out of it, while leaving some of the chunks.
Next you will add the dried cherries, cereal, and mini dark chocolate chips and lightly process once more. I like to leave the remaining ingredients somewhat chunky as well. The cereal I used was Kashi 7 Whole Grain Puffs, but I've seen other whole grain puffs as well. Let me know if you try something else, and how it works out!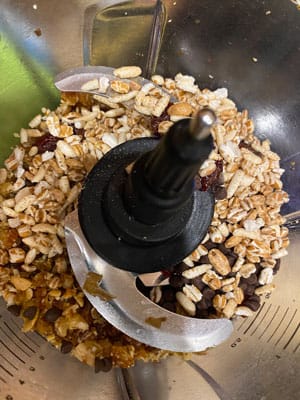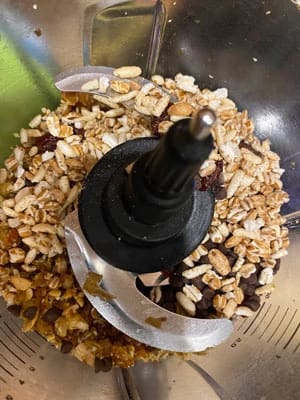 Next, press the mixture down hard and flat into a square pan lined with parchment paper. Cool in the fridge or freezer for a bit. I put mine in the freezer overnight and it made them a little too hard. I had to put some arm strength into it cutting these, so I suggest the refrigerator if you are going to leave them overnight. Since I made this recipe malleable enough for cutting into shapes, it will be a little too sticky without cooling them. Dates are sticky but make a nutritious and binding plant-based sweetener substitute!
Finally you can cut these into bars or shapes. I hope you love these easy plant-based, vegan-friendly, kid-friendly cereal bars!
For a similar recipe, check out my Tart Cherry Chocolate Almond Energy Bars. 😍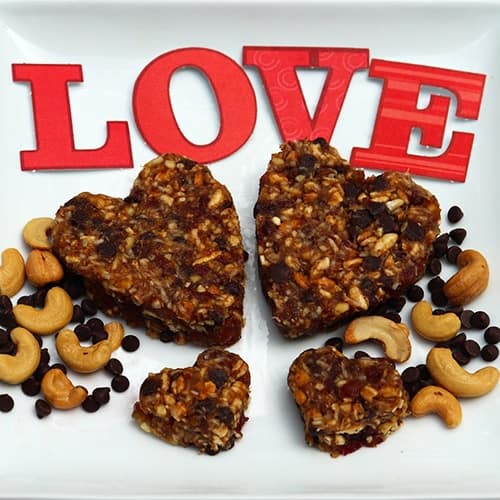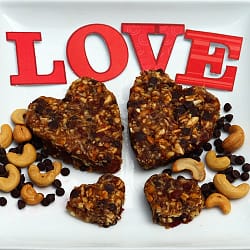 Easy Cherry Chocolate Coconut Cashew Cereal Date Energy Bars ♥
Yum
These easy, no bake plant-based cereal bars with dried cherries, dark chocolate, cashews, coconut, and whole grain cereal your family will want to eat up!
Instructions
Add the dates and water into a processor and process into a paste.

Add coconut and cashews and process on medium for about 20 seconds.

Add cherries, dark chocolate chips, and puffed cereal. Process another 20 seconds on low, or to desired texture.

Line an 8" x 8" pan with parchment paper.

Press the mix down hard into the pan and flatten.

Cool the bars until firm enough to cut but also chilled enough to hold well together.

Store in the refrigerator, and enjoy!
Nutrition
Nutrition Facts
Easy Cherry Chocolate Coconut Cashew Cereal Date Energy Bars ♥
Amount per Serving
% Daily Value*
* Percent Daily Values are based on a 2000 calorie diet.
❤️❤️Read About Me for details about my health journey; and, make sure you remember to sign up for my Newsletter and follow me on social❤️❤️!

Supporting me is appreciated as I create content to support your health journey.