Looking for a recipe with some Irish roots for St. Patrick's day, or want a comfort food favorite to feed your family? This tofu and cauliflower shepherd's pie vegan recipe hits the spot!
This Shepherd's Pie Vegan Recipe is So Good You Won't Miss The Meat!
A traditional shepherd's pie (or cottage pie) is filled with cream, butter, and fatty ground beef or lamb. The potatoes in this recipe are made lighter with cauliflower and creamy with almond or soy milk.
I was inspired by Chipotle sofritas to make the "meat" out of tofu in this recipe (click here to learn more about tofu). However, it was really difficult to find ingredients to make the tofu look brown without adding chili powder or cumin! Those seasonings are prominent in Mexican foods, so they just didn't taste right. I tried this recipe again and luckily last minute my boyfriend suggested red miso paste which seems to work pretty well in conjunction with the Worcestershire. I added mushrooms too because it adds some umami flavor and more brown color to the mix.
I hope you enjoy this recipe whether it's for St. Patrick's day or any night of the week!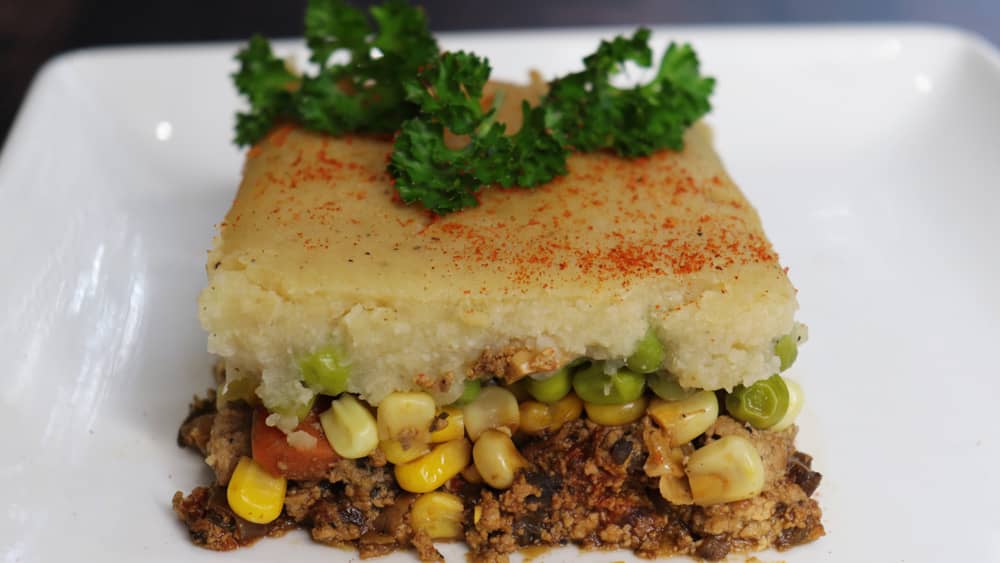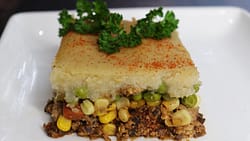 Shepherd's Pie Vegan Tofu Cauliflower Recipe
Yum
Check out this easy, plant-based, light, and healthy vegan Shepherd's Pie recipe! Kid-friendly and great for weight loss! Recipe with Irish and UK roots.
Instructions
Gently squeeze out some of the liquid in the tofu with napkins or a small towel. Place tofu in a bowl and crumble with a fork to look like ground beef crumbles.

Prepare the marinade for the tofu: mix miso paste, Worcestershire sauce, tomato paste, rosemary, thyme, and pepper. Place the marinade in with the tofu crumbles and set aside (do this 30 min to 24 hours prior to cooking).

Peel the potatoes and cut into 1/2-inch dice. Cut the cauliflower into florets.

Put cauliflower and potatoes into pressure cooker with about an inch or water and cook for 12 minutes. Or boil in a medium saucepan for 10-15 minutes or until soft enough to mash.

Drain the potatoes and cauliflower and then place in a bowl with the garlic powder, salt, and pepper. Crush with the tongs and mix ingredients. Set aside.

Preheat the oven to 400 degrees F.

While the potatoes are cooking, prepare the filling. Place olive oil in saute pan over medium high heat.

Once the oil shimmers, add the carrots and saute for a few minutes.

Add the onion, garlic, and mushrooms and cook until onion begins to turn translucent.

Add the tofu mixture with all of the remaining marinade to the saute pan. Mix gently with the other ingredients.

Cook until tofu has browned and a lot of the liquid has evaporated, stirring occasionally. Stir gently as to not break the tofu up too much.

Add the mixture in the saute pan to the bottom of an 11 by 7 inch glass baking dish. Spread evenly.

Add the corn and peas in separate layers and spread evenly.

Top with the potatoes and cauliflower. Create a seal to prevent the mixture from bubbling up and smooth with a rubber spatula.

Bake for 35 minutes or just until the potatoes and cauliflower begin to brown and the top is firm to the touch.

Remove to a cooling rack for at least 15 minutes before serving.
Notes
Nutrition
Nutrition Facts
Shepherd's Pie Vegan Tofu Cauliflower Recipe
Amount per Serving
% Daily Value*
* Percent Daily Values are based on a 2000 calorie diet.
❤️❤️Read About Me for details about my health journey; and, make sure you remember to sign up for my Newsletter and follow me on social❤️❤️!

Supporting me is appreciated as I create content to support your health journey.


Enable Notifications
OK
No thanks