This delicious fall season roasted sweet potato and beetroot salad is an amazing addition to Thanksgiving or any night of the week! I created this recipe when I just started my blog and have modified it since. The new version is just as tasty but is oil-free! I wanted this salad to be as whole food plant-based as possible.
Why do we always have to add oil to everything anyway? I eat many of my salads with balsamic vinegar only, and I think it's quite delicious. For Greek salads, I use red wine vinegar with some seasonings and no oil. I tossed the diced vegetables in oil in my former version of this recipe and I no longer find that necessary. Yes, the diced root vegetables may come out a little dry after roasting, but they're texture and taste is just fine as soon as you add the dressing.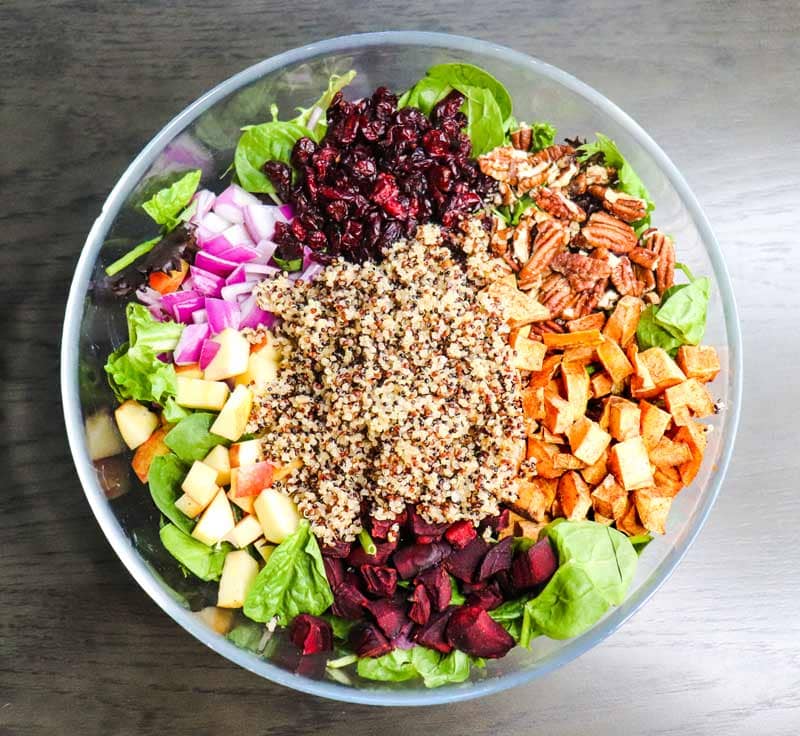 Salad with Quinoa, Sweet Potato, Beetroot, Cranberries, and Pecan Nuts
To keep my diet super-rich and loaded with nutrients, I love having a healthy salad prepared with meals. For me, salads are a complete package that can be prepared in wide varieties. This roasted sweet potato and beetroot salad is one such example; it has many key nutrients to complete your meal. The combination of roasted sweet potatoes, quinoa, cranberries, and salad greens is a perfect fit for anyone wanting to prepare a plant-based vegan dish. Let's harness the benefits of this healthy salad and adorn our dinner tables with a platter full of refreshing color and a wide variety of nutrients!
Quinoa: The Nutritious Whole Grain
Quinoa is a versatile seed that is very similar to a grain and complements this salad well. This basic ingredient has several health advantages. Firstly, it is a gluten-free source of carbohydrates and whole proteins, which means that quinoa is packed with all nine of the essential amino acids that we need 1. Quinoa is also known as a superfood due to its rich content and low glycemic index 2. People who are as health conscious as me can have this nutritious whole grain as a promising source of clean energy.
Mouth Pleasing Roasted Sweet Potatoes
Sweet potatoes are quite healthy and make the perfect fit for this vegan salad with quinoa, as they are a good source of antioxidants and lots of fiber. The fiber is capable of improving gut health and its internal biome 3. Sweet potatoes can improve heart health and reduce insulin resistance, as well as Beta carotene in these potatoes provides the body with vitamin A 4.
Pecans: In a nutshell!
Pecans are another reason why I find this beet and sweet potato salad healthy. It complements all the flavors, adds much-needed crunch, and increases the nutritional value of this salad. It is known for its antioxidant properties and provides vitamin E and A along with calcium, zinc, folic, and magnesium 5. Adding pecans to this quinoa salad is a great way to incorporate many essential micronutrients into your diet.
The Greens We Need
There are several varieties of edible greens that you can choose for this salad, such as a spring mix or kale. I have used fresh kale leaves in combination with sweet potatoes, beets, and quinoa, and it's a truly delicious combination. Kale is a rich source of vitamins K, A, and C, and it can add much-needed iron, magnesium, and calcium to the diet 6.
Love It?
I hope you enjoy this salad! If you love this salad, I have other delicious salad recipes you should check out. If you want to find out more about the amazing benefits of beetroot powder, I have an interesting article for you! Beetroot Powder: A Natural Boost For Your Health and Fitness! I am also open to any and all feedback in the comments! Thanks for reading!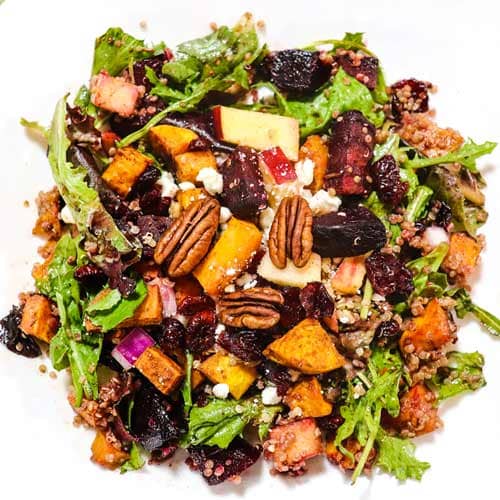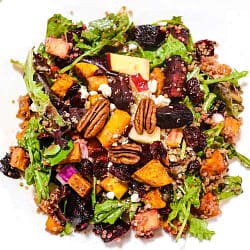 Roasted Sweet Potato and Beetroot Salad
Yum
This vegan and vegetarian friendly roasted sweet potato and beetroot salad with pecans, quinoa, greens, pecans, and dried cranberries is an excellent addition to any meal!
Instructions
Cook quinoa in a rice cooker or according to package directions.

Preheat oven to 425 degrees and line baking sheet with aluminum foil.

Place the diced beet and sweet potato on the baking sheet. *

Toss cinnamon with the diced sweet potato.

Bake sweet potato and beet for 25 minutes or until tender.

Meanwhile prepare dressing. Mix balsamic vinegar, olive oil, honey, mustard, salt, and pepper to taste. *

In a large bowl, toss together sweet potato, quinoa, greens, beets, apple, cranberries, and pecans. Drizzle with dressing and toss to coat. *
Notes
* The diced beet and sweet potato are a little dry after roasting. However, when you mix in the salad with the dressing, it is no longer noticeable. I avoided any oil to make this whole food plant-based. However, if you are worried about that and are not watching your oil intake, you can toss the diced beets and sweet potato in oil before roasting.
* I have removed the feta from the original recipe. You are welcome to add feta or vegan feta to this dish. It will just add more fat that I wanted to leave out of this salad. The picture here includes feta.
Nutrition
Nutrition Facts
Roasted Sweet Potato and Beetroot Salad
Amount per Serving
% Daily Value*
* Percent Daily Values are based on a 2000 calorie diet.
❤️❤️Read About Me for details about my health journey; and, make sure you remember to sign up for my Newsletter and follow me on social❤️❤️!

Supporting me is appreciated as I create content to support your health journey.