I'm sure that you are all familiar with this fantastic Italian dip. I would like to show you that Pesto sauce doesn't have to be something that you will have to keep spending money on every week but rather make it homemade and save money, also healthier as most pesto sauces in the supermarket have lots of additives and preservatives in them. This recipe is light, delicious, and healthy! And it is so versatile! It's quick, easy, simple, and only takes 10 minutes to make.
Pesto sauce traditionally includes hard cheese but I've made my one dairy-free so whether you have lactose intolerance or you're following a vegan/dairy-free diet you can eat this. Most pesto includes pine nuts or sometimes cashews but mine is nut-free and completely allergy-free with no gluten either.
Enjoy with pasta, chicken, rice, buddha bowls, or my Turkey Meatballs with Creamy Pesto Sauce Over Spaghetti Squash.
Social Buzz

Ingredient Selection Tips
Olive Oil
My advice is to always look for extra virgin, cold-pressed olive oil in glass black bottles, not plastic as this will be the best quality. Oils from different countries have different tastes, so find the one you like the most!
Basil Puree
Although I prefer fresh basil herbs from my garden or pot, sometimes there are not enough leaves for making a sauce. In that case, a basil puree is a good option. You can also make the puree yourself, and freeze it for later.
Noteworthy Health Benefits
Garlic
Garlic is a powerful plant that is very nutritious. It is rich in manganese, Vitamin B6, vitamin C, selenium. It is very low in calories and has numerous health benefits:
It can fight the common cold
May reduce blood pressure
May lower risk of heart disease
May help prevent Alzheimer's and Dementia
May help with hard metal ejection from the body
May improve bone health
May prevent some cancers
Basil
The best basil for this recipe is sweet basil. But I guest that Greek could work, too. Basil contains a few minerals and vitamins like vitamin K, manganese, vitamin A, and also antioxidants. Here are some potential health benefits of consuming basil:
It may help reduce oxidative stress
May support liver health
May have an anti-aging effect
May reduce high blood pressure
May boost mental health
Fights infection
Prevent certain cancers
Thanks to healthline.com and madicalnewstoday.com for comprehensive information.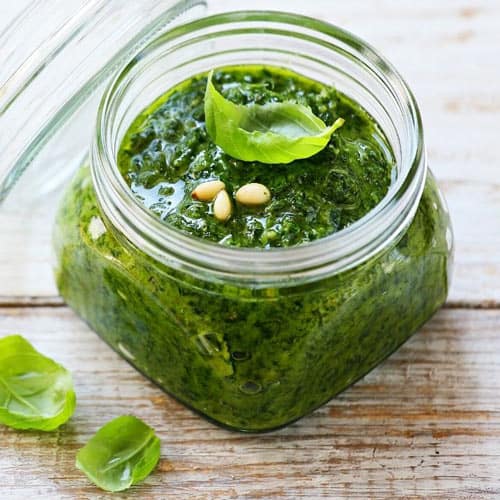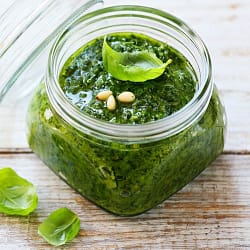 Pesto Sauce
Yum
I'm sure that you are all familiar with this fantastic Italian dip. Pesto is actually really easy to make and is much better for you than any store-bought brands. This recipe is high in healthy fats, extremely tasty, and versatile!
Notes


Nutrition
Sodium:
89
mg
Fiber:
3
g
Potassium:
1230
mg
Calories:
224
kcal
Monounsaturated Fat:
12
g
Polyunsaturated Fat:
2
g
Saturated Fat:
3
g
Fat:
21
g
Protein:
5
g
Carbohydrates:
16
g