Breakfast egg muffins are a perfect nutritious winter breakfast. These Meatball Veggie Egg Muffins can be ready in a few minutes, and you can batch cook them if you follow my Winter Meal Prep series. It is great for an on the go breakfast, and it is kid friendly, too! With this delicious recipe, you can be sure that you or your family will have a high protein, healthy and tasty breakfast to begin the day. You can also add some greens in there such as spinach, for extra nutrients.
Social Buzz

Ingredient Selection Tips
Eggs
Try to find organic eggs, as they have more micronutrients than conventional eggs on the market. Always put your eggs in the refrigerator, as this will keep them fresh for longer. Also, check the eggshells when buying – they should be clean and with no cracks on them.
Noteworthy Health Benefits
Turkey
Turkey is an extremely nutritious food. It is a great source of protein, vitamins B3, B6, B12, selenium, sodium, phosphorus, zinc.
The nutrients in turkey vary depending on the cut. Light meat has less calories and fat, and a somewhat greater protein content, whereas dark meat has more fat but also more nutrients. If you're watching your weight, be aware that the skin contains the most calories and fat.
Here are some health benefits:
May lower risk of cancer
May help in diabetes management
May lower bad cholesterol
Protects from cognitive decline
Eggs
Eggs are highly nutritious. They are a great source of protein and healthy fat, and also contain Vitamins B2, B12, B5, A, selenium, folate, phosphorus.
Here are some health benefits of having eggs in your regular diet:
They can raise good cholesterol
They can reduce the risk of heart disease
They are good for eye health
May reduce risk of stroke
May help in weight management
They help maintain healthy body tissues
They are good for brain health
They are important for a healthy pregnancy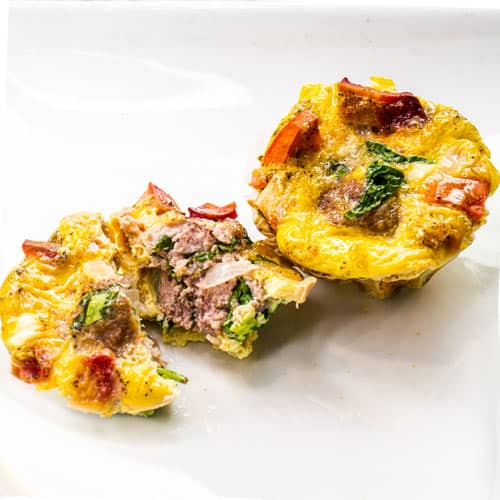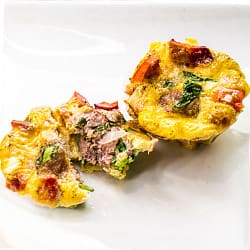 Meatball Veggie Egg Muffins
Yum
These delicious little egg meatball muffins are great for meal prep, and a high protein breakfast on the go! This recipe is even easier if you combine with my Fall Meal Prep including turkey spinach meatballs and roasted root vegetables, which have several suggested applications.
Instructions
Beat 8 eggs with milk, salt, and pepper.

Spray muffin tin molds. Add foil cupcake liners.

Pour egg mixture ½ way up liner.

Pour remaining egg on top of each liner (to seal in veggies).

Bake until meatball is at least 160 degrees and egg has set, ~30 minutes.

Enjoy as a breakfast on the go!
Notes


You can find the recipe to the roasted veggies here: Winter Roasted Veggies.
Here is the recipe for the Spinach Turkey Meatballs. 
Nutrition
Nutrition Facts
Meatball Veggie Egg Muffins
Amount per Serving
% Daily Value*
* Percent Daily Values are based on a 2000 calorie diet.
❤️❤️Read About Me for details about my health journey; and, make sure you remember to sign up for my Newsletter and follow me on social❤️❤️!

Supporting me is appreciated as I create content to support your health journey.


Enable Notifications
OK
No thanks