Are you a hummus freak like me!? I love trying all the new flavors I find at the store. This Mango Sriracha Hummus recipe is inspired by Roots hummus (same flavor)! This recipe is easy and oil-free, which makes it healthier than most store-bought hummus brands like Sabra. This recipe is also super easy and much more affordable than purchasing it at the store. Versatile and great for all health goals!
Social Buzz

Ingredient Selection Tips
Mango and Lime
Fresh and ripe mangoes are easy to recognize – they have a pleasant, sweet smell. You can buy organic if you please, but organic is less important for these fruits as they have thick skins and we will not be using the zest.
Tahini
While I have yet to see tahini with more than one ingredient, be sure "sesame seeds" is the only ingredient listed. Make sure you stir the tahini well before using. I like the tahini below because you can squeeze it out and requires much less mixing.
Salt
These days we can find different types of salt, although the main ingredient in the salt is sodium chloride. If desired, you can find salt with additional minerals. Himalayan pink salt also contains potassium, magnesium, and calcium. Though the consensus among health experts is that there is no one best or healthiest salt, so spending additional money on a specialty salt may not be necessary.
Chickpeas (Garbanzo Beans)
If buying canned, look for low sodium beans. I am unable to find substantial evidence that an organic variety is worth the additional cost.
Noteworthy Health Benefits
Mango
Mango fruit varies in size, shape, sweetness, and color. Produced by the tropical tree Mangifera indica, mango has been cultivated since ancient times. Mango is a vitamin and mineral bomb containing vitamin C, vitamin A, B9, E, K, also calcium, phosphorus, potassium – supports skin health, supports eye health, and reduces the risk of heart disease.
Tahini
Tahini paste is made from sesame seeds and provides important nutrients like thiamin, niacin, manganese, copper, and phosphorus. Thanks to these micronutrients, healthy fats, and antioxidants, tahini promotes digestive health, lowers cholesterol, and improves heart health.
Lime
Lime is a loaded with vitamin C, along with iron, calcium, vitamin B6, and potassium. Lime is also a good source of antioxidants that boosts immunity, may prevent kidney stones, and increases iron absorption.
Balanced Plate for Performance Goals
While any food can fit into your menu for performance goals, some recipes can contribute to a better strategized menu than others. Below you can see how this recipe can fit into your goal. If this recipe has unique benefits, it is best cut out for the goal(s) with a star next to it.
The chart below changes dynamically based off the goal you have selected.
Goal:
| | | | |
| --- | --- | --- | --- |
| LEAN PROTEIN | HEALTHY FAT | HEALTHY CARBS | VEGGIES |
| | | | |
| --- | --- | --- | --- |
| 1-2 palms | 1-2 thumbs | 1-2 cupped handfuls | 1-2 fists |
More Info
However, everyone is different! Use the Precision nutrition calculator I use with my clients to calculate suggested macros custom for you. For more information on using this hand estimation system, click here.
For more info on types of foods for proteins, fats, carbs, and veggies, read my article Formula for the Perfect Healthy Meal. This article will also help you figure out what foods to eat more and less of.
Protein: Consider Supplementing
While this hummus is an excellent source of plant-based protein, it is higher in carbohydrates, so you may want to consider supplementing with another protein to make this a meal. However, you can triple the serving to get a good amount of protein. Just keep in mind that when you triple the serving, the calories, fat, and carbohydrates also increase. This may only be of concern to those with a weight loss goal.
Fat: Tahini
The fat is much lower in this recipe compared to store-bought brands with added oils. However, it does have healthy fats from tahini. If following below serving recommendation, this would equate to only a quarter of a tablespoon of tahini, so you may want to consider supplementation or doubling the serving below.
Carbs: Chickpeas and Mango
This recipe as a whole is richest in healthy carbohydrates, mostly sourced from the chickpeas and mango. You could safely treat this whole recipe as your carbohydrate source for your balanced plate. The abundance of fiber in this recipe should help balance subsequent blood sugar levels, but the sugar adds up if you consume a lot of it. This should only be a concern to those who are sensitive to high carbohydrate intake.
Want to know more about the amazing benefits of chickpeas? Here is an article for you! Dried Chickpeas vs Canned Chickpeas: main differences and nutritional benefits
Veggies: Need to Supplement
There are no vegetables in this recipe. I recommend serving with fresh carrot sticks, pepper, and/or cucumber, and then you will get all that you need.
Additional Meal Tips for Weight Loss
While incredibly nutritious, this recipe is calorically dense. These calories mostly come from healthy fats and carbohydrates. You should moderate your intake of this hummus, and supplement with protein and lots of veggies. Since the fats and carbs are from whole, healthy sources, they should help you feel more satiated when paired with more veggies and protein.
Additional Meal Tips for Endurance
This recipe is amazing for endurance athletes because it is high in healthy carbohydrates for performance from chickpeas and mango, high in protein for recovery, and provides a lot of energy from calories.
Additional Meal Tips for Building Muscle
While a great source of plant-based protein, you will want to supplement with a more abundant protein source.
Additional Meal Tips for Improving Health
If you pair this with crackers, be sure to pair with veggies as well, so you can achieve a greater health benefit. If you pair with crackers or pita bread, be sure to opt for a whole grain variety and avoid the crackers made with highly refined grains.
Diet Preference Tweaks
Low Sodium
If you are moderating your salt intake, be sure to get a low sodium can of beans or make beans from dry instead. You can also consider omitting any extra salt.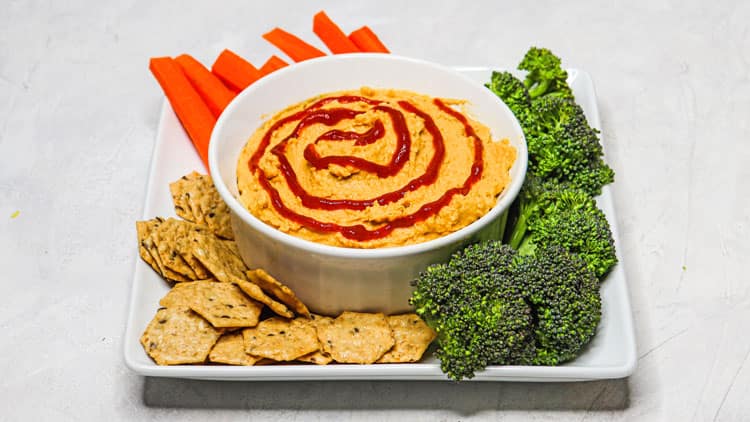 Mango Sriracha Humus
Yum
This Mango Sriracha recipe is easy and oil-free, which makes it healthier than most store-bought hummus brands. This recipe is also super easy and much more affordable than purchasing it at the store. Versatile and great for all health goals!
Ingredients
Instructions
Process tahini and lime juice for a minute first (let's the tahini whip).

Add everything but the chickpeas and process, pushing ingredients back down in the processor with a spatula, as needed.

Add drained chickpeas and process (many times) until smooth, adding a tablespoon of water at a time, as needed to get the smoothness and consistency desired.

Enjoy with vegetables, crackers, chips, or as a spread on sandwiches or toast!
Notes


Nutrition
Nutrition Facts
Mango Sriracha Humus
Amount per Serving
% Daily Value*
* Percent Daily Values are based on a 2000 calorie diet.
❤️❤️Read About Me for details about my health journey; and, make sure you remember to sign up for my Newsletter and follow me on social❤️❤️!

Supporting me is appreciated as I create content to support your health journey.