Sometimes a party salad just doesn't do it without all the fixin's! Therefore, this broccoli salad still includes cheddar and bacon, but is made lighter to greatly reduce the guilt. You and your party guests won't know the difference!
So if you really want to surprise everyone, even yourself, take this broccoli salad with you, contributing something wonderful for Independence day, a barbecue party, or any other summer occasion.
Everyone will ask you for this recipe! So what makes it so special? Well, while their is just enough cheese and bacon in this recipe to attract everyone back for seconds, there is even more broccoli. You know I'm going to highlight this ingredient. Broccoli is incredibly nutritious!
Broccoli
Broccoli is bursting with vitamins and minerals. It's an excellent source of immune-boosting vitamin C and vitamin K – both important in bone health and wound healing. It's also a very good source of the B vitamin folate, vitamin A, manganese, potassium, and other B vitamins.
Let's take a look at the nutrition for one cup of raw chopped broccoli:
Calories:31
Fat: 0.3g
Sodium: 30mg
Carbohydrates: 6g
Fiber: 2.4g
Sugars: 1.5g
Protein: 2.5g
Broccoli health benefits:
improves bone health
boosts the immune system
improves skin health
reduces the risk of diabetes
protects cardiovascular health
We also add carrots to this salad, as well as dried cranberries. Both enrich the taste with a bit of sweetness along with additional health benefits.
Carrots
Carrots add beautiful color and a range of beneficial nutrients to salads, soups, and side dishes. Although carrots are a root vegetable, they are not as high in carbohydrates as many other root veggies. Carrots, for example, are an excellent source of vitamin A, specifically beta-carotene, along with calcium, magnesium, and phosphorus.
Nutrition information for 1 medium raw carrot:
Calories: 25
Fat: 0g
Sodium: 42mg
Carbohydrates: 6g
Fiber: 1.7g
Sugars: 2.9g
Protein: 0.6g
Carrot health benefits:
protects eyesight
improves dental health
good for blood pressure and cardiovascular health
Cranberries
And last, but not least, fresh or dried cranberries contain vitamin C, vitamin E, vitamin K, and are very popular as a superfood due to their high nutrient and antioxidant content. Dried cranberries contain just a small amount of fat and have only a trace amount of protein. Cranberries also contain a wide range of B vitamins.
Make sure you aim for dried cranberries that are lower in sugar.
Nutrition information for 1/4 cup of dried sweetened (low sugar) cranberries:
Calories: 123
Fat: 0.4g
Sodium: 2mg
Carbohydrates: 33g
Fiber: 2g
Sugar: 29g
Protein: 0.1g
Health benefits:
repairs damaged cells
prevent urinary tract infections
helps treat ulcers
Give this recipe a try, and let us know how it goes in the comments!
Please let me know how this recipe goes when you make it! Post a picture and tag one of the below social media accounts:
Don't forget to sign up for my newsletter so you don't miss any future posts:
Processing…
Success! You're on the list.
Whoops! There was an error and we couldn't process your subscription. Please reload the page and try again.
https://www.verywellfit.com/broccoli-nutrition-facts-calories-and-health-benefits-4118226
https://www.verywellfit.com/carb-counts-for-cranberries-2241782
https://www.verywellfit.com/calories-in-carrots-3495643#when-its-best
https://www.medicalnewstoday.com/articles/270191#benefits
https://www.medicalnewstoday.com/articles/269142#benefits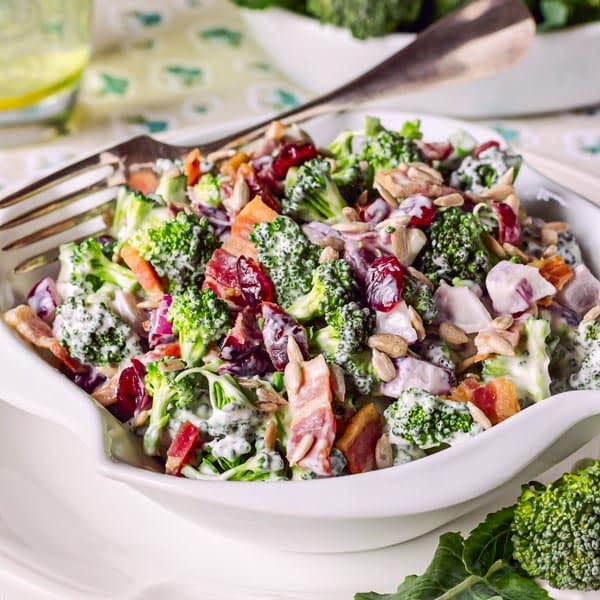 Lighter Broccoli Salad
Yum
Sometimes a party salad just doesn't do it without all the fixin's! Therefore, this broccoli salad still includes cheddar and bacon, but is made lighter to greatly reduce the guilt. You and your party guests won't know the difference!
Equipment
Broiler pan

Cutting board

Chef's knife
Ingredients
2

heads

Broccoli

(about 1.25 lbs) cut into small fleurettes

1/2

whole

Red onion

diced

5

oz

Carrots

julienned (about a cup and a half)

1/2

cup

Cranberries

low sugar

1/3

cup

Sunflower seeds

shelled and roasted

6

oz

Cheddar

grated, aged preferably

5

strips

Bacon
Tangy Creamy Dressing
3/4

cup

Greek yogurt

plain nonfat

1/2

cup

Mayonnaise

with the least processed ingredients possible

1

whole

Lemon

both zest and juice

2

tsp

Spicy mustard

or deli mustard

2

tsp

Honey

1/2

tsp

Salt

or to taste

1/2

tsp

Pepper
Instructions
Preheat your oven to 425 (if cooking bacon in the oven, instructions will include this method).

Line the lower pan of a broiling pan with aluminum foil for easier cleanup. Place bacon on upper pan. Once oven is preheated, bake bacon on center rack for 20-30 minutes until edges are crispy. Time usually varies depending on thickness of your bacon. Set aside to cool.

Meanwhile, make the sauce in a small bowl. Mix together plain nonfat Greek yogurt, mayo, lemon zest, lemon juice, spicy mustard, honey, salt, and pepper.

In a large bowl, add salad ingredients: broccoli florets, diced red onion, julienned carrots, cranberries, sunflower seeds, and grated cheddar.

When bacon has cooled, roughly chop or crumble into bits and add to the large bowl of salad.

Add the dressing to the salad and stir to combine. Can be made a day ahead of time and stored for a couple additional days. Enjoy!