I'm SO psyched about this foodie recipe I came up with the other day – a Jalapeno Bison Burger w/ Goat Cheese & Berry Pepper Relish! Who likes a good bison burger!?
This sweet & spicy burger will have you coming back drooling for more. Let us know if you'll be making this recipe in the comments!
Social Buzz

Ingredient Selection Tips
Bison Meat
Always look for fresh, nice red-colored meat, and use it before the use-by date. Look for 100% grass-fed, free range bison on the label.
Vegetables
Give preference to locally produced vegetables. Jalapenos are particularly more important to buy organic, as they are on the dirty dozen list.
Goat Cheese
It's always preferable to find fertilizer-, hormone-, pesticide-, and antibiotic-free cheese. Certified organic should check all of these boxes but a cheese doesn't necessarily need to be organic to be free of these either. The best solution is to ask the retailer or producer how the goats are raised, fed, and treated. This isn't always easy! I hope a better solution comes to fruition in the future, as a good cheese is a more nutritious and less harmful.
Hamburger Buns
100% Whole wheat buns are the way to go! If you like them seeds, you get even more protein and healthy fats. Bonus! I love Dave's Killer Hamburger Buns.
Noteworthy Health Benefits
Bison meat
This meat has a similar flavor, texture as beef, but is lower in calories, fat, and saturated fat. High in protein, omega 3, selenium, and iron, bison meat improves wound healing, bone strength, helps prevent anemia, and promotes muscle recovery.
Jalapenos
This variety of hot pepper can spice up any dish. Harvested while they are green, they are usually eaten in small quantities to provide a larger amount of nutrients. Rich in vitamin C and vitamin A, jalapenos may reduce the risk of inflammation, may lower the risk of heart disease, and relieve pain.
Goat Cheese
Made from goat milk, this cheese has a characteristic smell, taste, and flavor. Goat cheese is low in calories but rich in fat. Contains oligosaccharides that provide the stomach with beneficial bacteria that protect the body against illnesses. It is also a source of vitamin A that keeps the eyes healthy. Watch your consumption though, as cheese contains saturated fat, and you'll want less saturated fats versus monounsaturated.
Balanced Plate for Performance Goals
While any food can fit into your menu for performance goals, some recipes can contribute to a better strategized menu than others. Below you can see how this recipe can fit into your goal. If this recipe has unique benefits, it is best cut out for the goal(s) with a star next to it.
The chart below changes dynamically based off the goal you have selected.
Goal:
| | | | |
| --- | --- | --- | --- |
| LEAN PROTEIN | HEALTHY FAT | HEALTHY CARBS | VEGGIES |
| | | | |
| --- | --- | --- | --- |
| 1-2 palms | 1-2 thumbs | 1-2 cupped handfuls | 1-2 fists |
More Info
However, everyone is different! Use the Precision nutrition calculator I use with my clients to calculate suggested macros custom for you. For more information on using this hand estimation system, click here.
For more info on types of foods for proteins, fats, carbs, and veggies, read my article Formula for the Perfect Healthy Meal. This article will also help you figure out what foods to eat more and less of.
Protein: Bison Meat
Bison is the main source of protein in this recipe. Depending on the size of your hands and the size of your burger, this is about 1-2 palms of protein per serving.
Fat: Goat Cheese
Goat cheese contains the most calories from fat, so it is the fat source for the balanced plate. While you should consume less cheese and more healthy fats such as nuts, seeds, olive oil, avocado, etc., it is okay to consume small amounts of cheese. Goat cheese has a rich flavor, so you won't have to use a lot.
Carbs: Hamburger Bun & Berry Pepper Relish
Your bun is the main source of carbs here. If you need to reduce your carbohydrate intake, you may reduce this by having an open face burger, or a romaine lettuce bun instead. The relish shown here is full of sugar (something I usually avoid adding, but this recipe is a little different). You can carefully portion, reduce, or omit this – but it sure does add excellent flavor to the burger!
Veggies: Jalapeno, Onions, and Add Some More!
While there are onions and jalapeños in these burgers, be sure to top with more vegetables such as lettuce, red onion, and tomato. This recipe is pictured with spring greens. You can't really overdo it with vegetables so feel free to add some more on the side. I suggest carrot sticks, a simple salad, or fresh cucumbers.
Additional Meal Tips for Weight Loss
This recipe may be a little heavy for those losing weight, but you can make modifications to make it lighter or simply eat a salad on the side versus something heavier (like French fries). Depending on the amount of carbs you are aiming to consume, you can reduce carbohydrates by eating the burger open-faced (only one side of the hamburger bun) or using romaine in place of the bun. Nevertheless, It is certainly lighter than a restaurant bought burger, especially because bison is leaner than typical beef hamburgers. Note: the berry pepper jelly has lots of sugar, so just make sure you portion carefully. Cheese can also be pretty calorically dense and high in fat, but since the flavor is rich, you won't need as much cheese to make this burger super delicious!
Additional Meal Tips for Endurance
This meal is a great general meal for endurance athletes, as it contains a lot of calories (energy) to support your energy expenditure. As far as macros, the protein in bison can help with your muscle recovery, and the carbs from the bun and jelly can support glucose recovery. It is worth noting that this isn't the most ideal meal to have pre-workout, as the carbs will digest slowly. The addition of the fat slows down carbohydrate digestion (and thus sugar available for a tough workout) as well as the fiber in the bun (if you get 100% whole wheat!). For quicker digestion, you could go with a more refined, white hamburger bun and consider omitting the cheese.
Additional Meal Tips for Building Muscle
This recipe is rich in protein, which helps support building muscle. If you are in a bulking phase, the additional calories from carbs and fat are ideal. However, if you are in a cutting phase, you may want to eat this burger open-face (half of the bun) and/or reduce or omit the jelly, depending on your current allotment of carbohydrates.
Additional Meal Tips for Improving Health
An overabundance of saturated fats and sugar are not good for your health. However, that doesn't mean that you shouldn't have anything! Like most things – everything in moderation. Carefully portion the berry pepper jelly (contains sugar) and the goat cheese (contains saturated fat), and be sure to look for 100% whole wheat buns. To increase the nutrition in this recipe, be sure to top with lots of different vegetables, preferably of different types and colors. A salad on the side is excellent too!
Diet Preference Tweaks
Vegan / Vegetarian / Fully Plant-Based
You can easily turn this Jalapeno Bison Burger into a delicious vegan jalapeno burger, replacing the bison meat with a burger made from vegetables, or with soy or tofu burger, etc. Unfortunately, this recipe wasn't engineered to be vegan, and veggie burgers require other ingredients to hold together. So if you are vegan, you will likely want to seek out another veggie burger recipe and use the ingredients in this recipe to inspire you to make changes to another recipe. Good news is I have a vegan burger recipe on the way! Stay tuned. As for replacing goat cheese, you can find vegan cheeses made from almond or coconut milk. The less processed the plant-based cheese, the better!
Gluten-free
Replace the bun with a gluten-free bun or omit the bun and eat between a couple pieces of lettuce instead.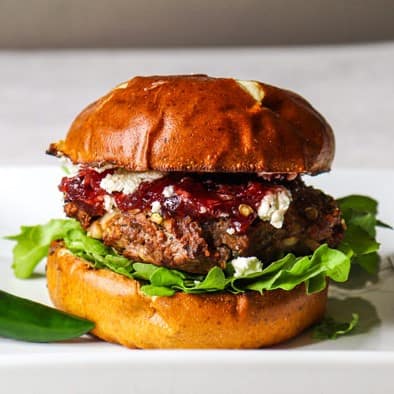 Jalapeño Bison Burger w/ Berry Pepper Relish & Goat Cheese
Yum
Who likes a good bison burger!? This sweet & spicy burger will have you coming back drooling for more.
Instructions
Preheat your grill on high.

Finely dice Jalapenos and onion.

Add ground bison to medium bowl.

Add onion, Jalapenos, and garlic to bowl.

Add seasonings: smoked paprika, parsley, salt, and pepper.

Stir until seasonings are incorporated and then get your hands in there and finish incorporating all the ingredients.

Shape the burger into four 3 oz patties.

Turn grill down to medium-high and add patties.

Cook 4-6 minutes per side (less formedium rare and more for well done).

Remove from grill and cover with aluminium foil.

To ensemble: top toasted bun with arugula.

Add bison burger patty on top of arugula.

Spread goat cheese on underside of top bun.

Add Berry pepper relish on goat cheese. Enjoy!
Notes


Nutrition
Nutrition Facts
Jalapeño Bison Burger w/ Berry Pepper Relish & Goat Cheese
Amount per Serving
% Daily Value*
* Percent Daily Values are based on a 2000 calorie diet.
❤️❤️Read About Me for details about my health journey; and, make sure you remember to sign up for my Newsletter and follow me on social❤️❤️!

Supporting me is appreciated as I create content to support your health journey.