Here is my Italian Kale Turkey Sausage Chickpea Soup! This recipe is tailored towards supporting weight loss and general health and it is so tasty!
Perfect for a cozy family dinner during these chilly autumn days. High in protein, healthy, rich in iron, and a lovely warming meal to come home to.
Social Buzz

Ingredient Selection Tips
Chickpeas
You can choose dry chickpeas which you can soak and cook yourself or canned ones that are ready to eat. If you are buying canned, try to buy from organic brands that are additive-free.
Kale
Choose Kale that has firm leaves and is not wilted or limp. It should be green, not have yellow or brown spots.
Noteworthy Health Benefits
Chickpeas
These legumes are an excellent source of protein, and they are great for those who eat a plant-based diet and eat with a source of grain. This combo makes a complete protein. Chickpeas are full of minerals, vitamins, like manganese, copper, iron, zinc, and folate (vitamin B9)
Thanks to their rich nutritional content, they provide many benefits for our health:
Keeps you full because of the high amount of protein and fiber, which is good if you are watching your weight.
Stabilise blood sugar regulation.
Supports digestion.
Protects against some chronic diseases.
Promotes brain health.
Can prevent osteoporosis.
Supports heart health.
Good for the brain and nervous system.
Helps to lower cholesterol.
They may help prevent Anemia.
Quinoa
Quinoa is a whole grain and filled with nutrients. There are white, red, and black types of quinoa available in stores. It is gluten-free, non-Gmo, as it is usually grown organically. It's high in fiber and represents a complete plant-based protein, which means it contains all 9 essential amino acids.
It also contains magnesium, B vitamins, iron, potassium, calcium, phosphorus, vitamin E, and various beneficial antioxidants.
Kale
Kale belongs to the cabbage family, together with cauliflower, collards, Brussels sprouts, and broccoli. It has been popular recently and is even declared a superfood.
It is low in calories and fat but filled with vitamins and minerals, especially vitamin A, K, and C.
Here are more health benefits:
Full of antioxidants, which is essential for our health.
Protects our eye health
Supports our immune system
Kale can help lower cholesterol, which helps reduce the risk of heart disease.
Contains numerous cancer-fighting substances
It can support weight loss
It supports brain development
Diet Preferance Tweaks
Fully Plant-Based/Vegetarian/Vegan:
To make this recipe vegan, you can replace the sausage with a plant-based one. I recommend tofu/veggie sausages as these are a healthier option than processed ones.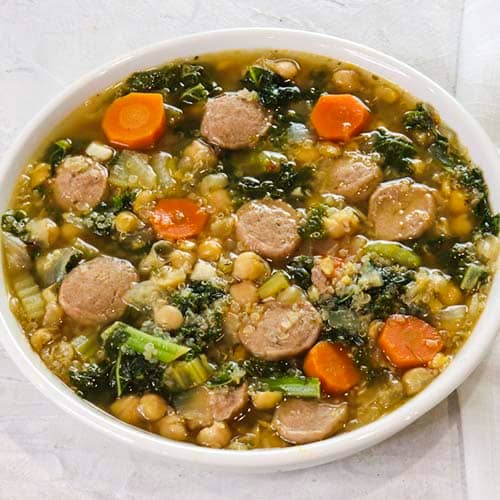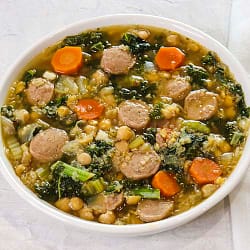 Italian Kale Chickpea Soup
Yum
Here is my Italian Kale Turkey Sausage Chickpea Soup! It is inspired by other recipes, but tailored toward weight loss and general health and it is SO TASTY!
Instructions
Heat a large pot with olive oil.

Add diced sausage and brown on both sides. Remove from the pot temporarily.

Add carrots, garlic, celery, and onion. Cook until the onion starts to become translucent.

Add broth, chickpeas, and seasonings. Bring to a simmer.

Simmer for ~15 minutes, adding kale and quinoa about halfway through.
Notes


Nutrition
Sodium:
506
mg
Sugar:
4
g
Fiber:
6
g
Potassium:
382
mg
Calories:
306
kcal
Monounsaturated Fat:
1
g
Polyunsaturated Fat:
1
g
Saturated Fat:
3
g
Fat:
12
g
Protein:
15
g
Carbohydrates:
36
g