One of the most used sugar alternatives, erythritol has been linked to blood clotting, stroke, heart attack, and even death. This is the result of a new study conducted by the Center for Cardiovascular Diagnostics and Prevention at the Cleveland Clinic Lerner Research Institute and published in the journal Nature Medicine. Even though more studies are still needed, researchers agree that limiting erythritol in our diet could be the best way to prevent long-term diseases. In this article, we will have a look at some of the best natural sugar alternatives. These can all be easily used as a replacement for erythritol in our coffee or desserts! 🍃
But first, let's have a quick look at what erythritol is, and why it could be bad for us! ❌
What is erythritol and why it might be bad for us?
Erythritol is, together with sorbitol and xylitol, part of the so-called sugar alcohols. These are carbohydrates found naturally in many fruits and vegetables. However, unlike the sugars found in natural products, erythritol is generally manufactured artificially and has zero calories.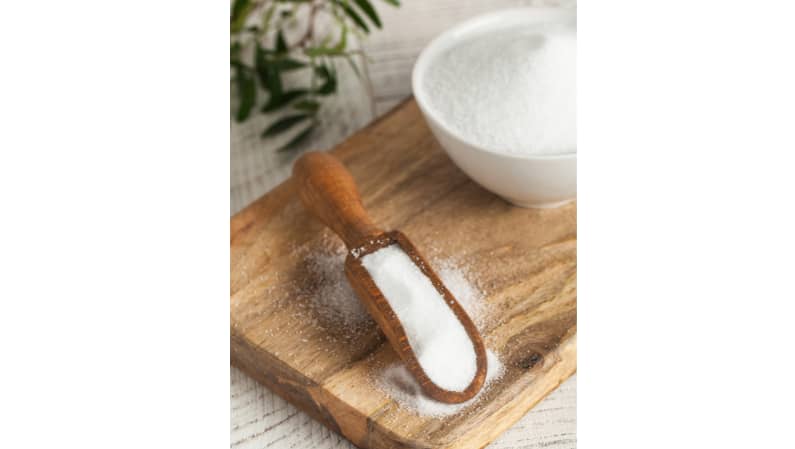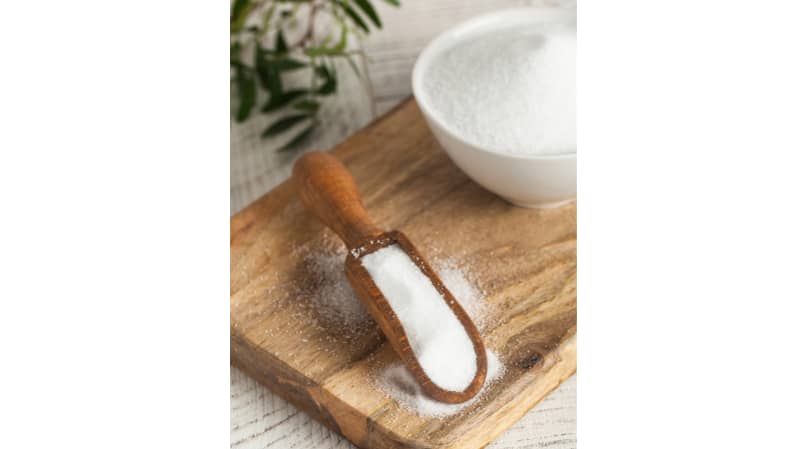 This is one of the main reasons why erythritol is one of the most loved sugar replacements, especially by healthy-conscious consumers, people who are trying to lose weight, and even diabetics. Indeed, it doesn't spike or affect our blood sugar levels. In addition, unlike stevia, it has no lingering aftertaste and can be used in baked preparations. Additionally, it does not cause particular digestive or intestinal issues. (This is why it is often suggested to people with IBS or SIBO).
Last but not least, erythritol is a particularly inexpensive sugar replacement. This makes it an extremely popular additive to keto and other low-carb products, but also to foods marketed to people with diabetes. Similarly, it is often used also to bulk up the volume of natural sugar blends. This is why it is not uncommon to find "natural" stevia and monk fruit products, that contain a very high dose of erythritol. (In most cases the percentage of this artificial sweetener is even higher than that of the other natural sugar alternatives).
However, not all that is gold glitter! Indeed, according to a new study conducted by the Center for Cardiovascular Diagnostics and Prevention at the Cleveland Clinic Lerner Research Institute and published in the journal Nature Medicine, erythritol might be linked to stroke and cardiovascular diseases.
In particular, researchers found that people with higher blood erythritol levels were at elevated risk of experiencing a major adverse cardiac event. In addition, the above-mentioned study revealed also that erythritol made it easier for platelets (i.e. fragments that clump together to stop bleeding) to activate and form a blood clot. As we all know, blood clots could be very dangerous. They can move through the body and reach our lungs or brain. There they can cause serious issues and, in the most extreme cases, even death.
Another interesting point highlighted in the study is that people with existing risk factors for heart disease, such as diabetes or high LDL cholesterol, were twice as likely to experience a heart attack or stroke if they had a high level of erythritol in their blood. And, as we have seen above, erythritol is commonly found in the very products for diabetics!
Although we need additional lab and human research, the results of this study cannot go unnoticed. Maybe it might be too soon to throw away all of our erythritol supplies. However, we could start to substitute as much as possible this artificial sweetener with other natural sugar alternatives. After all, it is always better to be safe than sorry! 🙌
Why Natural Sugar Alternatives are Better than Artificial Ones?
If refined sugars are highly damaging to our long-term well-being, the same is true also for many artificial ones, such as Aspartame, Sucralose, and Xilytol, especially if consumed in great amounts.
Studies have found that chemically manufactured sugars can lead to digestive issues, and can even disrupt the body's ability to properly metabolize glucose. This can be a risk factor for diabetes and cardiovascular health issues.
This is why we should always opt for natural sugar alternatives, which, unlike artificial ones, can actually provide precious nutrients and therefore boost our health. For example, one study published in the Journal of the American Dietetic Association found that using healthy sweeteners, including blackstrap molasses, maple syrup, and honey, can increase our antioxidant intake, thus reducing oxidative stress in our bodies.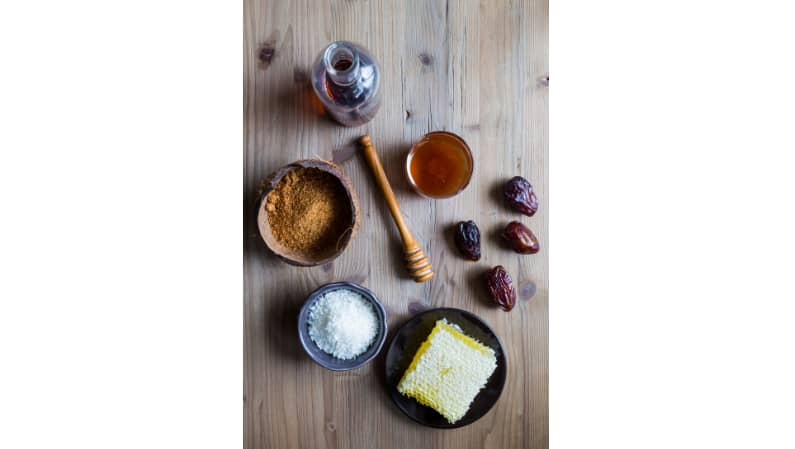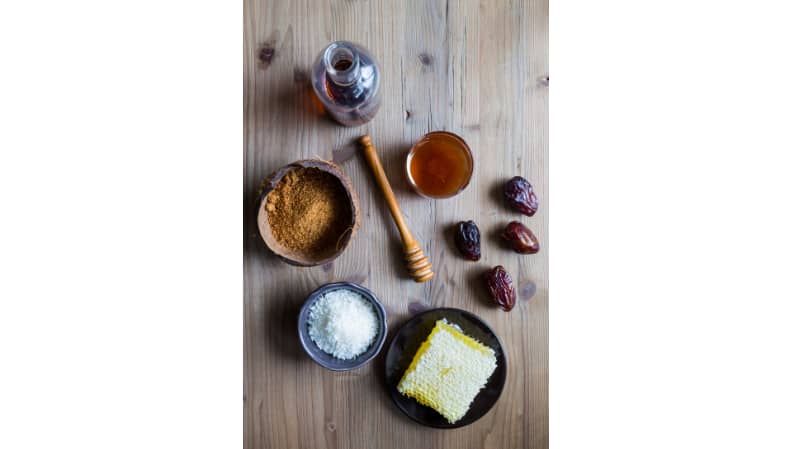 In addition, these are often rich in vitamins, and minerals. Plus, especially if found in whole foods (as is the case, for example, for mashed banana or Medjioul dates), also contains fiber. In turn, fiber can slow down the breakdown of food and therefore reduce blood sugar spikes. This is really helpful also for people suffering from diabetes and other chronic conditions.
Even though these natural sugar replacements are not always zero-calories as many artificial sweeteners, the benefits for our long-term health are certainly greater nonetheless!
Let's discover some of the best natural sweeteners!
The 10 Best Natural Sugar Alternatives 🍯🍃
These are 10 of my favorite natural sweeteners (and some product recommendations)!
As you can see, there are a lot of great natural sugar alternatives out there! All you have to do is choose those that are better for your dietary requirements and the types of dishes you are wanting to use them for. In addition, you should always make sure to avoid blends made with a small amount of natural sweetener, mixed in with a higher dosage of erythritol.
If you have found this article interesting, make sure to share it with your family and friends. And don't forget to follow my socials for more healthy meal inspiration. All the links are down below! 💗
Note: While I am a certified nutrition coach, I am not a medical doctor. Information here is not intended to be a replacement for the advice you should seek from your doctor.

10+ Delicious Naturally-Sweetened Treats 🍰
Social Buzz
❤️❤️Read About Me for details about my health journey; and, make sure you remember to sign up for my Newsletter and follow me on social❤️❤️!

Supporting me is appreciated as I create content to support your health journey.