Do you enjoy mushrooms' umami flavor as much as I do? This Umami Edamame Asian Veggie Burger with Sriracha Aioli is not only very delicious, but it's also packed with plant-based protein and extremely nutritious! This dish is completely gluten-free and vegan. To give it a true Asian taste, you can add toppings such as fried mushrooms, red cabbage, and cucumbers. You may serve this burger with homemade fries or coleslaw as a side dish.
Umami is a Japanese word that means "pleasant savory flavor." It can be described as brothy or meaty. Foods abundant in the amino acid glutamate, such as mushrooms, have a strong umami flavor and Unami rich foods are often used in Asian recipes.
Social Media Channels

Ingredient Selection Tips
Mushrooms
Choose mushrooms that are firm, and with a smooth and fresh appearance. If they are white mushrooms, they should have a white surface with no bruises or discoloration. The whiter they are, the fresher they are. Look for ones with short and clean-cut steams, and with a closed underside of the mushroom. That is the sign they are young and fresh.
Noteworthy Health Benefits
Soybeans
Soybeans are mainly composed of proteins, but they are also rich in carbs and fat. One cup of boiled soybeans contains around 29g of plant-based protein. They are also classified as oilseeds, with around 18% of fat content. The carbs in these seeds are good for your gut health.
Soybeans are also rich in some vitamins and minerals, such as Vitamin K1, Folate, Copper, Manganese, Thiamine, and Molybdenum.
This rich nutrient content has some health benefits for you such as:
It may reduce cancer risk.
It can save your bone health.
It can alleviate menopause symptoms.
Arrowroot
Arrowroot is a starchy root vegetable similar to sweet potato. It is a tropical tuber native to Indonesia. It is usually used as powder or flour.
Arrowroot is rich in carbs and various nutrients like iron, potassium, phosphorus, and folate.
Some of the potential benefits of consuming this interesting vegetable are:
may fight diarrhea
it can support immune system
it is gluten-free
it may aid weight loss
Mushrooms
Mushrooms are a good source of protein. They are gluten-free, fat-free, low in sodium, low in calories, and cholesterol-free.
They are full of nutrients like B vitamins, Niacin, Riboflavin, Selenium, Copper, Potassium, Vitamin D.
Consuming mushrooms can lower cancer risk, improve the immune system, and help in weight loss.
Diet Preference Tweaks
Gluten-free
Swap the bun for gluten-free!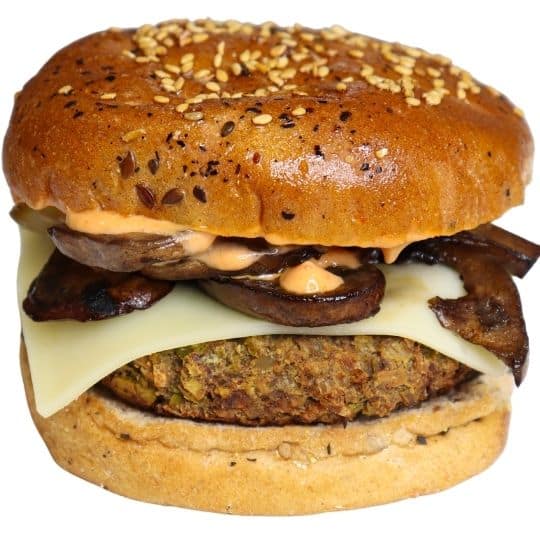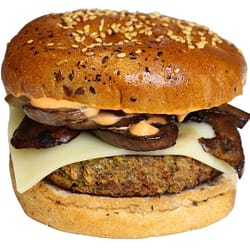 Edamame Umami Burger
Yum
This amazing Umami Edamame Asian Veggie Burger with Sriracha Aioli is not only amazingly delicious, but it is high in plant-based protein and super healthy!
Instructions
Prepare rice (just prepared is stickier) & steam edamame.

Process the onion, garlic cloves, mushrooms, spicy mustard, soy sauce, ginger, red pepper flakes, umami powder, rice vinegar, ground flax, and arrowroot.

Add the rice, edamame, almond flour, blend until well combined but still chunky.

Shape into 6 patties and put in the fridge for 30 min, or until it's easy to pick up without falling apart.

Remove from fridge and brush top with sesame oil.

Preheat grill on medium-high for about 10 min or until 375degrees.

Lower grill to medium and carefully place patties oil side down on the grill. Cover and cook for about 10-15 min or until easy to flip.

Flip and cook until the patty is easily removed from the grill and both sides are firm, about 5 min.
Notes


Nutrition
Nutrition Facts
Edamame Umami Burger
Amount per Serving
% Daily Value*
* Percent Daily Values are based on a 2000 calorie diet.
❤️❤️Read About Me for details about my health journey; and, make sure you remember to sign up for my Newsletter and follow me on social❤️❤️!

Supporting me is appreciated as I create content to support your health journey.


Enable Notifications
OK
No thanks