I always have a bowl of hummus in my fridge. Especially this oil-free version! This Mediterranean plant-based dip is so delicious, healthy, nutritious, and versatile, and it doesn't need to be boring. Just experiment with spices, as I did in this Curry Hummus recipe, and you will have a fresh taste every time. You can also use it in other dishes, as I did in Curried Chickpea Wrap.
Social Buzz

Ingredient Selection Tips
Spices
Always try to find fresh spices in ethnic or specialty stores, as they are probably fresher than the ones on the shelves of a supermarket. Choose small packets. It is better to buy them more often than to have one large package in the pantry for years, as they will expire.
Tahini
This delicious sesame spread should be a light color and not much oil on the top of the jar, as that could be a sign of old shelf life.
Noteworthy Health Benefits
Chickpeas
Chickpeas are a great source of plant-based protein, especially when we eat them with a source of grain. That way we get a complete protein. Chickpeas contain many minerals and vitamins, like manganese, copper, iron, zinc, and folate (vitamin B9).
Thanks to their amazing nutritional content, they provide many benefits for our health:
Keeps you full because of the high amount of protein and fiber, which is good if you are watching your weight.
Stabilize blood sugar regulation.
Supports digestion.
Protects against some chronic diseases.
Promotes brain health.
Can prevent osteoporosis.
Supports heart health.
Good for the brain and nervous system.
Helps lower cholesterol.
They may help prevent anemia.
Tahini
Tahini is full of healthy fats, minerals, and vitamins. It is high in vitamin B1, vitamin B6, manganese, phosphorus, and antioxidants.
Some health benefits of consuming Tahini are:
May lower risk of heart diseases
Contains anti-inflammatory compounds
Good for the central nervous system
Protect kidney and liver function
It may have antibacterial properties
Turmeric
Turmeric is the spice that makes curry a yellow color. It contains curcumin, which is a strong antioxidant and has anti-inflammatory properties. Here is a list of some more health benefits of adding turmeric to your food:
It could be helpful in treating Alzheimer's disease
It may help prevent cancer
May lower risk of heart diseases
May help with arthritis treatment
Fights against depression
It may help delay aging
If you're stuck on what to eat your hummus with, here is a list of some foods to pair this healthy, high protein dip with:
Pretzels
Veggie sticks
Pitta
Falafel
Sandwich filling
Pasta sauce
Thanks, healthline.com for the comprehensive information about the health benefits!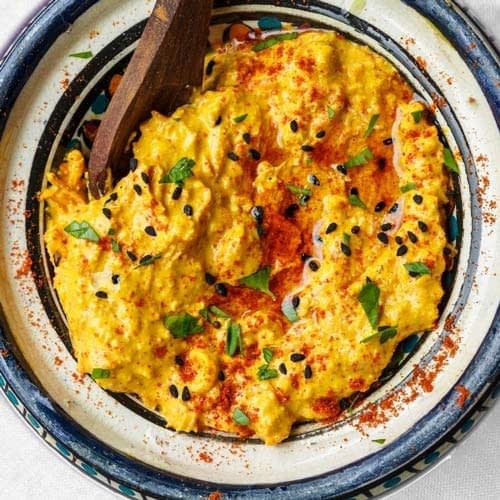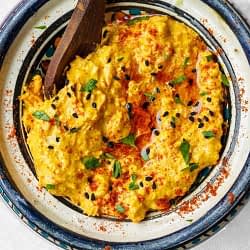 Curry Hummus
Yum
Ingredients
15

oz

Chickpeas

1 3/4 cups, save liquid

¼

cup

Lemon Juice

about one large lemon – fresh is best!

¼

cup

Tahini

well stirred, or best you can!

1

clove

Garlic

1-4

tbsp

Aquafaba

liquid in chickpea can or liquid beans were cooked in

2

tbsp

Curry powder

½

tsp

Cumin

ground

½

tsp

Salt
Instructions
In a food processor, combine the tahini and lemon juice and process for about 1 – 2 minutes, scraping the sides to the bottom of the bowl when needed. This extra time helps whip the tahini, which is part of the secret of making this hummus smooth and creamy!

Add the garlic clove, cumin, and a 1/2 teaspoon of salt to the whipped tahini and lemon juice. You may add the turmeric, if desired (see notes). Process for about a minute, scraping the sides to the bottom of the bowl when needed.

Cook the beans (see notes) or open up a can of beans. Pour some of its liquid (aquafaba) into a bowl and set it aside. Rise and drain the beans. Add half of the chickpeas to the food processor and process for about a minute. Scrape sides and bottom of the bowl, then add remaining chickpeas and process until thick and quite smooth – about 1 – 2 minutes.

If the hummus is too thick or is still chunky, add aquafaba a tablespoon at a time until smooth and of desired consistency.
Notes


Nutrition
Calories:
313
kcal
Carbohydrates:
48
g
Protein:
14
g
Fat:
10
g
Saturated Fat:
1
g
Polyunsaturated Fat:
2
g
Monounsaturated Fat:
1
g
Sodium:
210
mg
Potassium:
630
mg
Fiber:
13
g
Sugar:
7
g