5 Weight-Loss Motivation Tips that transformed my life: if I changed, so can you!
How did I lose a significant amount of weight and then keep it off? Was it all strong motivation and discipline? I'm pretty ambitious but that wasn't entirely it. Was it a magic pill I take and continue to use today? Absolutely not! This was and continues to be no easy feat. But motivation alone did not get me here. What did get me here was, and is, a strong "why".
What did get me here was, and is, a strong "why".
Gaining Clarity on Your "Why" Worksheets:
❤️❤️ Make sure you remember to sign up for my Newsletter and follow me on social ❤️❤️!
Can't find the motivation to lose weight?
Here are the 5 Weight-Loss Motivation Tips that helped me the most in the process of losing weight and, most importantly, gaining back my health. These tips will guide you through the process of gaining more motivation, starting from your moving "why" and your core values. Let's see how!
1. Finding Your "Why"
As said above, motivation is not everything. Indeed, finding and remembering your "why" is equally as important, if not more important. Gaining clarity around your "why" will help you move mountains when it comes to sustainable lifestyle changes.
Your "why" is what motivates you to take action. It can be as shallow as wanting to fit into your old jeans, as moving as "I want to see my grandkids graduate", or even more urgent "I want to beat my cancer". To make a true lifestyle transformation, the "why" needs to be moving and genuine to you (read also my 2022 goal setting for weight loss success).
It should elicit an emotional response when you think about it. In addition, you don't have to wait until you're on your deathbed to identify and act on your "why".
2. Make Sure Your "Why" is Moving
If you're reading this, you would probably have at least a shallow "why". We just need to dig a little deeper to find the "why" that will inspire you in the long term. But why should you care about finding your "why"?
The premise is that we all struggle with food and lifestyle. Nothing is wrong with you. As humans, we are wired to eat calorie-dense foods. This is rooted in our early days when food was hard to find and continuing our race was a priority. However, while our logical brains may have a very convincing argument, our automatic behaviors often take over.
You may think motivation is what is lacking to overcome your predispositions. However, motivation is very finite and stems from your "why". A strong "why" yields a high motivation to succeed.
A strong "why" yields a high motivation to succeed.
3. Fuel Motivation With Your "Why"
The third of my 5 Weight-Loss Motivation Tips concerns how to keep your motivation alive. How can we continually fuel motivation, so that it's strong and we don't run out of it? The answer is, again, having a strong "why". This process is reciprocal. Your "why", or purpose, is in turn fuel for your fire.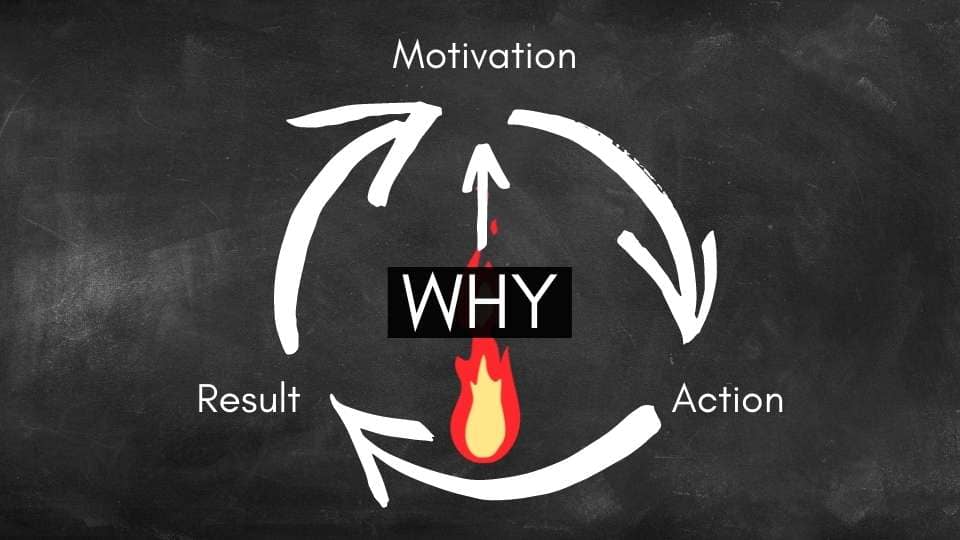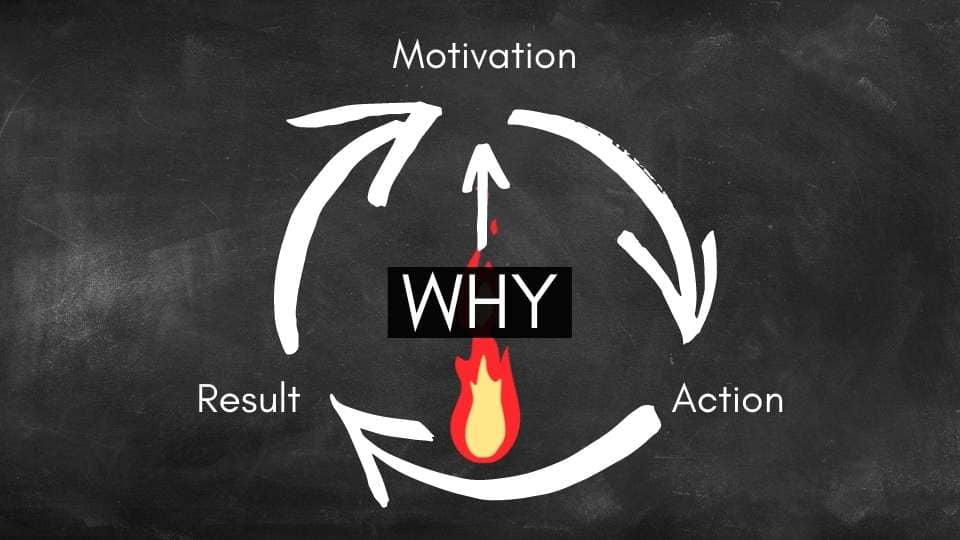 If you have a shallow "why", you can start to question yourself over and over until you get to your core "why". For example, you might start with "I want to fit into smaller size jeans", and end with the reason why you want to be more assertive and confident in yourself (see below for example).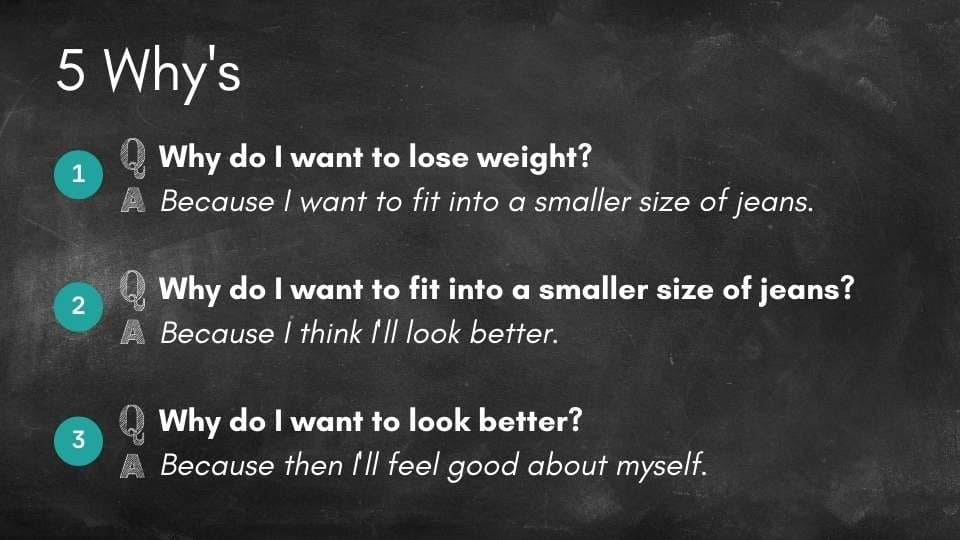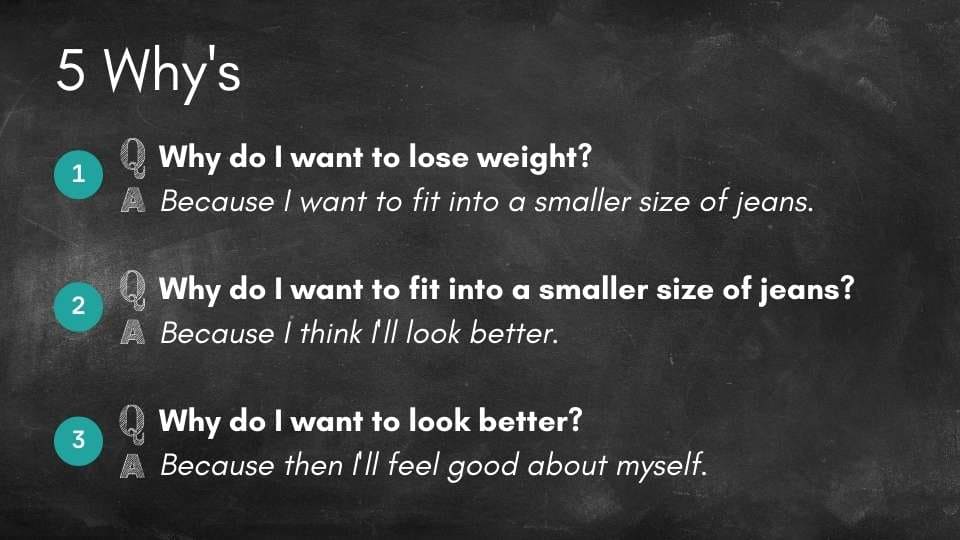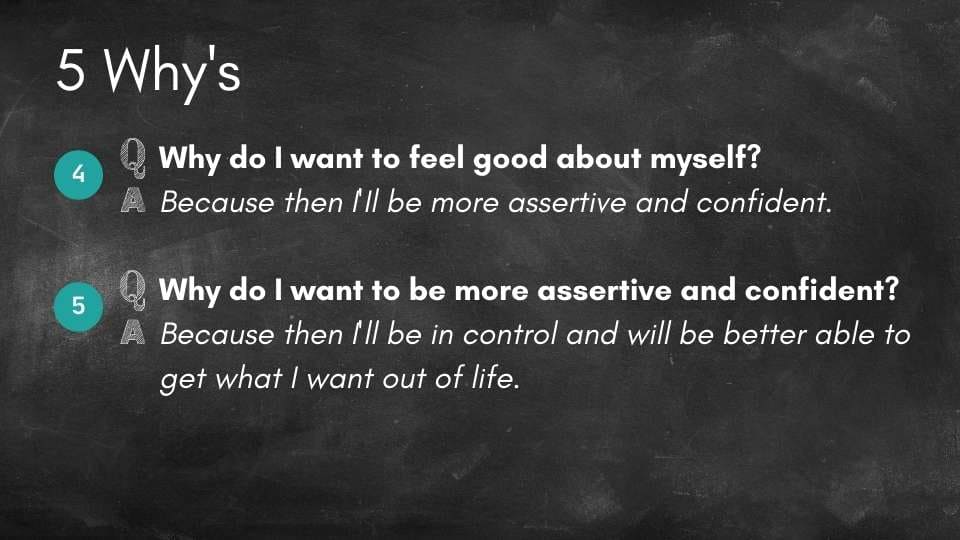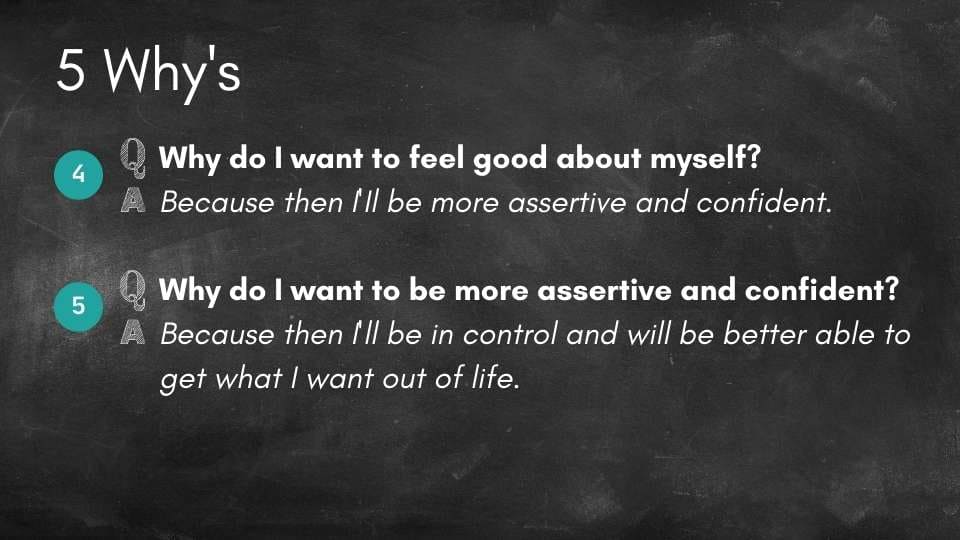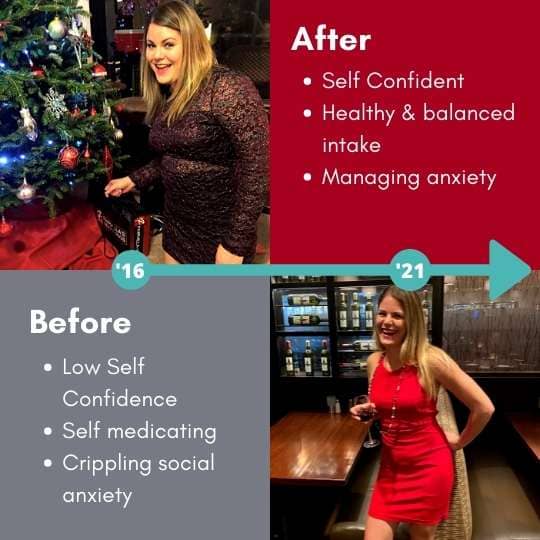 Prior to my transformation, I wanted to stop being so tired all the time. I wanted to look better because I was newly "on the market" again after a breakup. I think a lot of us are familiar with the "single fast".
However, when asking myself "why?" over and over… two things stood out.
First, my energy levels and depression affected my ability to be a good parent (I really wanted to be a good parent).
Second, I wanted to attract true love into my life with someone who had similar values, and I wasn't my best self, living those values. Remember: you attract what you put out there.
4. What Are Your Core Values?
Now we can dig a little deeper by identifying your core values and how they connect to your health. It's important to know your top core values when identifying your "why".
Core values are personal ethics or ideals that help guide you when making decisions, forming relationships, and solving problems. They underlie all activities including the strategies you put in place to fulfill a purpose.
People decide what is good or bad, illegitimate or legitimate, worth doing or not doing, based on the possible consequences of these cherished values. For example, my core values are family, entrepreneurship, integrity, passion, ambition, meaningful work, and innovation.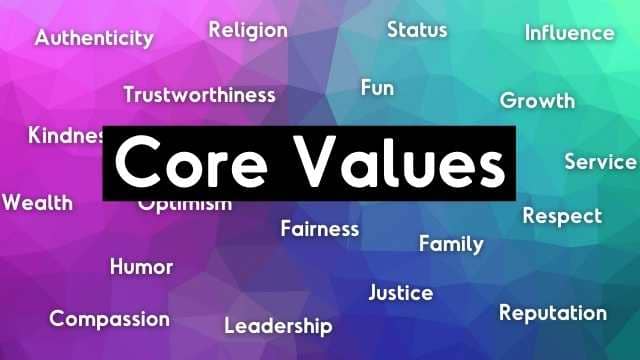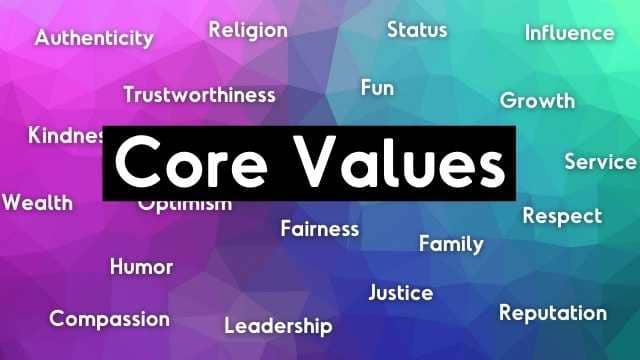 What are your values?
And what matters most to you in your life?
What are you deeply passionate about?
What legacy do you want to leave in the world before you pass on?
Then, how will you order your values by what's most important to you? Ask yourself, why are these values important? For example, perseverance might be an important value for someone because they enjoy the reward and personal growth aspect.
To dig further, ask yourself why those values are important to you. In perseverance, an example of that answer might be "I crave the validation and confidence that comes from accomplishing something and growing from it".
Your deeper why is an extension of your core values
After having done that, you will be able to use your core values to support your core "why". Indeed, my deeper "why" is an extension of my core values. Because I value family, I wanted to be a better mom. Because I value ambition and passion, I wanted to have the energy to become successful. lastly, as I said before, I wanted to have a relationship with someone who had similar values to mine.
My values continue to motivate me past reaching my goal. Once I reached my goal, I had to find a new purpose to continue pushing forward. I fundraised a few of my half marathons through sponsors for charities that matter to me. Now my purpose is to help others adopt a healthy lifestyle through my content and influence. This motivates me to continue living a healthy lifestyle, so I can be a good role model to others.
5. How Do Your Core Values Connect to Your "Why" and to your Health?
Is there any way to connect your values to your core "why", or even ways to use them as a strategy to achieve your goals beyond your core "why"?
Here are some examples:
Family -> setting a good example of healthy habits to kids
Meaningful work -> fundraising for a race to help a charity that matters to you
Ambition -> being determined to reach a goal
It's also useful to consider how prioritizing your health may hinder your values. How can you overcome these obstacles?
Here are some obstacles that affect my values:
Family -> kids can hinder the amount of available time you have to focus on yourself
Integrity -> holding commitments to others or doing the right thing when it may cause stress or lack of time, hindering self-care
Ambition -> being ambitious about other activities such as work, hindering self-care
How will you feel when you've reached your health goals?
Now that you have a "why", write it down and put it somewhere where you can look at it every day. Make it even easier to visualize by using something like canva.com to make a vision board of your future goals.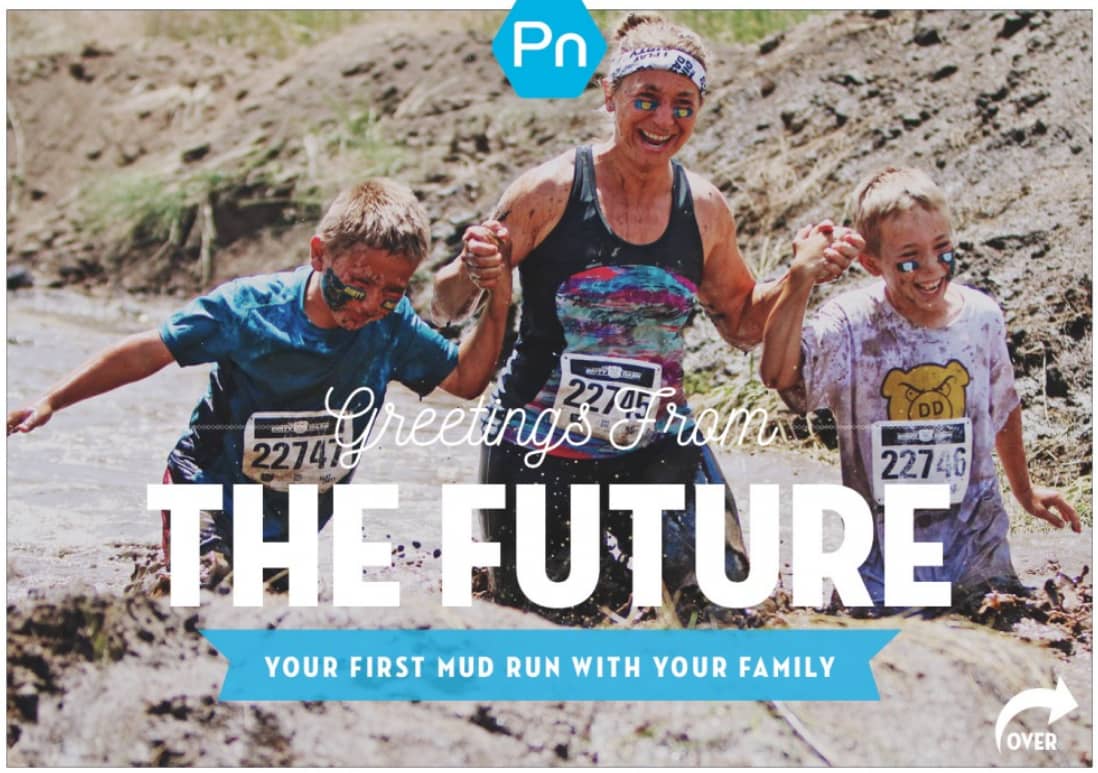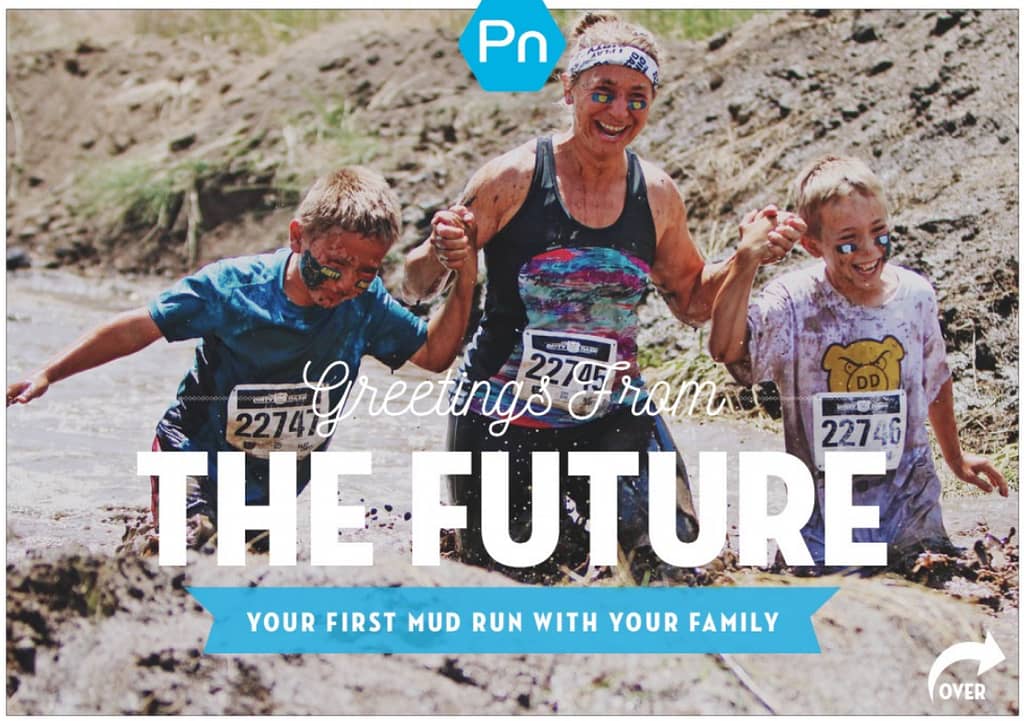 Write that "why" down and in this video, I'll show you how to set effective goals and actions that you won't give up on.
And remember, whatever your mind can conceive and believe you can achieve!
Gaining Clarity on Your "Why" Worksheets:
Social Buzz
❤️❤️Read About Me for details about my health journey; and, make sure you remember to sign up for my Newsletter and follow me on social❤️❤️!

Supporting me is appreciated as I create content to support your health journey.